Sony also notch highest new entry as The Lady in the Van posts terrific $3.5m (£2.3m) from 540 sites, and becomes second distributor ever to record a 1-2-3 at the top of the chart.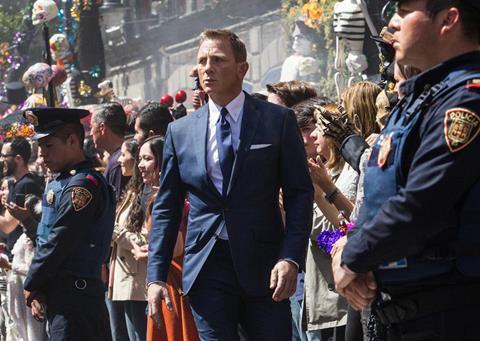 SONY
As Spectre retained its grip on the top spot, Sony became only the second distributor ever to record a 1-2-3 at the top of the chart following Universal earlier this year.
Sony's latest Bond mission fell 40% on its way to $12m (£7.9m) for a stonking $118m (£77.6m) after 21 days in play. That makes it the fourth biggest film of all time, with Titanic's $122m (£80.1m) - including its 3D re-release - shortly to be surpassed.
Spectre is currently tracking just ahead of Skyfall, which stood at $117.6m (£77.27m) at the same stage in its run. Skyfall posted a higher third weekend of $15.9m (£10.45m), yet this was achieved earlier in its run (days 15-17).
Skyfall posted a 47% drop in its fourth weekend with $8.47m (£5.57m) as The Twilight Saga: Breaking Dawn - Part 2 opened. Spectre faces a similar challenge with the arrival of The Hunger Games: Mockingjay - Part 2 on Thursday [Nov 19].
Sony also provided this week's highest new entry as The Lady in the Van opened with a terrific $3.5m (£2.3m) from its 540 screens, ahead of what is likely to be some very healthy midweek numbers.
That marks the best debut, by some distance, for director Nicholas Hytner as it topped The History Boys' $1.2m (£794,672) from 292 sites. The Lady in the Van will likely soon topple that film's $6.4m (£4.22m) as Hytner's best-ever performance.
The opening again shows the strength of the 'grey pound' at the box office, and is comparable to the $3.38m (£2.22m) debut of The Best Exotic Marigold Hotel from its 504 sites.
Completing the 1-2-3 for Sony was Hotel Transylvania 2 as it posted another slim drop of 18% on its way to $1.39m (£912,000) for $28.3m (£18.6m). It still stands a great chance of becoming the 14th film this year to crack the £20m mark.
Since the start of October, Sony have accounted for just over 53% of the market and have been number one for five consecutive weeks. This weekend saw them account for over 70% of the market.
FOX
Prem Ratan Dhan Payo has posted the third biggest debut for a Bollywood film at the UK box office.
Fox's romantic drama grossed a superb non-final $1.39m (£911,777), including $283,000 (£186,501) in previews, from its 141 sites to chart fourth overall, but sixth based on its Fri-Sun tally of $1.1m (£725,276).
That puts it narrowly behind both My Name is Khan ($1.42m/£936,454 from 91 sites) and Chennai Express ($1.42m/£935,671 from 126 sites). Dhoom 3 is the highest grossing Bollywood film of all time though with $4.12m (£2.71m).
Also for Fox, The Martian added a non-final $447,000 (£294,204) for $35.1m (£23.1m) to date, while Suffragette took an extra $368,000 (£242,199) for $14m (£9.23m) after five weeks in play.
UNIVERSAL
Rounding off this week's top five was Universal's Steve Jobs with a solid, if unspectacular, debut of $1.36m (£896,150) from its 413 sites.
Comparatively, that's much stronger than its first weekend of wide release in the US of $1.5m (going by accepted 10% rule), but it pales in comparison to Aaron Sorkin's last dip into technology, The Social Network, which landed with $3.8m (£2.49m) from 394 sites.
In terms of director Danny Boyle's outings in the UK, Steve Jobs ranks as his lowest since Millions, and is behind Sunshine's $1.55m (£1.02m) from 407 sites.
LIONSGATE
Brooklyn followed up its excellent opening with a strong second weekend as it fell just 26% for $1.2m (£780,197).
Lionsgate's acclaimed drama is up to $4.2m (£2.78m) in the UK after 12 days in play after grossing almost £1m over its first Mon-Thurs. As expected, it is now director John Crowley's best-ever UK performer.
WARNER BROS
Holding extremely well in its fifth weekend, Warner Bros' Pan sailed to an extra $736,000 (£484,000) for a solid $12.8m (£8.41m) to date.
Also for Warner Bros, Fathers and Daughters could only manage a $38,000 (£25,000) UK bow from its 104 sites.
ENTERTAINMENT
Falling over 50% in its second weekend, Entertainment's Burnt cooked up a further $266,000 (£174,802) for a ten-day tally of $1.44m (£944,610).
PARAMOUNT
In its fourth week, Paramount's Paranormal Activity: The Ghost Dimension found a further $228,000 (£150,000) for $5.9m (£3.85m) to date.
Also for Paramount, Scouts Guide to the Zombie Apocalypse unsurprisingly struggled following its soft opening, taking just $123,000 (£81,000) for $816,000 (£537,000).
EONE
Nearing the end of its run, eOne's The Last Witch Hunter added $132,000 (£86,751) for $4.1m (£2.71m) after four weeks in play.
Also for eOne, The Hallow couldn't quite capitalise on its fitting Friday 13th opening as it unearthed $79,000 (£51,709), including $5,700 (£3,726) in previews, from its 46 sites.
STUDIOCANAL
Kill Your Friends suffered after its soft opening with only a $19,000 (£12,375) for a ten-day tally of $289,000 (£190,097) through StudioCanal.
METRODOME
Released in 15 sites through Metrodome, the well-received Tangerine posted a UK opening of $28,000 (£18,611).
UPCOMING RELEASES
This weeks sees saturation releases for Lionsgate's The Hunger Games: Mockingjay - Part 2 (opens Nov 19) and Entertainment's The Dressmaker.
Sony's The Perfect Guy, Curzon Artificial Eye's Love and Altitude's My Nazi Legacy are among the films receiving a limited release.