JULY 10 UPDATE: South Korea generates sensational $25.8m, Mexico $12m, UK $11.8m.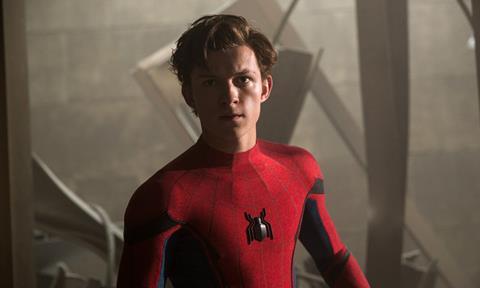 SONY PICTURES RELEASING INTERNATIONAL
UPDATED: Spider-Man made his debut in the Marvel Cinematic Universe in Spider-Man: Homecoming, grossing $139.5m over the weekend for the biggest Spider-Man ever for the same group of markets in the 15-year franchise.
The debut beat by a whisker the $139m estimate for Despicable Me 3 that earlier on Sunday prompted Universal Pictures International executives to call the weekend box office crown in their favour. Combined with $117m from North America, the film opened on $256.5m worldwide at the weekend.
Jon Watts' film ranked number one in 50 of 56 markets, scoring number one debuts in all 11 markets across Asia as the new Peter Parker earned $61.3m in the region. South Korea led with a five-day total of $25.5m, the third biggest opening of all time for a Hollywood film. India delivered $6.5m, including previews, while Indonesia produced $6.8m, and Taiwan $4.7m.
Latin America generated $32.4m as Spider-Man: Homecoming captured the number one spot in nine out of 11 markets. Mexico produced $11.7m and Brazil $8.9m.
It secured top spot in the UK on $12.1m after five days of release. Also debuting at number one were Russia on $7.8m, Australia on $7.7m, and Italy on $3.1m.
The superhero film starring Tom Holland, Michael Keaton and Robert Downey Jr. is tracking 20% ahead of Guardians Of The Galaxy Vol. 2 , 30% ahead of The Amazing Spider-Man 2 and 59% ahead of Wonder Woman at current exchange rates.
There is still 38% of its international markets still to come, including France, Germany, Spain, Japan, and China. The film is presented by Columbia Pictures and is a Marvel Studios-Pascal Pictures production.
The film earned $18m worldwide from 669 IMAX screens, including $7m from 277 screens internationally. The $7m result is the biggest international IMAX opening ever for Sony.
Spider-Man: Homecoming swings into seven new international markets this week, on 26 IMAX screens, including France, Germany, Austria and Poland.
Baby Driver grossed $3.9m from 18 markets in its second weekend. The film generated $1.8m in the UK, bringing the market total to $8.4m. Spain produced a number two result on $844,000 from 390 screens for a running total of $14m. The worldwide haul stands at $71.1m and is closing in on Wright's best tally of $80.6m set by Hot Fuzz.
The Sony and MRC production will get its next release in Australia this week. France, Brazil, Germany, Mexico, and Russia are yet to open.
Comedy Rough Night grossed $1.1m from 1,350 screens in 28 markets for an international total of $13.7m. There are no new openings this week.
UNIVERSAL PICTURES INTERNATIONAL
UPDATED: Illumination's Despicable Me 3 added $136.7m from 60 territories to raise the international total to $296.2m. Including $148.9m from North America, the worldwide total is $445.1m. The animation has now debuted at number one in 56 markets after opening at number one in seven territories this weekend.
China debuted at number one on $65.2m (RmB 443m) and has set the record for the biggest opening weekend for an animation feature after Friday's $20.1m (RMB 136.9M) delivered the biggest opening day for an animated release in China. The weekend also established a record for the biggest animated IMAX opening weekend ever in China on $4m.
The animation voiced by Steve Carell and Kristen Wiig debuted in France on $9.9m for first place and the second biggest Illumination opening weekend ever behind Minions, while Germany produced $8.7m at number one for Illumination's second best opening weekend behind Minions in that market.
Belgium, Switzerland and Austria each delivered number one debuts on $1.4m, $1.4m and $1M, respectively. Meanwhile, Iceland and Trinidad generated number one hauls on $129,000 and $116,000 respectively.
Despicable Me 3 held at number one in Portugal on $1.5m during its second weekend ahead of Spider-Man: Homecoming's opening. The UK held at number two on $6.8m for $25.5m, while Mexico added $4.5m for $23m.Thanks to school holidays, Australia held at number two in week four on $3.2m for $18.1m.
When compared to animated films in the same span of time and same markets at today's exchange rates, Despicable Me 3 is ahead of Minions, The Secret Life Of Pets, Finding Dory, Despicable Me 2, Zootopia, Frozen, Ice Age 4, and Toy Story 3.
There are seven more territories to release over the next two months, including Indonesia this week.
The Mummy brought in a further $4.6m from 69 territories lifting the international sum to $307m. Tom Cruise's 'Dark Universe' vehicle stands at $385m globally, with $78m from North America.
France is the top holdover at number five after generating $676,000 for $8.8m, while China generated $31,000 for $91.5m after five weekends.
South Korea stands at $27.5m, Russia $16.7m, Brazil $13.9m, Mexico $12.9m, the UK $11.1m, Taiwan $9.4m, Spain $8.5m, Australia $7.7m, and Germany $7.5m. Japan will be the final territory to release on July 28.
Sofia Copppola's drama The Beguiled starring Nicole Kidman and Kirsten Dunst is in release in four international territories: Germany, Austria, German-speaking Switzerland, and Greece. The film grossed $267,000 for an early total of $815,000. With $7.4m from North America, the worldwide total is $8.2m.
Greece debuted on $135,000 making it the biggest opening weekend for Coppola in the market. Germany produced $94,000 for $492,000, while Austria generated $16,000 for $81,000. The film opens in six this week including the UK and Australia.
Horror It Comes At Night is being distributed by Universal in the UK where It opened at number seven on $291,000 from a limited 224 dates.
PARAMOUNT PICTURES INTERNATIONAL
UPDATED: Transformers: The Last Knight grossed $18.6m from 47 markets including new openings. Michael Bay's latest instalment of the Transformers franchise stands at $376.2m. China generated $7.5m for $219.5m after three weekends, while France delivered $2m for $8.1m after two.
In Germany, the Mark Wahlberg action film brought in $1.5m for a running total of $12.2m. In its third weekend, Russia generated $738,000 for $15.1m, while the UK added $568,000 for $11.5m. In its third weekend of release, South Korea delivered $529,000 for $18.6m. Brazil is the next market to open on July 20.
Baywatch stands at $102m after the raunchy comedy grossed $3.9m from 50 markets. France collected $1.3m for $7.9m, while Germany stands at $16m after generating $552,000 over the weekend.
CHINA UPDATE
The House That Never Dies 2 added $14m for a $19.5m international running total.
WARNER BROS PICTURES INTERNATIONAL
UPDATED: Wonder Woman grossed an additional $6.9m from 64 markets, lifting the international sum to $377.1m and the worldwide total to $745.6m.
China is the superhero tentpole's highest grossing market on $88.8m, followed by Brazil on $31.7m, the UK on $27.2m, Mexico on $22.3m, Australia on $21.5m, South Korea on $15.5m, and France on $14.4m.
Elsewhere, Patty Jenkins' film has produced $10.8m in Taiwan, while the Philippines stands at $10.6m, Indonesia $8.6m, Russia $8.5m, and Germany $7.9m. Japan is the next market to release on August 25.
The House generated $1.3m from 1,176 screens in 25 markets, bringing the running international total to $5.4m. Australia and the UK are the highest grossing markets on $2.5m and $1.2m, respectively.
FOX INTERNATIONAL
UPDATED: Diary Of A Wimpy Kid: The Long Haul added $1m from 10 markets, elevating the international total to $14.7m.
Australia increased by 58% over the previous weekend on $688,000 for $2.8m, lifting the film to $14.7m internationally. Brazil and Spain will open later in the summer.
WALT DISNEY STUDIOS MOTION PICTURES INTERNATIONAL
UPDATED: Cars 3 added $3.2m from 27 active markets, raising the international running total to $60.2m. Brian Fee's animation continues to hold well in Australia, while becoming the second highest grossing Pixar release in India and the third highest grossing Pixar release in Russia.
Mexico is the top market on $14.9m, followed by Russia on $10.2m, Australia on $6.8m, Poland on $3.4m, and Colombia and Panama on $3.3m each. The film opens in 10 markets this week including the UK, Brazil, South Korea, Japan and Spain.
Pirates Of The Caribbean 5 stands at $565.9m internationally after adding a further $10.6m from 45 markets.
In Japan, Johnny Depp's action film has amassed $23.1m after nine days of release. In Russia, Pirates Of The Caribbean 5 is now the second highest grossing release behind Avatar. With an international total of $565.9m, it stands as the third highest grossing international release of 2017 to date.
China is the top market on $172.3m, followed by Russia on $40.4m, Germany on $28.5m, France on $25m and the UK on $24.9m.
Beauty And The Beast has almost completed its global run. The film has reached $1.261bn, making it the number one global release of 2017 to date and the number 10 global release of all time. Japan stands at $109m, making it the number one release there so far this year.