Sony's sequel garners most buzz and intent-to-view.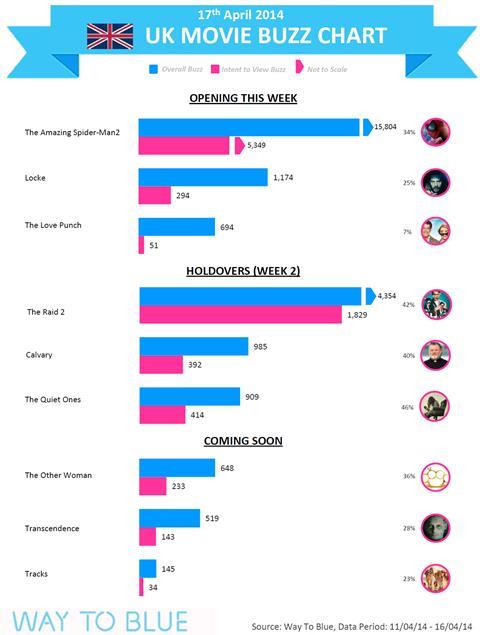 The Amazing Spider-Man 2 is set to swing into top spot this weekend at the UK box office, according to Way To Blue's UK buzz chart.
Sony's superhero sequel opened yesterday [April 16] and has generated the most overall buzz and 34% intent-to-view buzz.
Of last week's new openers, eOne's The Raid 2 is the buzziest holdover, ahead of stablemate Calvary and Lionsgate's The Quiet Ones, although the latter had the strongest intent-to-view percentage at 46%.
Currently, upcoming releases aren't generating too much buzz, with Fox's The Other Woman sneaking ahead of Entertainment's Transcendence (which previews this weekend) in overall buzz and intent-to-view buzz.
For an explanation of the Way to Blue chart and its methodology, which tracks 'overall buzz' and important 'intent to view' buzz, click here.
To view the chart in pdf format click here.