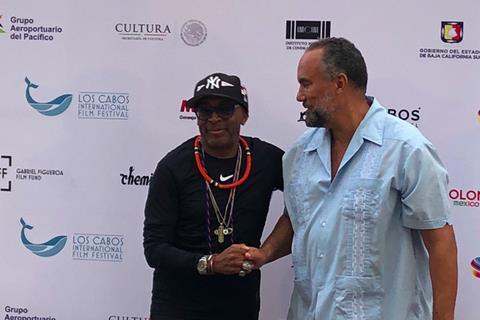 Spike Lee was in combative mood at Los Cabos International Film Festival on Saturday (10) as the BlacKkKlansman director commented on the Central American caravan migrants, race relations, and the mid-terms, referring to president Trump throughout as 'Agent Orange'.
"We're at an interesting time in the world," Lee told friend and longtime collaborator Roger Guenveur Smith during an on-stage conversation at The Resort At Pedregal. "There's a man who calls himself the president of the United States of America who's said on record that all Mexicans are rapists, murderers and drug dealers, and to keep you rapists, murderers and drug dealers out, [they] will build a wall and you will also pay for it. That does not sound like a sane man, nor do those sound like sane words.
"The mid-term election was last Tuesday – and I don't call him by his name, I call him Agent Orange – Agent Orange went on the campaign trail with his fellow gangsters and stirred up his based by saying this caravan is going to be an invasion and has summoned all types of federal troops to meet this 'invasion'," said Lee of the caravan of Central American migrants that has left Mexico City on the final leg of its journey to the US-Mexico border within days."
Lee continued, "He even said some of these 'invaders' might even be Mid Eastern, which as well all know is a code word for Islamic terrorist. When I saw images of infants who had been snatched from their mothers, I don't know how it can get any more inhumane than that. I don't know why this is not brought up on the floor of the United Nations. I automatically thought of my ancestors, who were separated, but they were sold."
Turning to BlacKkKlansman, based on the true story of how Colorado-based African American police officer Ron Stallworth orchestrated the infiltration of the Ku Klux Klan, Lee recalled how he got involved. "Jordan Peele of Get Out fame called me and gave me a six-word pitch: black man infiltrates Ku Klux Klan… I hadn't heard of Ron Stallworth and Jordan told me that he'd written a book and there was a script and at every opportunity I've got to thank Jordan Peele and the other producers on this movie… For whatever reason I got the call.
"The film has a coda," said Lee, referring to the documentary footage of the August 12 Charlottesville car attack that showed the bloody finale to the protests against the Unite The Right Rally when a car drove into the crowd and killed Heather Heyer and injured 28 others. "We didn't start principal photography until the middle of September [2017]… When I saw that [news reports of the car attack], I knew this would be the new ending of BlacKkKlansman."
The firebrand filmmaker went on to note how the rise of the Right was not a political and social movement contained to the United States. "They had a presidential election in Brazil and this guy [Jair Bolsonaro], he's just as bad. So there's been a rise of the right… [T]his is happening globally and righteous people have to fight against this fascism and we've got to be on the right side of history.
"What we have to realise people is we've been brainwashed into thinking that acts of terrorism is ISIS [and others]… Americans are committing more acts of terrorism than anybody else. And as we just saw in Thousand Oaks the other day [the November 7 gun massacre when 12 people were killed at a California bar] , far too often. We have to really get serious about gun control in the United States."
Lee also spoke to more recent political events. "We just had the mid-terms and I'm gong to use a World War II analogy: the mid-term was the landing of the Allies at Normandy. So we're just on the beach. But for the next two years, it's going to get really serious and I believe that 2020 election is going to be a referendum on the soul of America. That election is going to determine which way the supposed cradle of democracy is going to go. Is it going to go with love or hate? That's how I see it."
Asked if BlacKkKlansman had sparked hateful responses, particularly in the wake of the letter bombs sent to CNN and Robert De Niro, Lee said, "God bless I have not received any letter bombs. But I'm on alert. I'm not working around thinking everything is hunky dory. I've received a death threat before, when I did Jungle Fever so this is something that's happened in the past. I have received hate mail. It's not to be dismissed – there are crazy people out there who feel empowered by the guy in the White House."
Towards the end of the session, the filmmaker returned to the subject of the caravan. "As I'm here in Mexico I am focused on what's going to happen when these people, brave people, get to the border," said Lee. "That's what I'm focused on now and the whole world will be watching very closely what happens… I just hope that no more babies are snatched from their mothers' arms."