Good weather leads to soft market, down 29% on previous weekend, with holdovers suffering big drops.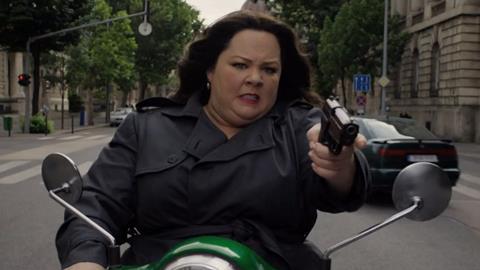 FOX
Defying the sunshine, Spy made it a domestic and UK chart-topping double as it dethroned San Andreas.
Fox's action comedy shot to $4m (£2.6m) from its 532 sites, including around $305,000 (£200,000) in previews. It's worth noting that Spy's $3.6m (£2.4m) Fri-Sun tally would have also seen it land top spot.
In terms of director Paul Feig's outings in the UK, Spy opened behind Bridesmaids' $5.4m (£3.5m) from 485 sites, but did surpass The Heat's $3.8m (£2.5m) from 440 sites and included $1.4m (£910,146) in previews.
The arrival of Jurassic World this week means Spy's stay in number one will be brief, but it could still prosper as counter-programming thanks to its strong reviews and word-of-mouth.
Also for Fox, Secret Cinema's latest production of The Empire Strikes Back opened its doors on Thursday [June 4] and, with Sunday takings still to report, grossed $351,000 (£230,400).
Assuming that Sunday is likely to match Friday and Saturday's gross of around $134,000 (£88,000), The Empire Strikes Back will have an overall debut of almost $487,000 (£320,000).
Secret Cinema's Back to the Future run grossed a total of $5.3m (£3.5m) and with The Empire Strikes Back running to Sept 27, it's likely to surpass that.
Poltergeist and Home have taken $5.9m (£3.9m) and $36.9m (£24.2m), respectively.
WARNER BROS
Dropping just over 50% (excluding previews), San Andreas posted a $2.7m (£1.8m) second weekend as it charted second.
Warner Bros' disaster thriller has now amassed $12.7m (£8.3m) and, as expected, is director Brad Peyton's best-ever UK performer ahead of Journey 2: The Mysterious Island.
Also for Warner Bros, Mad Max: Fury Road crossed the £15m mark with a $1.2m (£803,000) fourth weekend. The critically acclaimed return of the iconic character has taken $23.7m (£15.6m) to date.
UNIVERSAL
Pitch Perfect 2 rounded off this week's top five with a $1.1m (£749,519) fourth weekend.
Universal's sequel is now up to an excellent $24.5m (£16.1m).
EONE
Insidious Chapter 3 landed in third as it scared up $2.1m (£1.4m) from its 436 sites on its UK bow.
eOne's horror threequel was second in the market on Friday [June 5] ahead of San Andreas. Overall, the debut ranks behind Insidious Chapter 2's $4.4m (£2.9m) from 414 sites and is on par with Insidious, which also took $2.1m (£1.4m) albeit from only 325 sites.
Both films capped just above $10.7m (£7m) in the UK, and Insidious Chapter 3 will be hoping to at least match that.
Also for eOne, Two by Two has journeyed to $3.4m (£2.2m), while Danny Collins fell over 60% in its second weekend and has grossed $715,000 (£469,266) after ten days in play.
DISNEY
Now into its seventh week of release, Disney's Avengers: Age of Ultron added an extra $520,000 (£341,000) for $72.9m (£47.8m), an excellent run even if it won't reach Marvel's Avengers Assemble's $79.2m (£51.9m) result.
Also for Disney, Tomorrowland: A World Beyond fell a hefty 70% on its way to $474,000 (£311,000) for $7.3m (£4.8m) after three weeks in play, while Cinderella has now waltzed to $31.8m (£20.9m).
STUDIOCANAL
Dropping almost 70%, StudioCanal's Man Up posted a non-final second weekend of $215,000 (£141,170) for a ten-day tally of $1.55m (£1.02m).
LIONSGATE
James McTeigue's Survivor landed with a soft $198,000 (£130,302) from its 179 sites through Lionsgate.
That marks the director's lowest-ever UK opening, although it's worth noting that the film also received his smallest release, site-wise.
Also for Lionsgate, Moomins on the Riviera has grossed $482,000 (£316,376) after three weeks in play.
ALTITUDE FILM DISTRIBUTION / PICTUREHOUSE ENTERTAINMENT
Falling just over 50% (excluding previews) in its second weekend, Altitude Film Distribution & Picturehouse Entertainment's The Connection took a non-final $62,000 (£40,372) from its 57 sites for $262,000 (£171,598) to date.
CURZON FILM WORLD
Currently playing in 41 sites, Curzon Film World's Timbuktu grossed $62,000 (£40,348) for $252,000 (£164,997) after its second weekend in play.
EUREKA ENTERTAINMENT
Listen Up Philip posted a UK bow of $29,000 (£19,013), including $682 (£447) in previews, from its 24 sites through Eureka Entertainment.
METRODOME
François Ozon's The New Girlfriend has grossed $321,000 (£210,760) after three weeks in play through Metrodome.
SODA PICTURES
Released in 22 sites through Soda Pictures, Shooting for Socrates recorded a UK debut of $6,000 (£3,968), including previews.
UPCOMING RELEASES
This week sees saturation releases for Universal's Jurassic World (opens June 11) and Picturehouse Entertainment & National Theatre's London Road.
Dogwoof's The Look of Silence, Park Circus' re-release of The Misfits and New Wave's West are among the films receiving a limited release.