New channel aims to screen "carefully curated, meaningful stories" but still needs to comply with Indian censorship.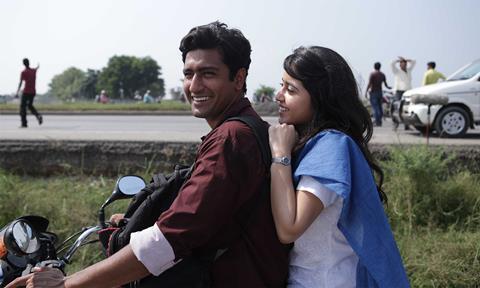 Indian broadcaster Star India has launched a channel, Star Gold Select HD, to show specialist and story-driven Hindi-language movies to a "discerning audience".
The move comes as India's growing ranks of "non-Bollywood" independent and arthouse filmmakers are gaining greater recognition both in India and overseas.
Star said it would "serve carefully curated, meaningful stories from Indian cinema". The exclusively HD channel, which is available on Tata Sky and Indian digital cable platforms, will premiere one movie every week in the 9pm prime time slot.
Titles included in a promo for the channel include Neeraj Ghaywan's 2015 Cannes title Masaan (pictured); Anu Menon's Waiting, starring Naseeruddin Shah and Kalki Koechlin; Tanuj Bhramar's coming-of-age story Dear Dad; and Anupam Sharma's Australia-set, English-language romantic drama Unindian.
In a departure from Star India's other movie channels, it will screen films with just one break, to replicate the experience of watching the film in a multiplex. Indian cinemas always have an interval in the middle of screenings, during which ads are played.
Hemal Jhaveri, Star India's general manager for Hindi movie channels, said: "From a Hindi movie content-consumption point of view, it's safe to say that India is at its best stage so far. Movie lovers across the country are looking for differentiated content in films, television and digital. With the launch of this channel, we will cater to this need with our handpicked movies that have a compelling storyline."
However, all films on the new channel will need to comply with India's broadcasting regulations, which prevent A-rated films (restricted to adults) from screening on TV. In some cases, A-rated films such as Hansal Mehta's gay-themed biopic Aligarh are cut and recertified following theatrical release, before they can play on satellite channels.
Indian broadcasters are facing fresh competition from streaming services such as Amazon and Netflix, which have less stringent censorship requirements. But most broadcasters have already launched their own OTT platforms, among which Star's Hotstar is one of the most successful.
Although censorship remains an issue for India's indie filmmakers, broadcast on a mainstream TV channel could potentially widen their audience. Star's other Hindi movie channels – Star Gold, Movies OK and Star Utsav Movies – focus on mainstream films.