August box office takings rose 12% year-on-year.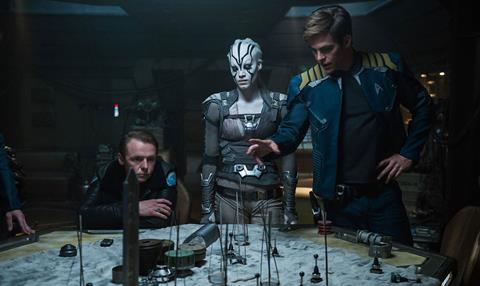 Hollywood films dominated the top three spots at the Chinese box office in a quiet week (Aug 9 – Sept 4).
Leading the pack was Star Trek Beyond which opened top with $30.24m over its three-day debut weekend. The takings were 107% ahead of predecessor Star Trek Into Darkness and 30% above previous table-topper Jason Bourne based on Fri-Sun. Paramount's sci-fi sequel has also outperformed the initial Star Trek reboot in 2009 and is expected to set a new box office record for the franchise in China.
Ice Age: Collison Course came in second position with $16.3m for $57.82m after 13 days. Fox's family animation debuted in second behind Jason Bourne two weeks ago, but it has out-grossed the Bourne sequel since last Sunday (Aug 28) and is fast-closing the gap in their box office takings.
Former box office champion Jason Bourne dropped to the third place with $13.95m for $61.97m after 13 days.
Hong Kong cop drama Line Walker held well in fourth place with $4.85m for $87.47m after 25 days. After staying within the top four for the fourth week in a row, it has surpassed local animation Big Fish & Begonia to become the fourth highest-grossing film this summer.
Two new titles debuted neck-and-neck. Japanese sci-fi horror Parasyte took $3.66m from its belated release, while Hong Kong director Joe Ma's romance drama Days Of Our Own grossed $3.6m, both from their first three days.
The rest of the top 10 were all holdovers, including Time Raiders on $2.67m for $147.90m after 31 days; Love O2O on $1.72m for $39.98m after 24 days; nature documentary Born In China on $1.24m for $9.12m after 24 days; and animation New Happy Dad And Son 2 on $1.12m for $12.50m after 17 days.
The month of August recorded a rise of approximately 12% in box office takings, compared to the same period last year. However, last week's box office was down by approximately 34% as school holidays were coming to an end.
This week's new releases include The Shallows, Nine Lives, Absolutely Anything and Crosscurrent, all scheduled for Sept 9.