Experts predict Disney-Lucasfilm epic to reach $166m (£110m), surpassing Skyfall's record.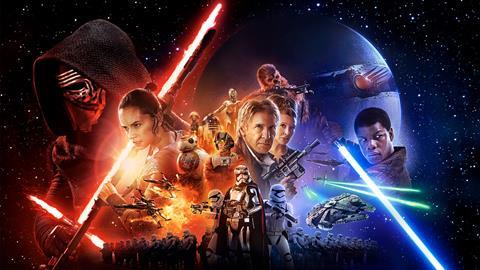 Star Wars: Episode VII – The Force Awakens is set to break all UK box office records following its release on Dec 17, according to forecasts based on pre-sales.
Speaking to ScreenDaily, one major exhibitor said that they had seen "unprecedented" demand so far and that they were "very confident that it will smash records".
The executive confirmed that the film was tracking to "certainly be the biggest film of all time in the UK", and that it could go on to make $163m - $166m (£108m - £110m), surpassing the current record set by Skyfall at $155.5m (£102.9m) in 2012.
Skyfall, it should be noted, did not have the benefit of the 3D uplift in ticket prices.
Pre-sales for The Force Awakens have been particularly prolific in large format, premium cinemas. A representative for IMAX told ScreenDaily that its screens are accounting for one-fifth of all pre-sales in the UK.
One exhibitor is predicting The Force Awakens' opening four days (Thurs-Sun) at $45.3m (£30m), meaning its seven-day record would likely surpass Spectre's seven-day total of $63.9m (£41.3m).
As previously reported when sales began in October, Vue Entertainment said that it had sold 10,000 tickets within the first 90 minutes of sales, also a record.
One source stated that the film's scheduled midnight screenings will smash all previous records, drawing around $3m (£2m).
Most experts predict that the film's tail will only be lengthened and strengthened by the Christmas holidays.
Bond film Spectre has been another boon for exhibitors this year, setting a pre-sales record for at least one major UK exhibitor, which did not wish to be disclosed.
The film debuted in late October to a record-breaking $63.9m (£41.3m) first week, including $33m (£21.32m) in its opening four days of previews, and experts are predicting it will likely go on to take $144m (£95m).
While The Force Awakens has not yet surpassed Spectre's advanced sales for that company, it will do so next week and will go on to amass its biggest pre-sales "by a country mile".