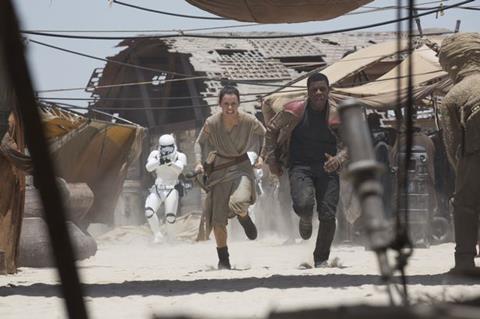 Star Wars: The Last Jedi has a shot at opening on more than $200m in its December 15 North American debut, according to executives.
Globally, Star Wars: The Force Awakens (pictured) opened on $529m in December 2015, which did not include China or India. Rogue One opened a year ago and grossed $290m, which did not include China or South Korea.
Star Wars: The Last Jedi does not open day-and-date in China and is expected to perform in the same ballpark.
With three weeks to go before the release, Disney and Lucasfilm executives are playing coy about exact numbers. Yet confidence is high that it will overtake the $174.8m biggest North American debut of the year-to-date set by Beauty And The Beast.
The record holder remains Star Wars: The Force Awakens on $247.9m. Executives admit they cannot predict with any accuracy a debut above $150m because of the scarcity of comparisons to The Last Jedi.
The Avengers opened via Buena Vista on what was then a record $207.4m in May 2012 and Avengers: Age Of Ultron followed three years later on $191.3m after an 8% drop.
What pleases studio heads is that December is known for high multiples, which is to say film-goers return to see a film several times. The Force Awakens registered a multiple of nearly 3.8, while Rogue One posted more than 3.4.