EXCLUSIVE: Paris-based company also sees IFFR programmer Inge de Leeuw join as acquisitions manager.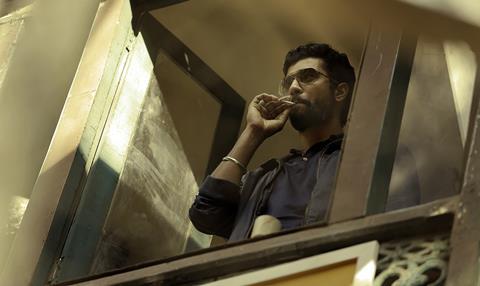 Paris-based Stray Dogs has acquired world sales rights to Indian director Anurag Kashyap's thriller Psycho Raman (Raman Raghav) [pictured] ahead of its premiere in Cannes parallel section Directors' Fortnight.
Nawazuddin Siddiqui stars as Raman, a serial killer who sees his alter ego in rookie borderline cop Raghav and sets his sights on making him turn bad.
"It's elevated bad-ass and, for sure, one of the edgiest and coolest films in the selection. I'd been scouting the film for a while and saw a first-cut in Mumbai in December," said Stray Dogs founding chief Nathan Fischer.
Fischer, who launched Stray Dogs at the beginning of 2015, first met Kashyap while interning at the Indian Film Festival in Los Angeles.
"What is so cool about this collaboration with Anurag is that I was his driver three years ago when I was an intern in Los Angeles. I'm so grateful for the trust and generosity at play here," says Fischer who has already secured sales for the film for France (Happiness) and the Germany (Rapid Eye).
The company's Cannes slate also include Kashyap protégée Rohit Mittal's Autohead, a mockumentary about a rickshaw driver in Mumbai, combining elements of Taxi Driver and Man Bites Dogs.
Expanded staff
Some 18 months after it was created, Stray Dogs will be at Cannes with its biggest slate to date and an expanded sales and acquisition team.
International Film Festival Rotterdam (IFFR) programmer Inge de Leeuw has come on board as acquisition manager and Laura Nacher, who previously worked for Films Distribution, has joined as sales and festivals manager.
"Inge will be based half at Rotterdam and half at Stray Dogs. Her unique eye, more than excellent and subtle taste, also brings some lightness and femininity to Stray Dogs," says Fischer.
Her first acquisitions for the company are Greek filmmaker Sofia Exarchou's debut film Park, a contemporary drama capturing the current state of Greece, developed at the Sundance Institute and currently in post-production, and Melisa Liebenthal's documentary The Pretty Ones (Las Lindas), an entertaining feminist reflection on her girlhood and society's expectation of women which debuted at IFFR.
Other titles on the Stray Dogs slate include Brazilian writer-director Gabriela Almeida's Friendly Animal, a violent survival picture revolving around a restaurant owner who turns the table on an attacker who tries to take his client hostage.
It is the latest production from respected producer Rodrigo Texiera after elevated genre titles such as The Witch, Love and Mistress America.
"It will be ready for the fall festivals. We'll be teasing Cannes buyers with an explosive promo," said Fischer.
The company has also recently acquired Argentine Edgardo Castro's gritty drama La Noche, capturing the lives of sex workers and "creatures of the night" in the underbelly of Buenos Aires and featuring an amateur cast drawn from the milieu where it is set.
"It's his first film but we are going to work with him on all his films moving forward. His directing is very reminiscent of Pasolini and early Gaspard Noé," added Fischer.
The company will also market premiere Issac Ezban's sci-fi horror thriller The Similars about eight characters who experience a strange phenomenon while waiting for a bus at remote stop in the middle of nowhere.
It was acquired by Xlerator Media for North America.