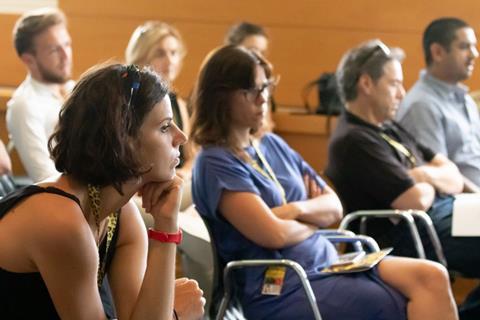 The European film industry stands to benefit substantially from the influx of the streaming giants, but must act to preserve the theatrical side of the business, according to international executives participating in this year's industry-focused Stepin event at Locarno Film Festival.
Allison Gardner of the Glasgow Film Festival and the Glasgow Film Theatre, presenting notes from one of four focus groups formed on the day, said their discussion had concluded, "We need to get people off their couches away from these steamers and into the cinema."
"How can we make going to the cinema worthwhile? How do we drive audiences to the cinema and make sure they keep coming?" Gardner posed.
While watching content on streaming platforms offers convenience, the cinema offers a "shared communal experience – being in the moment, being fully immersed in the film", and that was an enduring value, she said.
Several ideas were mooted to get people into cinemas, and to promote the medium to a young audience. They included better collaboration and sharing of data between exhibitors and other facets of the industry such as producers and sales agents, and also promoting film literacy in schools.
However, a separate focus group noted the benefits streamers were providing to other parts of the industry.
Joyce Pierpoline, a producer based in New York and Paris, highlighted the substantial influx of production from companies such as Netflix and Amazon was allowing "regular work for everyone" by creating increased opportunities.
For producers, there is also the option to sell completed projects to the services, which "provides a nice revenue stream", she added. However, the panel also warned that those companies have typically become less daring in the content they acquire now that they place a greater emphasis on their originals.
There are also a variety of significant challenges being created by the emergence of these companies. Streamers are monopolising the talent pool, which is making it tricky for producers to secure high-quality talent for their projects, and they are also making productions generally more expensive due to paying high fees, said Pierpoline.
A further challenge is that they typically acquire all rights, which means producers are losing certain revenue streams including back-end deals with broadcasters. However, Pierpoline said her group believed that the emergence of competitors to Netflix and Amazon, such as Disney+, may allow producers to "change the way the model is working" by striking different kinds of deals.
"Streamers energise the marketplace and provide many more outlets for us. But it's still a balance with the traditional model of theatrical distribution," Pierpoline concluded.
Too much choice
Another persistent theme was that there are simply too many films being made. More than 1,700 features were produced in Europe last year, the panel noted, which essentially made it impossible for all of them to receive serious distribution and for audiences to discover them on their own merits.
"There are far too many films being made. If you're making a film, there may just be 600 people, mostly you friends and your parents, who actually want to see it," Gardner warned, suggesting that there should be greater rigor placed into the process of deciding what gets made.
For films to break out,, more work needs to be done on the promotional side of the business, said Mathias Noschis from the Berlin-based digital marketing agency Alphapanda.
"Films need a real 'hook' to travel internationally. Distributors hate to say no to sales agents when they love the film but if it's missing the 'hook' [it won't sell]," he claimed.
Noschis suggested creating "brands" around filmmakers, cinemas and distributors as a way to take the business forward. He pointed to A24 in the US, which is a distributor of independent cinema recognised by audiences as a unique brand.
Promoting content appropriately to young audiences was essential for future-proofing the business, he added. "There is the risk that one day we distribute films and nobody comes to the cinema."
However, there are good news stories emerging in disparate territories. He noted in Singapore, arthouse films are typically viewed by people under 35, rather than the older audience prevalent in Europe, while in the Netherlands there has been the successful introduction of a cinema pass called Cineville that specifically target increasing audiences for independent films.