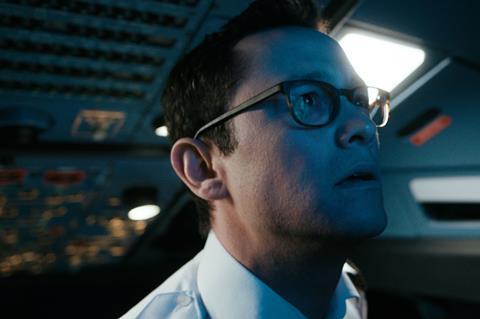 German producer Jonas Katzenstein is having what he calls his midlife producer crisis. Just over a decade spent making modest international arthouse hits including Nana Ekvtimishvili and Simon Gross's Georgian drama My Happy Family, Marcela Said's Los Perros and Calan Peter Netzer's Ana, Mon Amour, has left him wanting more.
The answer for him and partner Maximillian Leo in Cologne-based augenschein Filmproduktion is the English-language 7500 on which they have partnered with FilmNation and Endeavour Content. The hijacking thriller is world premiering in the 8,000-seater Pizza Grande at the Locarno Film Festival today (August 9) and, at $5m, it is the German producers' biggest project to date.
7500 is written and directed by emerging German-born, Austrian-based filmmaker Patrick Vollrath, whose short film Everything Will Be Okay was nominated for an Oscar in 2015. It stars Joseph Gordon-Levitt as the pilot of an aeroplane that has been taken over by terrorists. Most of the narrative takes place in the plane's cockpit. Katzenstein describes it as an "elevated genre" film and it is, he hopes, the beginning of the answer to his existential crisis.
"We were struggling a bit with movies that were successful on the festival circuit but not successful on the market," Katzenstein says of the situation out of which rose 7500. "We are not the producers who are the specialists for the really commercial movies because there is something a bit lacking for us inside [those movies], atmosphere, something like this.
"But this combination, an English-language film with an A-list cast and US partners, that still has the handwriting of the director on it, that feels like a super win-win for all of us. We're doing the movies we love and are hopefully quite good at, that we can present to a festival and also hopefully to a wider audience. We have found our niche."
Rising stars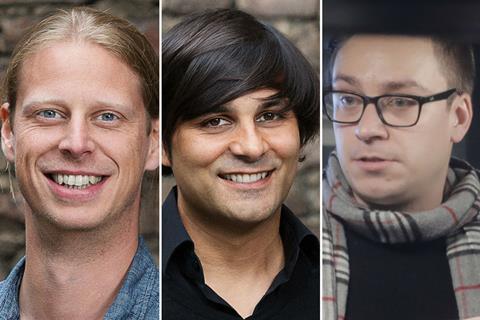 Katzenstein first encountered Vollrath when the producer was a member of the jury of the Max Orpheuls Festival for new German talent in 2015. Vollrath won the main prize for Everything Will Be Okay.
"Two weeks after we met on stage Patrick pitched me two projects," Katzenstein recalls. "He said, 'I just have the logline for one. There's a movie that just takes place in the cockpit of a plane.' I said, 'That sounds really intriguing. Let's go for this one'."
They started developing the project together and Vollrath took part in Cannes Critics' Week's Next Step initiative to help short film directors to make their feature debuts. (The strand had screened Everything Will Be OK in competition in 2015.) Katzenstein and Vollrath quickly realised the dialogue would be almost entirely in English as the official language of airplane communication is English, even on a German flight.
"Combined with the success of Patrick's short film at the Oscars, we realised we could think about an English-language cast," says Katzenstein.
Lindsay Williams at the Gotham Group, Vollrath's newly-acquired US manager, stepped in to help. "We said, 'Please go out to Paul Dano as we love Paul so much'," says Katzenstein. "Paul liked Patrick's short film and was interested and so after sending him the script he said, 'Yes I'm all in, I'm your guy'."
The combination of the impact made that year by My Happy Family at Sundance, Vollrath's previous Oscar nomination, and Dano's attachment to 7500, put the project on the radar of the US industry.
"Lindsay [Williams] organised one week in LA for Patrick, Max and me," says Katzenstein. "We did the whole LA tour, all the agencies, the distributors, world sales, even the studios. We realised they were all looking for new talent and our director was hot."
It helped they had a project in 7500 that was easy to pitch. "We said we didn't want to do the most commercial movie," recalls Katzenstein. "Patrick had studied with Michael Haneke at the Vienna Film School after all, so it's not a studio movie or an action movie. It's a European movie but English-language because of the content."
Katzenstein and Leo had already fully-financed the $5m budget of 7500 out of Germany via the two federal film funds, three regional funds in North-Rhine Westphalia, Hamburg and Stuttgart respectively, Germany's 20-25% tax rebate, three German broadcasters and ARTE. Distributor Universum had pre-bought German, Austrian and Swiss rights and Austria had come in with further support from the Vienna Film Fund, the FISA shooting incentive and the Austrian FIlm Institute as Vollrath lives in Vienna. Novotny & Novotny Filmproduktion is the film's Austrian co-producer.
"To be honest, it was more than we were expecting," Katzenstein admits. "We thought we would get $3.5m or something. So we had a decent budget to do something. We bought an airplane! Although there's never enough money, it otherwise felt right, which is really rare on the 25 films we've made before. We had the creative freedom to try a few things."
Although they needed neither cash nor casting from the US, Katzenstein and Leo wanted to give the project a chance to find the wider global audience a US partner could bring.
"We knew FilmNation as a company, we really liked their style," says Katzenstein. "We were also in close contact with Protagonist about the project but I always told them, 'Guys I love you so much but if I get the right US one here I prefer them because we would like to give the project a little more of a US feeling.'
"Glen Basner [CEO of FilmNation] loved the movie. We also wanted to have a foot in the door of a US agency and Glen said Endeavour was the best for domestic sales."
The shoot
Principal photography was scheduled for November 2017 at the MMC Studios in Cologne, using the training plane augenschein had bought. A few extra days were also planned on location in Vienna. However just before Cannes of that year Dano was forced to drop out due to scheduling conflicts with the Showtime series Escape At Dannemora.
"We found Joseph Gordon-Levitt and he came on board within two weeks," Katzenstein explains. "He was a no brainer for us. In fact when we started casting we were looking for a young Tom Hanks. We needed the normal guy, not the action hero."
Gordon-Levitt is in nearly every scene, with the rest of the roles played by German actors and newcomers. The team even street-cast the role of the 18-year old terrorist. Heavily inspired by his mentor Haneke, Vollrath wanted to keep the shoot as authentic as possible, with no bluescreen and frequent takes of 45-minutes or so. Katzenstein says the production only enlarged the cockpit of their real plane by 25 centimetres and changed the angle of the ceiling by 20 centimetres for technical reasons.
The film was in post-production, mostly editing and sound, for a year. It was then submitted to Critics Week earlier this year, the Cannes sidebar in which Vollrath's short had screened four years earlier. "We were down to the last 20 or 30 movies and then they kicked us out and we were a little depressed," says Katzenstein, sounding anything but depressed.
Instead FilmNation hosted two market screenings of 7500 on the Croisette, which was all new to augenschein as they had previously only experienced the festival through the prism of one of its sidebars.
"FilmNation are a big company and they stand for something. It felt the like movie was in Cannes because everyone came to us. Unbelievable!" recalls Katzenstein. "It felt like we were in the festival but the FilmNation section."
Following the Cannes screenings, Amazon Studios bought all of the remaining territories on the film outside the German-speaking territories held by Universum. Katzenstein says Amazon does not plan to release the film theatrically in any of its territories, except for a possible Indie Spirit-qualifying run in the US. And several international distributors have expressed interest in licensing the film from Amazon for limited theatrical releases in markets such as Italy and those talks are ongoing. Universum is planning a theatrical release on 100 prints in early 2020.
Bridge between the US and Europe
Katzenstein's aim is that 7500 is the beginning of a new way of working for augenschein. He hopes it is one that will bring together the international talent with whom they have been making films for the past 11 years, with the company's ability to raise money out of Germany and the potential global platform offered by their newly-forged US relationships. "We can be the bridge between the US and Europe for these films with a festival pedigree," he suggests.
augenschein is now producing Brazilian-born, US-based Joe Penna's English-language Stowaway with Los Angeles-based XYZ Films, which is also handing international sales. Anna Kendrick and Toni Collette star in the film about a Mars mission. It recently wrapped after a shoot at MMC.
augenschein raised 65% of the financing out of Germany, Wild Bunch is on board as the German and French distributor and Sony bought a slew of international rights.
The company is also working on Home, the directorial debut of German actress and writer Franka Potente, which stars Kathy Bates, and is set up as a Germany-US co-production.
"We didn't know before but [Potente] is a published novelist and short story writer in Germany," says Katzenstein. "She sent us the script and we were a little bit sceptical but we were blown away by the story. It is a very good script."
They are also set to produce Vollrath's next feature to which FilmNation is also attached.
"Around 80%-90% of our energy now goes into these English-language projects," says Katzenstein. "We are also talking with See Saw Films [about projects], with Protagonist, with Anton Corp. After proving we could get the money for 7500, for Stowaway, for Franka's project, people can see we can deliver. We are getting a lot of projects on the table."
Building enduring relationships with US companies has taken a lot of hard work, he admits. He does not think it is for every European producer.
"As a German you have to figure out there are 40 different ways of saying yes in the US that means no," he says of one of the main things he has learned about working with Hollywood.
"It's a totally different business and it's very demanding and it's hard work. We are not so afraid so many people will do it. You have to be willing to sacrifice your evenings from the German perspective as at 6pm another business starts after you have finished your German business.
"You also have to be [in the US] quite often. We have been going for a week or two every six weeks for the past two years. People are still meeting us as we are not there every day. We are the guys who are just in town this week, unlike my friends in Cologne who know we can meet any day.. Skype is helpful but you sometimes need to sit at a table and talk through things."
And with that he makes his apologies and hangs up. Los Angeles is calling and any midlife (producer) crisis is put firmly on hold.