Historical drama stars Adam Driver, Liam Neeson and Andrew Garfield.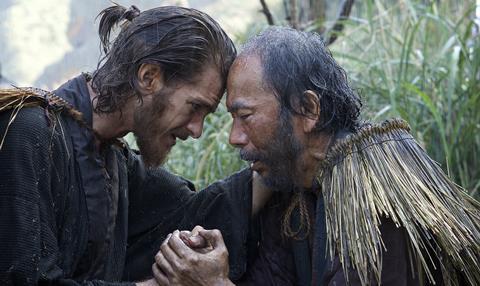 Studiocanal will release Martin Scorsese's anticipated historical drama Silence in the UK.
Based on Japanese author Shunsaku Endo's novel of the same name, Silence follows two Jesuit Portuguese Catholic priests who face persecution after travelling to Japan to locate their mentor. Adam Driver, Liam Neeson and Andrew Garfield star.
Also among the cast are Ciaran Hinds (Munich) and Tadanobu Asano (Thor). Jay Cocks (Gangs Of New York) adapted the screenplay, while Vittorio Cecchi Gori, Barbara De Fina, Randall Emmett, Emma Tillinger Koskoff, Irwin Winkler and Scorsese himself are producers.
Studiocanal's UK CEO Danny Perkins said of the acquisition, which was inked at Cannes 2015: "We have been long admirers of Martin Scorsese and are truly thrilled to be bringing his latest feature to UK audiences."
IM Global negotiated the deal on behalf of London-based AI-Film, who were principal financier on the project.
The film was shot entirely in Taiwan, wrapping in May 2015 after a 14-week shoot.
A release date has yet to be announced, but Screen understands the film could be in line to receive an awards season bow. Paramount, which handle US rights, are reportedly lining up a US release in November.
Scorsese's Silence has also been mooted as a potential Cannes title this year, the 40th anniversary of the director's Palme d'Or win for Taxi Driver. However, it remains to be seen whether the film will be ready in time.