Perkins delivered this morning's keynote address at the Film London Production Finance Market.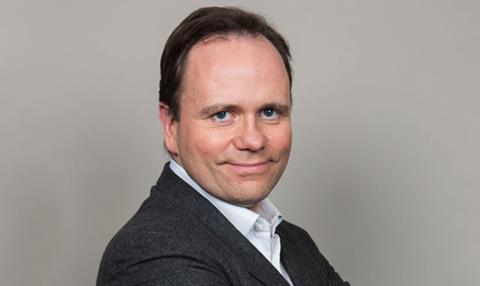 Studiocanal UK CEO Danny Perkins has warned that UK distributors could face a tough time at the American Film Market (AFM) next month.
Speaking to Screen today (Oct 12) after his Keynote Speech at the 10th Film London Production Finance Market, Perkins highlighted that the pound post-Brexit is now at its lowest level against the dollar in 30 years.
"Any company in the UK running numbers on an American film is going to find the numbers much tougher," Perkins said. "The currency fluctuation, for sure, buying international films into the UK, they've just got 20% more expensive. That's a tough margin on a film."
The challenge now will be UK distributors to show "good returns on a big MG (minimum guarantee) film" which they will be "buying in dollars but selling in pounds."
Whatever the strain on acquisitions, Perkins took the opportunity during his keynote speech to emphasise that Vivendi-owned Studiocanal's commitment to the UK remains as strong as ever.
"The good news is that we are part of a huge international company. Vivendi is a big powerful media group. Universal Music Group, which has its base in the UK, is a big part of that," Perkins said. The CEO acknowledged that his colleagues in France were "a bit shocked and surprised" by the Brexit referendum result but said that it wouldn't change their strategy.
"The saddest thing about Brexit is that it make things tougher on the independent sector. This whole 'we want to take our country back and we'll have more control', it actually feeds into having less control and putting things in the hands of big international companies who can exploit the fluctuations in currency," Perkins said.
He added that the message from the top brass at Vivendi was that Brexit won't affect long-term vision. "They talk about 10, 20 and 50 year planning and the UK will always be part of that. They see the UK as a creative heart within Vivendi because there is so much talent, whether it is on the music side or the writing side, the literature, the IP that is here, the production talent, the film-making talent, the actors and stars that come out of here. It (the UK) is like no other place in the world.'
Even so, Perkins acknowledged that the Brits face a challenge "culturally" because they've effectively just "stuck two fingers up at the rest of Europe."
On the music side, Perkins gave Screen further details of Studiocanal's collaboration with Island Records on Idris Elba's 1980s-set directorial debut, the thriller Yardie.
"For Idris, this is a time in the 80s in London which is his time growing up. He's very aware of what the music should be." Perkins said that Elba would not only be "curating" a soundtrack of music from the era (much of it in Island's catalogue) but will also "look to create music inspired by the film. When you've got such a rich community as the Jamaican community in the 80s in London, it's great that we're able to think about it across music (and film.)…we'll get a better film from it and there will be a better soundtrack album." There are likely to be a number of albums released to tie in with Yardie.
Studiocanal is also moving ahead with the Paddington sequel, for which the marketing is already beginning in earnest.
"We've learned an awful lot through the first film. We now have a situation where Vivendi owns the IP of Paddington so there's a more closely working relationship with copyright," Perkins said. "We are building up to a release next November. We know everything we need to hit along the way to deliver the film properly."
Paddington creator Michael Bond is reportedly very happy with the script, written by Paul King and Simon Farnaby. "He (Bond) is in approval of what is being done. It is also about looking after the bear and he has faith in those guys to look after Paddington."
Another observation that Perkins made both in the keynote and the interview with Screen is that there are still legs left in the DVD and home entertainment business.
"For the last ten years, people have been saying there is two years left in DVD and (then) it is going to drop off a cliff…here we are ten years later and it (the DVD business) is still going," Perkins said, pointing out that Legend (the Tom Hardy-starring Kray Brothers movie) is on target to sell a million copies this year.
"It (home entertainment) is still a strong business for us. DVD was a particular boom because it was such a high margin business, probably too high margin. We're now seeing the revenues at similar levels to what they have been but the market is very polarised. The hits are bigger than ever and there is no real in between."