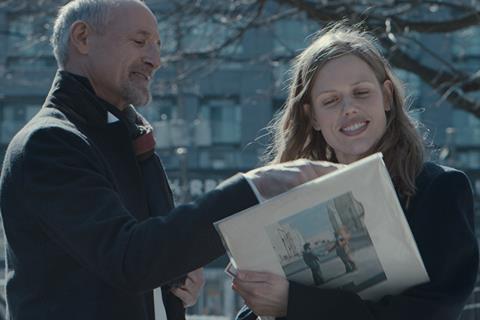 Blue Fox Entertainment has picked up sales rights to the female-centered Sugar Daddy from Clique Pictures and Violator Films and will launch sales in Cannes.
Wendy Morgan directed the feature starring Kelly McCormack and Colm Feore, about a broke musician who signs up to a paid-dating website to find herself finally discovers her voice.
Wendy Morgan directs from a screenplay by McCormack. The cast includes Amanda Brugel, Noam Jenkins, Aaron Ashmore, Ishan Davé, Nicholas Campbell, Tiio Horn, Jess Salgueiro, Tony Nappo, Rob Stewart, Michelle Morgan, and Broken Social Scene's Brendan Canning.
Blue Fox will distribute in the US and levelFilm in Canada. Lauren Grant of Clique Pictures produces with Lori Lozinski of Violator Films, and McCormack for Floyder Films. Executive producers are David Jenkins, Heather Laird, David Hudakoc, Mark Gingras, and John Laing.
Financing for the project was provided by Telefilm Canada, Harold Greenberg Fund, Ontario Creates, Urban Post Production, and levelFILM, with additional funding from private investors.
"With gripping performances from the extremely talented cast including Kelly McCormack, Colm Feore, and Amanda Brugel, director Wendy Morgan used McCormack's hard-hitting script to take the audience through a young woman's journey to find herself - both as an artist and a human being – through a very uniquely female and personal perspective," said Blue Fox Entertainment. "We're thrilled to help introduce Wendy Morgan and Kelly McCormack to more film audiences around the world and look forward to seeing what they each do next."
"This is not a rise to fame story, it's the story of young woman's rise to self," said McCormack. "That lonesome, ruthless, grotesque and untold necessary prequel to the birth of an artist. I wrote this film as a love letter to the dark ages, when things were less clear, and the power I wanted, I was giving away to get by. As a performer, I'm looking forward to burning it down."
"I'm so excited to be embarking on this film with such an incredible cast including Colm Feore, Kelly McCormack and Amanda Brugel," said Morgan. "This story is unapologetic and uniquely female. At its core, it is about radical acceptance. Everyone involved has made a bold choice to take part in a shift in filmmaking towards the future."
"We are thrilled to be partners with companies like Blue Fox Entertainment that recognize that these stories have a massive underserved audience clamouring for experiences of real female-identifying people," said producers Grant and Lozinski.