AUG 15 UPDATE: Universal Pictures International crosses the $1bn mark for the tenth consecutive year.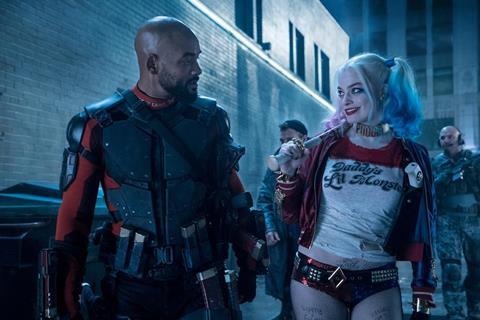 WARNER BROS PICTURES INTERNATIONAL
UPDATE: Suicide Squad retained its lead at the overseas box office with a $59m second weekend from its 62 territories for $243.4m to date.
The DC Entertainment adaptation opened in Argentina and Italy with chart-topping bows of $2.4m and $2.2m, respectively, while Brazil led the holdovers with $6.2m for $22.9m to date, already the second biggest Warner Bros title of all time.
Other second weekend highlights included a $5.5m haul in the UK for $29.2m after ten days in play, $4.5m in Australia for a local tally of $17.6m and a $4.3m weekend in Mexico for $19.5m.
Suicide Squad opens in Germany next weekend and Japan on Sept 10.
The Legend Of Tarzan grossed $4.1m from its 55 markets for $222.4m to date overseas, with China its leading market on $45.5m.
With a $437k debut in Sweden, Lights Out scared up $3.3m from its 44 markets for an early $37.1m, with releases in Brazil, Spain and the UK to come next weekend.
UNIVERSAL PICTURES INTERNATIONAL
UPDATE: Aided by the success of titles such as The Secret Life Of Pets, Universal Pictures International crossed the $1bn mark this weekend for the tenth consecutive year.
Opening in six new markets, The Secret Life Of Pets hopped to a further $40.3m from its 45 territories for $257.1m to date and $593.3m worldwide.
Illumination Entertainment and Universal Pictures' animation enjoyed a terrific chart-topping $9.6m debut in Japan from four days, and posted a $6.7m second weekend in China for a 13-day tally of $49.1m.
In South Korea, it added $3.2m for a local tally of $11.9m, while it retained the top spot for the third straight week in Germany with $3.5m for an 18-day total of $21.2m.
The Secret Life Of Pets opens in Russia, Portugal and the UAE, among others, next weekend.
Jason Bourne shot to an extra $18.4m from its 59 territories for $119.2m to date after opening in nine more markets.
France and Germany led the new openers with debuts of $3.3m and $2.8m, respectively, and holdover-wise, the UK remains the top market with a $1.9m third weekend for $22.9m so far.
Its next major release comes in China on Aug 23, followed by Mexico on Aug 26 and Russia and Italy on Sept 1.
Central Intelligence and The Purge: Election Year have now amassed $81.8m and $21.4m to date, respectively.
CHINESE TITLES
Released in five territories, Media Asia's police thriller Line Walker posted an estimated international debut of $35m, according to ComScore.
Zhao Tianyu's fantasy romance Love O2O enjoyed an estimated $17.5m opening in China, while Universe Films Distribution's period action film Call Of Heroes recorded a $12.9m bow.
Holdover-wise, Le Vision Pictures' Time Raiders added an estimated $12.3m for $121m from its one territory to date.
SOUTH KOREA
Another week, another big South Korean hit as Showbox's The Tunnel opened with a chart-topping estimated $15.2m, according to ComScore.
Lotte Entertainment's historical melodrama The Last Princess added an estimated $7.8m for $25m after two weeks.
Finecut's Operation Chromite and Train To Busan, sold internationally by Contents Panda (NEW), stand at $42m and $75.5m, respectively. Train To Busan is currently playing in four overseas markets.
WALT DISNEY STUDIOS MOTION PICTURES INTERNATIONAL
With no new openings, Finding Dory swum to an additional estimated $8.1m from its 27 territories for $420.6m to date.
Japan became the leading overseas market for Pixar's latest as a $2.9m weekend lifted its local tally to $51m, while the UK fell only 37% on its way to a $3.3m third weekend for $35.9m to date.
The Jungle Book swung into its final overseas market of Japan with an estimated $6.2m. Disney's live-action adaptation has now amassed $584.8m overseas and $947.8m globally.
Flying into 12 international territories day-and-date with its North American release, Pete's Dragon posted an estimated $5.1m overseas debut.
Its best opening came in Russia with $1.5m from four days to chart second, followed by Italy with $1.4m from five days and $1.1m in the UK. Pete's Dragon lands in France and Spain, among others, next weekend.
SONY PICTURES RELEASING INTERNATIONAL
Ghostbusters captured another $7.2m from 8,300 screens for $72.2m to date internationally.
Paul Feig's reboot opened in Mexico ($2.5m to chart second), Spain ($840k to chart first) and France ($1.2m, including previews), ahead of its release in Japan next weekend.
Swimming to a $1m debut in the UK, The Shallows bit into $4.4m from its 36 markets for $21.8m.
The single-location thriller also posted chart-topping debuts in the Philippines and the UAE with $535k and $530k, respectively. It opens in France and Australia next weekend.
Sausage Party started its international rollout with $2.6m from its nine markets. The majority of the opening came from a $2m bow in Australia, and its next major market release is the UK on Sept 2.
STX ENTERTAINMENT
UPDATE: Charting second in Australia with a $3.1m bow, Bad Moms partied to $6.28m from its 30 markets for $13.7m overseas.
The R-rated comedy also opened in the Netherlands with $625k and added $440k in France for $1.5m after two weeks in play.
FOX INTERNATIONAL
UPDATE: Crossing the $300m mark globally, Ice Age: Collision Course rolled to $6.1m from its 65 markets for $247.3m overseas. It opens in China on Aug 23.
X-Men: Apocalypse opened in its final international market of Japan with $3.1m from its 619 screens. The latest X-Men offering now stands at $384.3m overseas.
Mike And Dave Need Wedding Dates added $2.3m from its 26 markets, including a $1.4m opening in the UK, for $15.2m to date. It opens in the likes of France, Switzerland and Hong Kong next weekend.
Absolutely Fabulous: The Movie and Independence Day: Resurgence stand at $27.5m and $279.5m, respectively.
PARAMOUNT PICTURES INTERNATIONAL
Star Trek Beyond has now phased to $71.6m at the international box office following a $2.5m weekend from its 34 markets.
Ahead of its release next weekend in France, South Korea and Spain, the latest mission for the USS Enterprise crew has grossed $13.5m in Germany, $18.7m in the UK and $6.7m in Australia.
Teenage Mutant Ninja Turtles: Out Of The Shadows sliced to $1.7m from its ten markets for $157.2m, with its final release to come in Japan on Aug 26.
LIONSGATE INTERNATIONAL
Opening in the UK with $1m, Nerve earned $2.3m for an early $4.2m overseas. The technological thriller opened soft in Spain ($303k) and Finland ($76k).
Now You See Me 2 crossed the $250m mark internationally with a $2.2m weekend from its 65 markets for $251.7m to date. It opens in Germany on Aug 25.