Hot weather and crowded market contribute to new release struggles.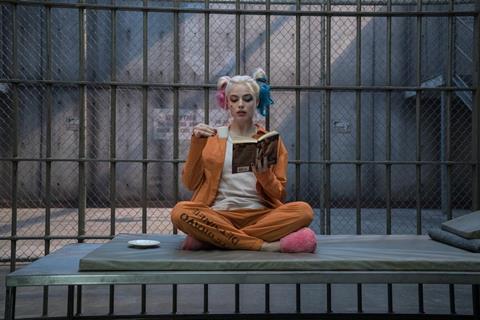 UK TOP FIVE
| Ranking | Film/Distributor | Weekend gross | Running total |
| --- | --- | --- | --- |
| 1 | Suicide Squad (WB) | $5.5m (£4.24m) | $28.6m (£22.21m) |
| 2 | Finding Dory (Disney) | $3.3m (£2.56m) | $35.3m (£27.3m) |
| 3 | Jason Bourne (Universal) | $1.9m (£1.46m) | $22.5m (£17.45m) |
| 4 | The BFG (eOne) | $1.43m (£1.11m) | $30.4m (£23.5m) |
| 5 | Mike And Dave Need Wedding Dates (Fox) | $1.38m (£1.07m) | $1.38m (£1.07m) |
(Note - Dollar conversions are based on today's rates)
WARNER BROS
Suicide Squad comfortably saw off all new releases to lead an unchanged top four at the UK box office for the second straight week.
Warner Bros' DC Entertainment adaptation fell 62% with a $5.5m (£4.24m) second weekend for $28.6m (£22.21m) after ten days in play. It enjoyed a strong first Mon-Thurs session with more than $8.4m (£6.5m) taken as it led the market on each day.
By comparison, 2016's other superhero outings Captain America: Civil War, Batman v Superman and Deadpool fell by 67%, 68% and 59%, respectively, although they all opened bigger than Suicide Squad.
David Brent: Life On The Road will likely prove to be the stiffest competition for Suicide Squad this weekend as it seeks a UK hat-trick. However, it will still hope to hold well in order to join the £30m club in the coming weeks.
DISNEY
With new releases struggling to make an impact, Finding Dory recorded an impressive drop of only 35% with a $3.3m (£2.56m) third weekend.
Disney's latest Pixar offering has now swum to $35.3m (£27.3m) after adding almost $5.8m (£4.5m) midweek. It is now the tenth-biggest Pixar outing, with A Bug's Life ($38m/£29.45m) and Monsters University ($39.7m/£30.7m) firmly in its sights.
Since its release, Finding Dory has increased sites each week from 592 sites at opening to 628 last week and now 643 sites, a rare climb for a saturation release.
Also for Disney, Pete's Dragon was soft on its UK bow but did post the best Fri-Sun tally of the new openers with $1.1m (£841,477) from its 563 sites.
That's significantly down on recent live-action Disney adaptations, although the original film is less well-known. Pete's Dragon will hope to take flight over the remaining weeks of the school holidays as a result of its critical acclaim.
UNIVERSAL
Jason Bourne fell 40% on its way to a $1.9m (£1.46m) third weekend as it remained in third.
Universal's action sequel is now up to $22.5m (£17.45m), but has fallen behind current series-high, The Bourne Ultimatum, which stood at $22.9m (£17.74m) at the same stage.
Also for Universal, The Secret Life Of Pets hopped to $366,000 (£283,160) for an excellent $42.7m (£33.05m) after eight weeks in play.
EONE
The BFG continued its strong UK run with a 35% drop in its fourth weekend as it marched to $1.43m (£1.11m) from its 614 sites.
eOne's Roald Dahl adaptation is now up to $30.4m (£23.5m) after adding $2.8m (£2.2m) midweek. It is currently director Steven Spielberg's fifth-biggest UK performer and still has time to surpass The Lost World's $33.3m (£25.8m).
FOX
This week's highest new release came in the form of Mike And Dave Need Wedding Dates as it rounded off the top five.
Fox's raunchy comedy partied to a non-final $1.38m (£1.07m), including $478,000 (£370,000) in previews, from its 452 sites. Based solely on Fri-Sun tallies, the film would have charted seventh behind Pete's Dragon and The Shallows.
Earlier this year, fellow Zac Efron comedy Dirty Grandpa started its UK run with $2.6m (£2.05m), including $781,000 (£604,675) in previews, from its 424 sites.
Also for Fox, Ice Age: Collision Course and Absolutely Fabulous: The Movie stand at $8.7m (£6.76m) and $20.4m (£15.77m), respectively.
LIONSGATE
Nerve charted seventh on its UK bow with $1.04m (£803,004), including $253,000 (£195,738) in previews, from its 372 sites.
Lionsgate's technological thriller recorded a sturdy site average of $2,789 (£2,159), and will hope its smart online campaign can help the film make an impact in an increasingly busy marketplace.
SONY
The Shallows bit into $1.03m (£798,000), including $118,000 (£91,000) in previews, from its 379 sites as it charted eighth on its UK debut. It would have been sixth solely on Fri-Sun takings.
Overall, Sony's single-location thriller achieved director Jaume Collet-Serra's fourth-best UK bow, behind his three collaborations with Liam Neeson, and will hope to attract solid midweek business due to strong reviews.
Also for Sony, Ghostbusters captured a further $145,000 (£112,000) for $13.4m (£10.4m) to date. As expected, it is director Paul Feig's second-best UK performer, behind Bridesmaids.
PARAMOUNT
In its fourth weekend, Paramount's Star Trek Beyond phased to an extra $612,000 (£474,000) for $18.4m (£14.21m) to date.
PICTUREHOUSE ENTERTAINMENT
Including $2,300 (£1,817) in previews, Picturehouse Entertainment's Wiener-Dog walked to a UK debut of $112,000 (£86,423) from its 38 sites.
That's narrowly up on director Todd Solondz's previous best opening, Happiness' $109,000 (£83,998), though it's worth noting that it only opened in 11 sites.
CURZON ARTIFICIAL EYE
2015 Palme d'Or nominee Valley Of Love posted a non-final UK bow of $35,000 (£27,438), including previews, from its 23 sites through Curzon Artificial Eye.
SODA PICTURES
With a site expansion set for Friday [Aug 19], Soda Pictures' Ingrid Bergman: In Her Own Words recorded a $5,100 (£3,960) UK debut from its two site release at the BFI Southbank and IFI Dublin.
UPCOMING RELEASES
This week sees saturation releases for Warner Bros' Lights Out, eOne's David Brent: Life On The Road, Lionsgate's Nine Lives (opens Aug 17) and Studiocanal's Swallows And Amazons.
Kaleidoscope's Asterix And Obelix - Mansion Of The Gods receives a wide release, while Metrodome's The Childhood Of A Leader, Vertigo Releasing's Black and Studiocanal's Tickled are among the films receiving a limited release.