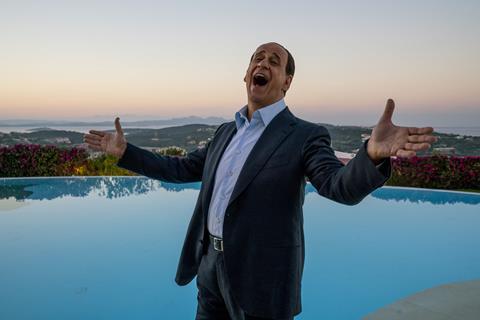 Sundance Selects has picked up North America rights from Pathé International to Paolo Sorrentino's Silvio Berlusconi drama Loro, set to receive its world premiere as a single feature in Toronto next month.
Regular collaborator Toni Servillo plays the mogul and former Italian prime minister in a fictionalised account of the controversial figure and his inner circle.
Loro, which has already gone on release in Italy as a two-parter, will screen in the Masters programme at the Toronto International Film Festival in September. Sundance Selects plans a 2019 theatrical release.
Jonathan Sehring and Lisa Schwartz, co-presidents of IFC Films/Sundance Selects said, "Paolo Sorrentino has defined himself as one of the masters of Italian cinema. He makes up his own rules and presents a cinematic vision that is totally unique. We are thrilled to premiere this film at the Toronto International Film Festival, and bring this exceptional story to audiences across North America."
Nicola Giuliano, who produced Loro with Francesca Cima, Carlotta Calori, Viola Prestieri, and Jérôme Seydoux added, "I'm very happy that Sundance Selects has picked up Loro. To secure a North American distribution with such a prestigious company, which always chooses and promotes its films with utmost care and particular attention to independent cinema."
Arianna Bocco, executive vice-president of acquisitions and productions at IFC Films/Sundance Selects, negotiated the deal with Pathé International.