Nick Cave documentary 20,000 Days on Earth and titles set for Cannes among Sydney Film Festival competiton contenders.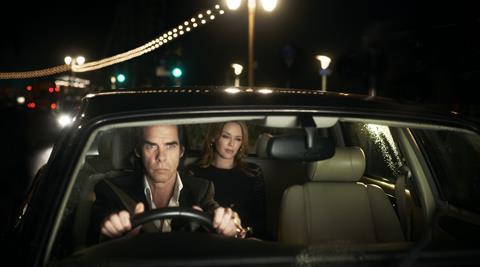 In an unusual move the Sydney Film Festival has included among its official competition contenders, the June 4 opening night film 20,000 Days on Earth, which digs deep into the life of Australian-born musician and artist Nick Cave and won the top prize for documentary at the Sundance Film Festival.
This year will also see the biggest number of Australian films in the competition. David Michôd's The Rover will come fresh from Cannes and the other two are Ruin, which writer/directors Amiel Courtin-Wilson and Michael Cody filmed in Cambodia, and Fell, a debut film from Kasimir Burge that will have its world premiere at the annual event. Burge won a Crystal Bear at Berlin for his short Lily.
See below for the full list of the finalists in the seventh year of the A$60,000 ($56,000) competition.
Finishing off the festival on the June 15 closing night is the vampire film What We Do In The Shadows, written and directed by the New Zealanders Jemaine Clement and Taika Waititi, who are also in the cast and are best known from their collaboration on HBO series Flight of the Conchords and feature Eagle vs Shark. It screened in Berlin.
Of the 183 features, documentaries and short films from 47 countries in the programme, 15 are world premieres. Besides Fell, the feature-length films are 35 Letters, Black Panther Woman, China's 3 Dreams, The Gold Spinners, Love Marriage in Kabul, The Redfern Story, The Little Death and Touch.
The Documentary Australia Foundation has taken over as a partner in the SFF's annual documentary prize. It is an Australian-only competition and the finalists are below.
For the 45th year, the SFF will also be presenting the Dendy Awards for Australian short films.
This year audiences are being offered retrospectives on the work of Robert Altman, James Benning and Studio Ghibli. There is also a focus on China.
Sydney Film Prize finalists
20,000 Days on Earth (UK): dirs: Iain Forsyth, Jane Pollard; writers Forsyth, Pollard, Nick Cave
Black Coal, Thin Ice (China/Hong Kong): dir/writer Diao Yinan; cast Liao Fan, Gwei Lun Mei, Wang Xuebing.
Boyhood (US): dir/writer Richard Linklater; cast Ethan Hawke, Patricia Arquette, Ellar Coltrane, Lorelei Linklater.
Fell (Australia): dir Kasimir Burgess; writer Natasha Pincus, cast: Matt Nable, Dan Henshall
Fish & Cat (Iran): dir/writer Shahram Mokri; cast: Babak Karimi, Saeed Ebrahimifar, Abed Abest.
The Kidnapping of Michel Houellebecq (France): dir/writer Guillaume Nicloux, cast Michel Houellebecq, Luc Schwarz, Mathieu Nicourt.
Kumiko, The Treasure Hunter (US): dir David Zellner; writers David Zellner, Nathan Zellner; cast Rinko Kikuchi, Nobuyuki Katsube, Kanako Higashi.
Locke (UK): dir/writer: Steven Knight; cast Tom Hardy, Ruth Wilson, Olivia Colman.
The Rover (Australia) dir/writer: David Michôd; cast Guy Pearce, Robert Pattinson, Scoot McNairy.
Ruin (Australia): dirs/writers Amiel Courtin-Wilson, Michael Cody; cast Sang Malen, Ros Mony.
Snowpiercer (South Korea): dir Bong Joon-ho; writers Bong Joon-ho, Kelly Masterson, cast Chris Evans, Song Kang-ho, Ed Harris, John Hurt, Tilda Swinton
Two Days One Night (Belgium/France/Italy): dirs/writers Jean-Pierre Dardenne, Luc Dardenne; cast Marion Cotillard, Olivier Gourmet, Catherine Salée, Fabrizio Rongione.
Documentary Australia Foundation Prize finalists:
35 Letters: dir/writer Janine Hosking
All This Mayhem: dir Eddie Martin
Black Panther Woman: dir Rachel Perkins; writers Perkins/Marlene Cummins
China's 3 Dreams: dir/writer Nick Torrens
The Last Impresario dir/writer Gracie Otto
Love Marriage in Kabul: dir Amin Palangi
Once My Mother: dir/writer Sophia Turkiewicz
The Redfern Story: dir/writer Darlene Johnson
Tender: dir/writer: Lynette Wallworth
Ukraine is Not a Brothel: dir Kitty Green