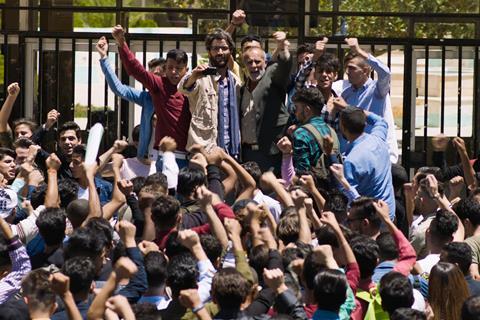 Los Angeles-based distributor Launch Releasing has acquired US rights to Syrian political thriller The Translator by Rana Kazkaz and Anas Khalaf.
Paris-based sales company Charades handles sales.
Ziad Bakri stars as a Syrian Arabic-English translator who is living in exile outside of his native country as its popular uprising begins to bubble up in early 2011. On learning that his brother has been arrested, he risks everything to return home to find him.
It is the debut feature of directorial duo Rana Kazkaz and Anas Khalaf, who were living in Damascus before the Syrian revolution and had to leave due to the conflict. They previously made five shorts including the award-winning work Mare Nostrum, which played in more than 100 festivals and won 36 awards.
The film world premiered in Tallinn Black Nights last year. Alba Films will release the film in France on September 15.
The feature was produced by Nicolas Leprêtre and Raphaël Alexandre at French production company Georges Films and Anas Khalaf under his Synéastes Films banner in coproduction with Tipi'mages Productions (Switzerland) and Artémis Productions (Belgium). Kelly Aisthorpe Waller, John Waller, and Ted Reilly at Chicago Media Angels are the US executive producers.