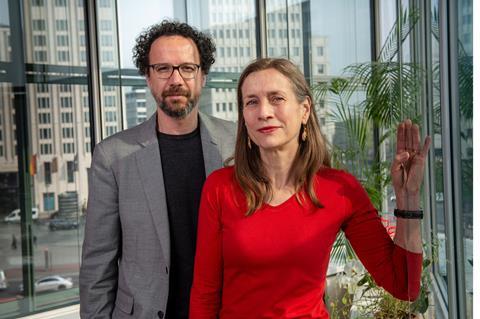 As the Berlinale launches its first online-only, industry-focused event (March 1-5), the festival's co-heads Carlo Chatrian and Mariette Rissenbeek discuss the biggest challenges and the importance of screening the official selection at its inaugural Summer Special event, set to run June 9-20.
How did you watch the films when comprising this year's selection: in cinemas or via links?
Carlo Chatrian: That's a good question because I think the way we watch films matters. Until October it was in our theatre and also a theatre in town [in Berlin]. After November, we had to work remotely. We watched films as long as it was possible in a theatre but from the holidays on, it was in our homes.
How did total feature submissions compare to previous years?
Chatrian: The number of submissions was the same [2,587 features].
How will the international jury watch the films this year?
Chatrian: In a theatre, here in Berlin. The jury are six former Golden Bear winners, including Mohammad Rasoulof, who won't be in Berlin because of a personal issue with the authorities in Iran, and will instead watch in his home theatre.
Will the others all be together in the same cinema, and what safety measures will be in place?
Mariette Rissenbeek: There will just be six people in the cinema, so there will be a lot of space to remain socially distanced. They have to watch a lot of films in a brief period of time so there'll be no time to socialise with friends in Berlin and we will be careful to stick to the necessary measures. As they enter the country, they have to bring a negative test with them. That's the rule here. And we will give them regular tests.
There aren't any big US studio films, which have been a staple of the Berlinale in recent years. Why not?
Chatrian: Because there are no big studio releases. Last year, I was so happy to introduce Onward at the festival. That works alongside a theatrical release. But if you don't have a theatrical release, it doesn't make sense to have it presented at the festival. Studios were very interested but in the autumn it became clear that releases were being pushed back and there was no option for them to attend the festival.
It is interesting to see one Net­flix title in Competition, Alonso Ruizpalacios's A Cop Movie.
Chatrian: This movie was submitted by the production company, was selected by us and then Netflix bought it. Net­flix owns the rights to the film and have assured us they will release it in Mexico and other selected territories.
Rissenbeek: So it's not a movie that was produced by Netflix, just to make that clear.
Do you have a stance on films produced by the likes of Netflix or Amazon?
Chatrian: No. We discuss on a case-by-case basis. The rule we do have is that — in order to play in Competition — the films need to have a release plan, which A Cop Movie has. As long as the streaming platform is happy with that rule, they can play in Competition. If they have a different strategy for the film, we have other sections through which we can support the film, if it makes sense.
What has been the biggest challenge for you to resolve?
Rissenbeek: Everything is so unpredictable. A pandemic evolves in a very dynamic way and what's possible today is not possible tomorrow. That makes it very difficult to plan an event like the Berlinale. We feel so committed to showing the films to the Berlin audience and feel committed to working with cinemas, and these two elements are the most unpredictable so that makes it a big challenge.
Chatrian: It is always a challenge to compose a strong line-up and I believe, given the circumstances, the line-up is consistent and I am proud of the films. I'm grateful to all the filmmakers that accepted our offer because it's an unprecedented formula. We just don't know what will come out of this two-step festival.
How hard was it to pare back the number of films selected for the sections?
Chatrian: I had to play the bad cop to my colleagues. From last summer, it was clear the 2021 line-up would be reduced. We then had to change our formula [to online-only] and the reduction had to be more drastic for some sections. We tried to preserve the numbers in Competition, not because I'm in charge of that, but because it's the calling card of the festival. The Competition should represent the whole selection.
But they [the selection committee] all got it because we are all a little concerned about the number of films we are putting into the industry event. There are fewer, compared to other years, but still we have around 100 titles in five days and want all these titles to be watched by press and industry, and know how difficult it will be during the market.
Did any films decline selection because of the online nature of the screenings?
Chatrian: Much less than I expected. We changed our formula when the selection was already done so had to reach out to each company and ask whether they were comfortable to go ahead. With just a couple of exceptions, everyone accepted. The thing that made them accept was that we underlined the fact it's not an online festival because we are offering a physical screening. This is something very valuable to the filmmakers. They are grateful for the market opportunity but also looking forward to the summer event.
Did it give you any concerns when Cannes Film Festival moved its dates closer to your summer event?
Chatrian: No, because the selection is done. I've probably spoken to [Cannes delegate general] Thierry Frémaux more this year than ever before. I talked to him before taking our decision, he called me before making the postponement of Cannes public. It's clear our selection is happening now so, for the professionals, there will actually be more space between the festivals, from March to July.
All festivals have suffered economically. How has the pandemic impacted the financial security of the Berlinale?
Rissenbeek: Normally, we sell more than 330,000 tickets, which provides an income of many millions, and we won't be able to sell that amount this year. We also have to take additional hygiene precautions and there will be distancing issues due to the pandemic when we play in June. So, there will be an impact on our income. We're talking to the Ministry of Culture and Media, and they have a special project for 2021 for cultural events taking place [during the pandemic] so we hope to get additional funds from them.
What is the mood at the Berlinale right now?
Chatrian: We are aware of the uncertainty. Our concern is for the life of films beyond the March presentation and June event. We are also committed to supporting theatres because without them, the festival takes a different form. But the feedback to the programme has been very positive and, looking ahead to June, it will be the first year me and Mariette can be without coats. The idea of open-air screenings in Berlin makes me smile.