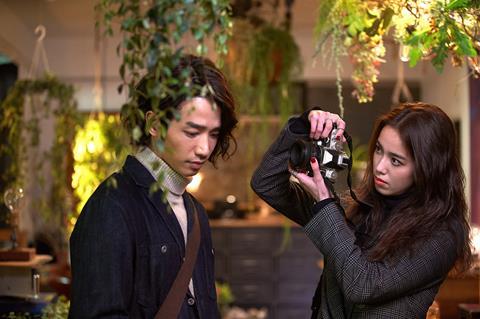 Taiwanese romantic drama More Than Blue knocked Captain Marvel off the top spot at the Chinese box office in the seven-day period of March 11 -17 .
With a Chinese title which literally means 'A Story Sadder Than Sadness' the melodrama about a terminally ill man who hides his conditon from his girlfriend has grossed $47.3m since opening on Thursday March 14. It is expected to surpass 2015's Our Times to become the biggest Taiwanese film in China of all time.
More Than Blue is Singapore-based producer mm2's first wide release in China. The film was released on March 14 which is observed in China as White Day when men send gifts to the women from whom they received gifts on Valentine's Day. According to Maoyan, women accounted for 65% of the tickets bought through its ticketing apps for More Than Blue.
The film stars Jasper Liu and Ivy Chen and is a Taiwanese remake of a Korean film of 2009. It was the biggest local film at the Taiwanese box office in 2018 and the third biggest Chinese-language film in Hong Kong last year.
After a short one-week rule at the top of the seven-day box office, Disney/Marvel's Captain Marvel was relegated to second place, grossing $41.2 in the seven-day period to bring its total to date to $126.4m. Despite its strong $85m opening, its momentum slowed in its second week.
Best picture Oscar winner Green Book held steady in third place with $15.7m over seven days. It has now grossed $58.3m to date. Japanese animation My Hero Academia: Two Heroes opened in third with a gross of $4.5m from its first three days (Mar 15-17), and Universal/DreamWorks Animation's How To Train Your Dragon: The Hidden World grossed $4.2m in seven days to take it to $50.1m to date. The latter is unlikely to beat the franchise's second installment.
Further holdovers included Fox's Alita: Battle Angel which took $3.7m for $126.2m, Japanese manga-based animation Natsume's Book Of Friends The Movie: Tied To The Temporal World, which garnered $3.6m in the seven-day period and has taken $15.6m, and Chinese New Year champion The Wandering Earth which added $3.6m for a gross to date of $659.2m.
Writer-director Bai Xue's feature debut The Crossing also opened this week and took $900,000 on its first three days on release. Produced by renowned filmmaker Tian Zhuangzhuang, The Crossing won best film and best actress at last year's Pingyao International Film Festival. Additionally, Piano In A Factory director Zhang Meng's new film On The Balcony, starring Zhou Dongyu. also opened on March 15, and garnered $500,000.
Bohemian Rhapsody and The Lego Movie 2: The Second Part are among next week's new releases.