Fox's threequel opens to excellent $10.2m (£6.7m), including previews, to dethrone The Theory of Everything; Disney's Into the Woods hits $3.75m (£2.48m) note on UK bow.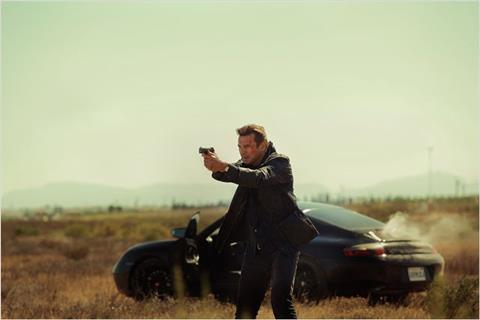 Who needs reviews when you've got an established audience? Despite critical disapproval, Taken 3 has repeated the feat of Taken 2 to land top spot at the UK box office on debut.
Fox's threequel shot to an excellent $10.2m (£6.7m) from its 487 sites, including just over $1.4m (£925,000) in previews. It's worth noting that its Fri-Sun tally of $8.8m (£5.8m) would have also seen it comfortably lead the chart.
The opening is narrowly behind Taken 2's $11.2m (£7.4m) bow from 506 sites, which included $1.8m (£1.2m) in previews. That film went on to take $35.5m (£23.5m), a target that is potentially within reach for Taken 3 given its position as counter-programming to an awards-heavy market at the moment.
Also for Fox, Birdman fell 34% (excluding previews) on its way to $1.2m (£826,316) for $4.5m (£3m) after 11 days in play. The result means that the film is now director Alejandro González Iñárritu's best-ever UK performer, outgrossing Babel's $3.9m (£2.6m).
Night at the Museum: Secret of the Tomb unearthed an extra $981,000 (£648,885) for $16.3m (£10.8m), while Exodus: Gods and Kings has now amassed $11.4m (£7.53m) following a $751,000 (£496,463) weekend.
After six weeks in play, Penguins of Madagascar has grossed $11.3m (£7.49m).
DISNEY
Into the Woods ventured to second on its UK opening as it hit a $3.75m (£2.48m) note from its 478 sites.
Disney's musical posted the best UK debut for director Rob Marshall outside of his Pirates of the Caribbean outing, and will need a consistent run to challenge Chicago's $24.8m (£16.4m) result.
However, the opening is behind that of previous Stephen Sondheim film adaptation, Sweeney Todd, which debuted with $6.8m (£4.5m) from 436 sites before burning fast and finishing with $16.6m (£10.97m).
Into the Woods should overhaul that tally, especially if it gets further awards recognition over the coming weeks.
Also for Disney, Tinker Bell and the Legend of the NeverBeast has now conjured up $3.3m (£2.2m) following a $173,000 (£114,000) weekend.
UNIVERSAL
Falling just 17% (excluding previews), The Theory of Everything dropped to third with $3.67m (£2.43m), narrowly behind Into the Woods.
Universal's biopic (which saw Eddie Redmayne win Best Actor at last night's Golden Globes) is now up to a healthy $12m (£7.9m) after 11 days in play. Further awards boosts, starting with Oscar nominations this Friday [Jan 16], should see the film enjoy a steady run in the UK.
Also for Universal, Dumb and Dumber To and Unbroken both fell over 70% this weekend and stand at $9.1m (£6m) and $3.4m (£2.3m), respectively.
WARNER BROS
The Hobbit: The Battle of the Five Armies will soon become the first - and, more than likely, only - 2014 release to hit the £40m mark in the UK.
Warner Bros' climactic Hobbit outing fell steeply in its fifth weekend as it journeyed to a further $1.92m (£1.27m) for $59.3m (£39.2m) to date. It still faces a challenge to avoid becoming the lowest grossing performer of the trilogy though, The Desolation of Smaug's $64.8m (£42.9m), which stood at $60.2m (£39.9m) at the same stage.
STUDIOCANAL
Experiencing its first major drop (-56%), Paddington rounded off this week's top five with a $1.91m (£1.26m) seventh weekend.
StudioCanal's big screen outing for the marmalade-loving bear is now up to $49.6m (£32.8m) and, with the children back in school, will require strong weekends to see it hit the £35m mark.
Also for StudioCanal, The Imitation Game received a slight Bafta boost (rising 1% and 3% on Sat and Sun, respectively) to take an additional $305,000 (£201,516) for $22.3m (£14.8m). The biopic should pass £15m by the end of this coming weekend.
EONE
Landing in sixth was eOne's Foxcatcher with a solid $1.3m (£876,379) bow from its 335 sites for a $3,982 (£2,632) site average.
That marks director Bennett Miller's best-ever UK bow and the awards contender will soon become his highest-grossing film, surpassing Capote's $2.3m (£1.5m) result.
Also for eOne, The Woman in Black: Angel of Death fell 56% (excluding previews) on its way to a $1.27m (£837,000) second weekend. The horror sequel is now up to $5.9m (£3.9m).
SONY
Shortly to become Will Gluck's best-ever UK performer, Sony's Annie added $948,000 (£627,000) for $9.7m (£6.4m) after three weeks in play. The musical is holding well over Sat-Sun, posting just a 29% drop compared to its overall weekend drop of 54%.
LIONSGATE
The Hunger Games: Mockingjay Part 1 stands at $46.7m (£30.8m) after a $228,000 (£150,877) weekend through Lionsgate, and will finish its run as the second highest grossing outing of the series to date.
CURZON FILM WORLD
Playing in 13 sites in its second weekend through Curzon Film World, Enemy grossed $19,000 (£12,435) for $72,000 (£47,582) to date.
UPCOMING RELEASES
This week sees a saturation releases for Warner Bros'American Sniper, while Sony's Whiplash, Lionsgate's Testament of Youth and Fox's Wild all receive wide releases.