UK dystopian drama starring Jonathan Pryce and Agyness Deyn will have its international premiere at the festival.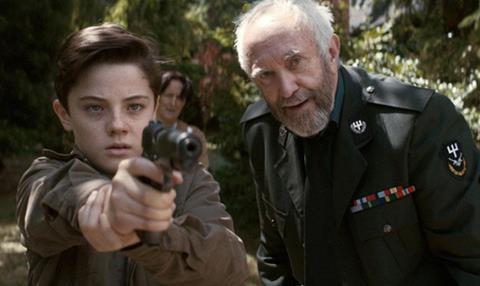 Estonia's Tallinn Black Nights Film Festival (Nov 11-2) has revealed the line-up for this year's First Features Competition, which is returning after a successful debut in 2015.
Comprised of 14 world and international premieres, the programme includes the international premiere of Alex Helfrecht and Jorg Tittel's The White King, which world premiered at the Edinburgh International Film Festival in June.
The dystopian drama stars Jonathan Pryce, Greta Scacchi and Agyness Deyn in the story of a precocious 12-year-old coming to grips with his father's abduction and internment at the hands of the totalitarian state he calls home. The film shot entirely on location in Hungary.
World premieres in the selection include Hadi Ghandour's Lebanon-France co-pro The Traveller (Le Voyageur), Kira Kovalenka's Russian drama Sofichka, and Iranian director Navid Danesh's debut feature Duet.
Festival director Tiina Lokk commented: "We were quite confident to return with the First Features Competition after a successful inauguration last year with a lot of positive feedback from the industry, filmmakers and audience alike. All the films went on to other festivals and generated interest of the press, with Loev (India, dir Sudhanshu Saria) having been to nearly 50 festivals by now."
"This year the festival continued the search for the birth of an artist with an original and strong vision and the ability to engage the audiences with universally graspable messages."
The First Features Competition line-up:
WP = world premiere; IP = international premiere
Caina (Italy) WP
Director-writer Stefano Amatucci, producer-writer Davide Morganti
The Cockroach (El Fumigador) (Chile) IP
Directors Francisco Hevia, Vinko Tomicic, producers Francisco Hevia, Vinko Tomicic, Renata Miranda, Matias Echeverria, Millaray Cortes
Duet (Iran) WP
Director Navid Danesh, producer Ehsan Rasoulof
Gentle Breath (Suave el Aliento) (Colombia) IP
Director Augusto Sandino
Holy Biker (Reza a Lenda) (Brazil) IP
Director Homero Olivetto, producers Kiki Lavigne, Karen Castanho
Home Is Here (Austria) WP
Director Tereza Kotyk, producer Gabriele Kranzelbinder
Man With The Binoculars (Antardrishti) (India) IP
Director Rima Das, producer Rima Das
Paris La Blanche (France) IP
Director Lidia Terki, producer Malek Hamzaoui
The Red Captain (Červený kapitán) (Czech Republic, Poland, Slovakia) IP
Director Michal Kollár, producers Viktor Tauš, Michal Kollár, Agnieszka Kurzydło, International premiere
Sofichka (Russia) WP
Director Kira Kovalenka, producer Nikolay Yankin
The Traveller (La Voyageur) (Lebanon, France) WP
Director Hadi Ghandour, producers Stevan Lee Mraovitch, Romain Richard
Wedding Dance (Kasap Havas) (Turkey) IP
Director Çiğdem Sezgin
The White King (UK) IP
Directors Alex Helfrecht, Jörg Tittel, producers Alex Helfrecht, Jörg Tittel, Teun Hilte, Philip Munger