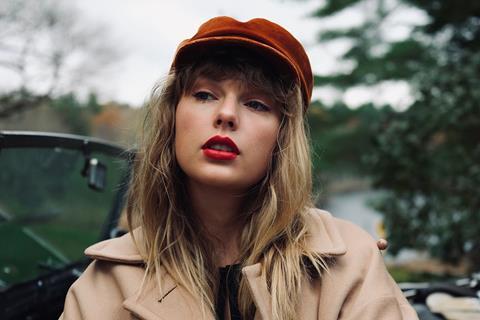 An on-stage conversation with Taylor Swift and the feature Biosphere produced by the Duplass Brothers have been added to TIFF programming.
TIFF CEO Cameron Bailey will interview pop icon Swift under the In Conversation With… Industry Conference banner on September 9.
The star will discuss filmmaking and the visual aspects of her music following the first screening of All Too Well: The Short Film on 35mm which she wrote, directed and produced.
Biosphere will play in Special Presentations on September 10 and marks the feature directing debut of Mel Eslyn, the long-time president of Duplass Brothers Productions whose producing credits include Room 104, The Lady And The Dale, 7 Days, The One I Love, and Language Lessons.
The story from Duplass Brothers Productions takes place in the not-too-distant future and follows the last two men on Earth as they adapt and evolve to save humanity. Sterling K. Brown and Mark Duplass star. Duplass co-wrote the script with Eslyn.
Zackary Drucker, Eslyn, Maddie Buis, and Shuli Harel served as producers. Executive producers are Mark Duplass and Jay Duplass. Eslyn also collaborated on and produced a number of the late Lynn Shelton's films, including Your Sister's Sister and Outside In.