Paramount's reboot dethrones Gone Girl with a $7.7m (£4.8m) debut, including previews; Fox's Gone Girl reaches $22.8m (£14.1m); Munro Films' Northern Soul records highest three-day opening weekend gross for a British film opening in under 100 sites.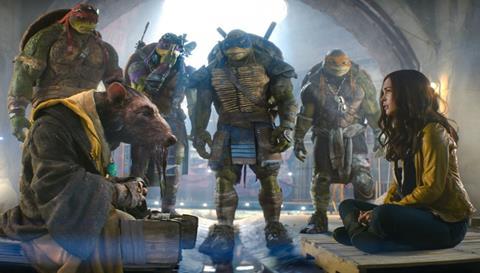 Having taken a slice of the UK box office action last weekend, Teenage Mutant Ninja Turtles has debuted top of the chart.
Paramount's reboot posted a $7.7m (£4.8m) bow from its 522 sites, including $2.5m (£1.56m) in previews. It's worth noting that its Fri-Sun takings of $5.2m (£3.2m) would have also seen it top the chart.
The result marks director Jonathan Liebesman's best-ever UK opening, surpassing Wrath of the Titans' $3.5m (£2.2m) bow from 466 sites. That film is also Liebesman's highest UK grosser at $12.6m (£7.8m), a tally that Turtles will easily overtake.
Teenage Mutant Ninja Turtles has already outgrossed the 2007 animated reboot TMNT ($4.7m/£2.9m), and its opening bodes well for the film during the upcoming school holidays with little direct competition.
ADMISSIONS
September admissions have now been confirmed at 8.5m, down 13.8% on September 2013. That puts the year-to-date at 114.4m, currently tracking 7.9% behind 2013, but October is currently well ahead of 2013.
FOX
It may have been prevented from a third week at the top of the chart, but Gone Girl can be more than satisfied with an excellent holdover as it dropped just 23% to add $3.8m (£2.4m).
Fox's adaptation is now up to a fantastic $22.8m (£14.1m), making it the tenth highest grossing 18-rated film of all time at the UK box office. The Wolf of Wall Street is the best-ever 18 performer in the UK at $35.9m (£22.3m), and that stood at $24.1m (£15m) at the same stage in its run.
First up for Gone Girl though will be to become David Fincher's best-ever UK performer, currently Seven's $31.5m (£19.5m).
Also for Fox, The Maze Runner also enjoyed a healthy holdover as it fell just 25% (excluding previews) in its second weekend to unlock $2.35m (£1.46m) for $7m (£4.4m). It's chasing Divergent's $10.6m (£6.6m) to be 2014's best young adult performer to date, ahead of the arrival of The Hunger Games: Mockingjay Part 1.
Pride and Bang Bang stand at $6m (£3.7m) and $1.8m (£1.1m), respectively.
WARNER BROS
Belying the usual fast-burn nature of horrors, Annabelle enjoyed an excellent second weekend of $2.36m (£1.47m). Warner Bros' prequel is now up to $7.4m (£4.6m) and, despite the arrival of direct competition in the lead up to Halloween, could still enjoy a fruitful couple of weeks.
Also for Warner Bros, The Judge got off to an unspectacular start with a UK bow of $677,000 (£420,000) from its 318 sites. That marks director David Dobkin's lowest-ever UK bow, previously The Change-Up's $1.2m (£727,497) from 418 sites, but it's worth noting The Judge also received the smallest release site-wise.
Dolphin Tale 2 is up to $1.9m (£1.2m) following a $334,000 (£207,000) third weekend, while Black Butler grossed $1,600 (£1,000) on its UK debut at nine Cineworld sites.
EONE
Rounding off this week's top five was eOne's The Best of Me with a $1m (£634,593) bow from its 360 sites, including almost $242,000 (£150,000) in previews.
In terms of Nicholas Sparks' adaptations at the UK box office, that puts it just behind The Last Song ($1.1m/£679,698 from 330) and ahead of Message in a Bottle ($936,000/£579,997 from 285).
For director Michael Hoffman, it's his third best debut in the UK behind Gambit ($1.1m/£689,042 from 380) and One Fine Day ($1.8m/£1.1m from 264).
UNIVERSAL
Falling a slim 20% in its sixth weekend, Universal's The Boxtrolls has now stacked up $11.9m (£7.37m) after adding $743,000 (£461,000). It will imminently become Laika's best-ever UK performer, topping Coraline's $12m (£7.43m) result.
Also for Universal, Dracula Untold bit into a further $701,000 (£435,000) for $7.2m (£4.5m) after three weeks in play.
SONY
Now in its fourth week, Sony's The Equalizer shot to an extra $688,000 (£427,000) and has now amassed $10.3m (£6.4m) as it attempts to overtake King Arthur's $11.4m (£7.1m) tally to become Antoine Fuqua's best-ever UK performer.
MUNRO FILMS
Undoubtedly one of the success stories of the weekend, Munro Films' Northern Soul recorded a terrific non-final UK bow of $461,000 (£285,563) from its 88 sites to see it chart tenth.
The weekend saw a high proportion of sold-out shows to go with the film's strong advance sales, leading to cinemas moving the film to bigger screens and adding extra shows to cater for demand. It resulted in the highest three-day opening weekend gross for a British film opening in under 100 sites.
It's all the more impressive when you consider that Northern Soul is available on DVD/BR from today [Oct 20].
LIONSGATE
What We Did on Our Holiday enjoyed a $361,000 (£223,516) fourth weekend to reach a sturdy $5.5m (£3.4m) through Lionsgate.
Also for Lionsgate, The Rewrite posted a hefty drop in its second weekend to take $92,000 (£57,177) for $905,000 (£561,056).
STUDIOCANAL
Expanding to 174 sites and dropping only 7% on its opening weekend, '71 added $311,000 (£192,443) for a ten-day tally of $929,000 (£575,672) through StudioCanal.
METRODOME
In its second weekend of release, Metrodome's Effie Gray grossed $49,000 (£30,370) from its 49 sites for $276,000 (£171,006) to date.
Also for Metrodome, new releases Palo Alto and Cathedrals of Culture posted similar debuts of $10,700 (£6,609) from six sites and $10,200 (£6,343) from five sites, respectively.
CINEMA PURGATORIO
Having screened at LFF, Björk - Biophilia Live recorded sold out business at London's Barbican and Dublin's IFI over the weekend through Cinema Purgatorio. The film took $7,900 (£4,886) at the Barbican and $3,107 (€2,434) at the IFI.
Screening in cinematheques and non-traditional venues worldwide, it is approaching $200,000 (£125,000) worldwide, with a few hundred venues still to come.
UPCOMING RELEASES
This week sees saturation releases for Sony's LFF closer Fury (opens Oct 22), Lionsgate's Love, Rosie (opens Oct 22), Fox's The Book of Life and Warner Bros' This Is Where I Leave You, as Disney's Alexander and the Terrible, Horrible, No Good, Very Bad Day expands nationwide.
Icon's The Babadook, Bull Dog Film Distributors' Night Train to Lisbon and StudioCanal's Serena all receive wide releases, while Peccadillo's The Way He Looks and Metrodome's Bogowie are among the films receiving a limited release.