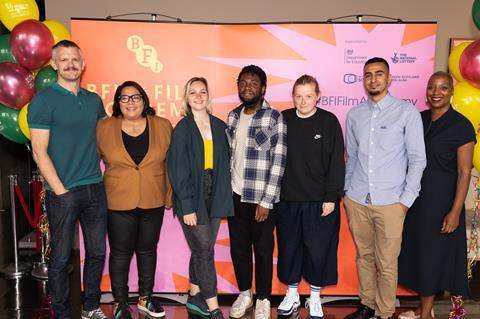 BFI chief executive Ben Roberts has issued a rallying cry to an audience made up of past and present BFI Film Academy graduates at BFI Southbank in London on Friday September 17.
"Tell your friends, we need people working and we need lots of them," Roberts said at the event to mark 10 years of the Academy which works with 16-19 year-olds from all backgrounds to help pave the way for a career in the industry.
"We have provided almost 9,000 places to young people and that has given all of them their first taste what it is like to work in film," Roberts said.
Now, amid a UK production boom and increasing demand for top level crew, the Academy programme is expanding rapidly and the industry is beginning to open up. Roberts said the industry needs to "attract tens of thousands of people" to service current demand and to ensure the sector continues to grow.
The BFI Film Academy alumni present included writer-director and 2020 Screen Star of Tomorrow Charlotte Regan. The rising filmmaker attended a BFI Academy short course in 2013 and is now in post on her debut feature Scrapper, which is backed by BBC Film and the BFI.
Also present was Mdhamiri Á Nkemi, who took part in the BFI Film Academy with Screen South in 2013, and is now an established editor with several features to his name. Nkemi is also a Screen Star of Tomorrow, from the class of 2019.
Roberts thanked companies including the Walt Disney Company, Lucasfilm and Eon Films that have supported the BFI Film Academy Future Skills programme.
Also taking part in the event was Candice Campos, vice president of physical production at Lucasfilm, who explained the reckoning over inclusion and diversity which took place at the company around 2015, as Star Wars: The Force Awakens was being completed.
"We were really happy with the strides that we had taken for representation in front of the camera and then [Lucasfilm president] Kathleen Kennedy came to us and asked, 'How are we doing behind the camera?'" Campos recalled. "So we collected data, and it was not great. It was very eye-opening.
"We had a lot of work to do and we wanted to do it quickly," she continued. "We knew we had multiple projects coming up. It was an amazing opportunity for us to put a programme in place, because London had become our home. With the size and scope of our Star Wars projects, we knew we would create a lot of awareness and opportunity for under-represented groups.
"The BFI and Lucasfilm were both so passionate about putting together a programme. We just wanted to keep it simple and we just wanted to implement it. We knew we could," Campos said. "[But] we knew that if we didn't have quality candidates to put in front of our HoDs, the programme wouldn't survive. No-one would trust it."
In this case, the BFI Academy trainees hit the mark.
"We know and truly believe that having diverse teams creates collaborative conversations and that just leads to better problem-solving," said Campos. "When you're on a movie set or TV set, that's all you're doing – problem-solving."
Barriers to entry
The BFI Film Academy works to break down the class and regional barriers that can still prevent newcomers from breaking into the UK film industry. Roberts described his own experience growing up in the 1980s.
"You had to know someone," he said of the major route into the industry at that time. "You had to have family in the industry who could help you out. You had to have plenty of money so that could get you a good education. You would generally be middle-class, living close to the action. And you'd probably be white. What this has meant for the industry is that it just hasn't been a diverse environment behind the camera, in front of the camera or on the screen."
Historically, Roberts continued, the UK film industry has not been an equal-opportunity employer. "You've had whole segments of the population feeling excluded, not seeing themselves on screen, not seeing certain stories being told."