Adam Driver to star in the long-gestating feature, which is set to begin shooting in October; first behind-the-scenes images revealed.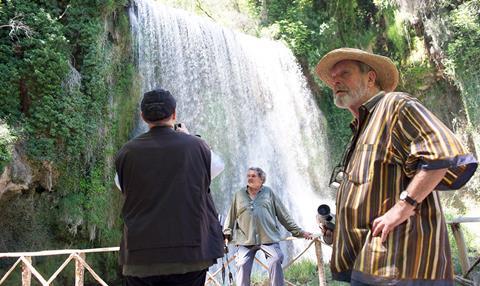 After nearly 20 years in the pipeline, Terry Gilliam has finally gone into production on passion project The Man Who Killed Don Quixote.
The director of 12 Monkeys and Brazil has been scouting locations ahead of principal photography, which is set to begin Oct 4.
The cast, which includes The Force Awakens star Adam Driver and Monty Python member Michael Palin, will shoot in the desert landscape of The Canary Islands, the historical city of Tomar, and Lisbon as well as Castilla-La Mancha in Spain.
Co-stars include Olga Kurylenko (Quantum of Solace, Oblivion), Stellan Skarsgård (Melancholia) and Joana Ribeiro.
The story, which has been scripted by Gilliam and Tony Grisoni, centres on an advertising executive (Driver) who jumps back and forth in time between 21st century London and 17th century La Mancha, where Don Quixote (Palin) mistakes him for Sancho Panza.
Grisoni previously collaborated with Gilliam on Fear and Loathing in Las Vegas and co-wrote upcoming TV series The Young Pope, starring Jude Law, directed by Paolo Sorrentino.
The project was revealed at Cannes in May, where producer Paolo Branco confirmed a budget of €17m - half the size of Gilliam's initial troubled production in 1998, which was cancelled mid-shoot, as chronicled in the 2002 documentary Lost In La Mancha.
Co-production partners include Branco's companies Alfama Films (France) and Leopardo Films (Portugal), as well as Tornasol Films (Spain) and Entre Chien et Loup (Belgium).
When announcing the film at Cannes, Gilliam said: "I just want to get this film started so I can get on with the rest of my life."