From Birdly to Jesus VR, Screen's editorial team pick 10 of the buzziest virtual reality experiences from the festival circuit ahead of the VR Creative Summit in December.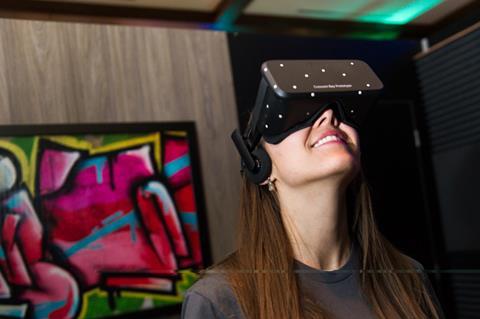 Having been widely dubbed the Year of Virtual Reality by industry figures and press alike, 2016 has been a watershed moment for the emerging medium.
Film festivals across the globe hosted VR showcases this year, incorporating VR films into their programme and markets, many doing so in a serious way for the first time.
Starting at January's Sundance Film Festival, which hosted VR experiences including The Martian and Notes On Blindness in its New Frontier programme, VR remained a consistent presence through Tribeca's Virtual Arcade in April, Cannes' Marche NEXT programme in May, and Pop VR at TIFF in September, alongside more medium-sized festivals such as Sheffield Doc/Fest, Jerusalem and Sarajevo.
Compiling choices from across those festivals and further afield, Screen's editorial team has selected 10 of the VR experiences that made the most lasting impressions throughout this year.
To explore the increasingly present subject of virtual reality, Screen's parent company Media Business Insight will be holding a VR Creative Summit at London's Picturehouse Central on December 6. Tickets are now available at vrsummit.co.uk
These 10 films will form a third of Media Business Insight's Top 30 VR Creative Selection, which is being curated by Screen along with its sister brands, Broadcast and Shots. Broadcast and Shots will publish their lists in the coming weeks, and a selection of the experiences will be showcased at the event on Dec 6.
Screen's 10 VR picks:
Notes On Blindness
Released in conjunction with Pete Middleton and James Spinney's feature documentary Notes On Blindness¸ which chronicled the audio diary kept by writer and theologian John Hull as his eyesight degenerated severely, the companion VR experience attempts to create a fully immersive 'world beyond sight' for the viewer. It was premiered at the Sundance Film Festival in January this year and is now available to download for the Samsung Gear from the Oculus store. [official website]
Birdly
Birdly, spearheaded by Switzerland-based Somniacs, goes beyond a typical VR film, letting the viewer take part in a full-body experience. The user lies on a bed with arms spread, flapping themselves into different speeds and navigations of flight. The wind is in your hair (thanks to a mounted fan), and you take charge of your own flight, either up in the clouds or whizzing around the Manhattan skyline dodging skyscrapers. The film has been shown across the festival circuit, including at the Zurich industry summit in September. [official website]
We Wait
Marking Aardman Animations's first foray into the world of virtual reality, and developed with the BBC, We Wait places the user into an animated world depicting the journey of migrants from Turkey to Greece. Utilising an Oculus Rift headset, the film was premiered at this year's Sheffield Doc/Fest to wide plaudits, and is now available on the newly-launched BBC Taster platform website for anyone with the technology at home. [read more]
Jesus VR
Billed as the world's first feature length VR film, Jesus VR – The Story Of Christ bowed at this year's Venice Film Festival. The film, shot on location in Italy with more than 100 crew members, was produced by US outfits Autumn VR with VRWerx (see Paranormal Activity entry), it follows the story of Christ from his birth to resurrection, taking in his first miracles and the last hours of his crucifixion. Jesus VR will be made available this Christmas across all major VR platforms including Samsung Gear, Oculus Rift, PlayStation VR, HTC Vive and Google Cardboard. [read more]
Paranormal Activity: The Lost Soul
Developed by US outfit VRWERX, this 10-minute first-person VR experience based on the Paranormal Activity franchise of horror films was featured in Cannes Marche NEXT programme as the festival highlighted the new medium in a bigger-than-ever way. Not for the faint hearted, the jumpy game was initially launched on the HTC Vive and is being developed for Oculus Rift and Sony's recently launched PlayStation VR system. [official website]
Invasion!
Narrated by Ethan Hawke, this short VR film was written and directed by Eric Darnell, who is known for co-directing and co-writing Dreamworks' Madagascar franchise. Darnell produced Invasion! through his new company Baobab Studios, which has been set up specifically to create VR animation content. Available on all major platforms following its premiere at Tribeca, the film follows two aliens with grand ambitions to take over the Earth. [Read more on Oculus page]
Home: Aamir
World premiering at this year's Sheffield Doc/Fest, Home: Aamir offers a 360-video view of the infamous Calais Jungle refugee camp, giving the user a window into the hardships suffered by those fleeing regions of conflict. Produced by the National Theatre and directed by the arts organisation's artistic director Rufus Norris with Erfan Saadati and Toby Coffey, the film is the first of what is set to be an ongoing VR initiative from the innovative NT. It is available to view through Samsung Gear, Google Cardboard and Facebook 360. [read more]
The Martian VR
Released as a tie-in for Ridley Scott's Matt Damon-starring Sci-Fi The Martian (and developed by Scott's RSA Films with Fox Innovation Lab and VRC), The Martian VR lets viewers step into the astro-boots of Mark Watney, space botanist and lone inhabitant of the planet Mars follows an aborted mission. Users can driver a rover and complete a variety of tasks to enable their character to survive in the planet's harsh climate. The experience premiered at the Las Vegas-hosted Consumer Electronics Show in January this year, and also was also on show at Sundance. [watch the trailer]
Go Ugly Early
Directed by multi Israeli Film Academy Award-nominee Gur Bentwich, dating simulation film Go Ugly Early was produced at interactive storytelling lab Steamer Salon, which took place in Tel Aviv in March this year. The film was available to view at this year's Jerusalem Film Festival, where its light-hearted and funny depiction of a young Israeli girl partaking in an evening of dating, with unfortunate results, struck a chord with festival goers. [read more]
The Enemy
In war photographer Karim Ben Khalifa's VR experience The Enemy, users find themselves in the same room as two fighters from different sides of a world conflict, brought to life in VR reincarnations. Imagine yourself sitting in on a real-life conversation between an Israeli reservist and Gaza-based Palestinian fighter. The film played at Sundance in January this year and was featured at the IDFA DocLab last year. [official website]
What VR experiences most impressed you this year? Leave a comment below or tweet us @screendaily.