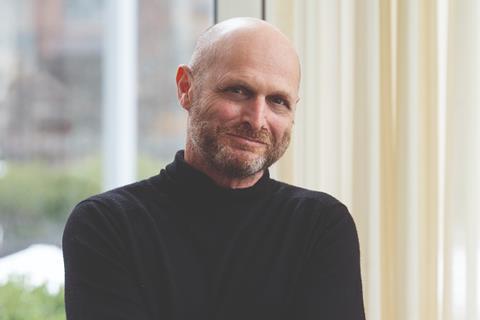 Hagai Levi, showrunner of The Affair and Scenes From A Marriage, is writing and will direct the series The Girl Who Learned How to Kneel, which is being produced by Arte France with France's Les Films du Poisson and the Netherlands' Topkapi Films.
The loose adaptation of the diaries of Dutch author Etty Hillesum is set in Amsterdam in the late 1930s and early 1940s during the German occupation before she was deported and murdered in Auschwitz. Hillesum was 27 when she wrote the diaries, distinguishing her story from that of well-known diarist Anne Frank.
The Girl Who Learned How to Kneel will be shot in Dutch and German. Despite his experience in English-language drama, Levi "it was very important for me to be truthful to all the details and all the nuances of the original story,"
Production is slated to kick off in Amsterdam in the winter of 2024. Israeli producer Eilon Ratzkovsky is also on board as co-producer with his Quiddity productions and more production partners may join the project moving forward.
Levi called the series "a very modern, contemporary story even though it takes place in the beginning of the 40s in the Netherlands" and one that is filled with "inspiration, compassion and strength in difficult times."
Les Films du Poisson's Yael Fogiel described the series as a "story of spirituality, desire and love" about "a young and modern woman who finds a way to believe in life again as the situation gets worse and worse around her and she loses her freedom as a Jewish woman."
She said the seeds of the project had been planted at last year's Series Mania when she approached Arte with the project who "enthusiastically" jumped aboard as lead producer despite the project not being in French.
A decade in the making
"Since I read it 10 years ago, it was my dream to make a film or a series about her," Levi said, adding that he had wanted to work on the project for years, but "every time I made another American TV series, it was postponed again and again."
Levi co-created and co-produced Showtime's The Affair with Sarah Treem and recently wrote and directed HBO's Scenes From A Marriage starring Jessica Chastain and Oscar Isaac. He co-created, co-directed and co-produced HBO series Our Boys that won 14 Israeli Academy awards.
Levi is also the creator, co-producer and co-director of Israeli TV series Be'Tipul that was adapted to HBO's In Treatment. The French version, titled En Thérapie, also produced by Les Films du Poisson for Arte France and directed by Intouchables directing duo Eric Toledano and Olivier Nakache, has been a hit locally over its two seasons in 2021 and 2022. "The French show is one of my favourite versions," Levi said.
Les Films du Poisson's recent credits include Berlin Encounters award winner Orlando, My Political Biography and Yossi Avaram's feature There is No Shadow in the Desert, starring Valeria Bruni-Tedeschi, which is in the running for a slot at Cannes in May.
Arte France slate
The series is the latest addition to Arte France's slate of ambitious international productions, that includes the second series of France-Belgium-Israeli series No Man's Land produced by Israel's Spiro and France's Haut et Court TV alongside Masha Productions and Versus Production. The Syria-set war thriller also aired on Hulu in the US. The second series has just finished shooting.
Also on Arte's slate is miniseries Rematch set in the world of high-level chess competition created by Yan England and André Gulluni, produced by Arte France and French producer Bruno Nahon of Unité with Federation Studios.
Arte France has been at Series Mania this week with a line-up including International Competition title Haven of Grace from Magnetic Beats director Vincent Mael Cardona, that stars Olivier Gourmet and is set in the world of drug trafficking in Le Havre. In the French Competition, Arte premiered quirky political series Under Control And Polar Park from filmmaker Gerald Hustache-Mathieu, a loose adaptation of his feature film Poupoupoupidou starring Jean-Paul Rouve and Guillaume Gouix.
Olivier Wotling, Arte France's director of fiction, said the company is looking for "original, quality content" and added "the difference is we mean it at Arte."