Film's director responds to accusations of screen monopoly and historical inaccuracy.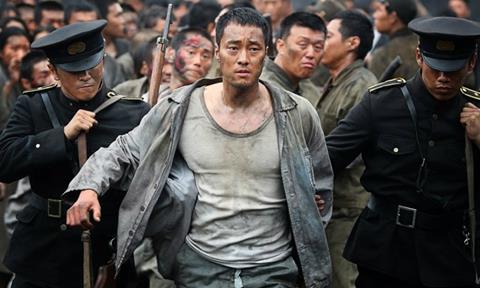 Ryoo Seung-wan's period action thriller The Battleship Island has set a record for best opening week in 2017 in South Korea - clocking up 4 million admissions on its fifth day yesterday (July 30) - amidst controversies over screen monopolisation from its distributor and questions about the film's historical accuracy.
Released July 26 on 2,027 screens out of a total of 2,758 screens registered with the Korean Film Council (KOFIC), the film has taken 4.06 million admissions and sits on $27.9m as of today.
The previous highest opening for 2017 in South Korea was Spider-Man: Homecoming, which was released on July 5 and racked up 3.56 million admissions in its first week.
Set on Hashima Island - nicknamed Battleship Island for its shape - towards the end of the Second World War and Japan's occupation of Korea, the escape film follows the stories of Koreans tricked and forced into brutal mining conditions and sex slavery as so-called "comfort women" for the Japanese military. It also depicts a US OSS-trained Korean resistance fighter tasked with rescuing an independence movement leader.
The star-studded ensemble cast includes Song Joong-ki of Descendants Of The Sun fame, So Ji-sub (A Company Man), Hwang Jung-min (working with Ryoo again for the first time since Veteran), young actor Kim Su-an (Train To Busan), and Lee Jung-hyun (Juvenile Offender).
Screen monopoly controversy
Investor-distributor CJ Entertainment, the film arm of entertainment and media conglomerate CJ E&M, which is also affiliated with leading exhibitor CJ CGV, has previously drawn accusations of monopolising cinema screens for its own releases.
On Thursday, the company was reported by Yonhap news agency to have said individual theatres had made their own decisions based on The Battleship Island's "high reservation rates and interest."
In an interview with Korean broadcaster YTN TV on Saturday, director Ryoo said as "a person who started out in independent filmmaking" he believes "each film has its own value" and that "audiences have a right to meet with diverse films."
He apologised that "The Battleship Island has inadvertently ended up in the middle of the screen monopolisation controversy", saying that there were factors beyond the control of a director or production company.
Historical accuracy row
In an open letter on Friday, Ryoo stated that he had seen reports of Japanese media and government officials claiming The Battleship Island was not accurately based on facts about war atrocities. "Sharp words are being traded between government agencies and influential media in South Korea, China and Japan," he said in his piece.
The director stated that although the film is a creative work, he "referenced numerous testimonies and materials" which he listed in the end credits.
"Based on the facts I collected, I wanted to deal with the miserable scenes of Koreans' forced conscription, the Japanese empire's brutality and the pro-Japanese collaborators who lived off the empire acting against humanity. Together with this, I wanted to try to resolve the bruised and bloodied sorrow of the victims of forced conscription with the concept of "a great escape". This is because I had heard that there were actual, frequent attempts to escape, although they were not large-scale," he continued.
After expressing disappointment and outrage that "Japan doesn't seem to be prepared to face the unsettled dark history and war crimes they committed" he urged Japan to "uphold the promise made" at the time of UNESCO's granting world heritage status to Hashima Island on the condition that the country acknowledge the use of forced laborers there.
Post-Cannes, CJ Entertainment announced The Battleship Island had pre-sold to 113 countries including the US, France and Singapore.