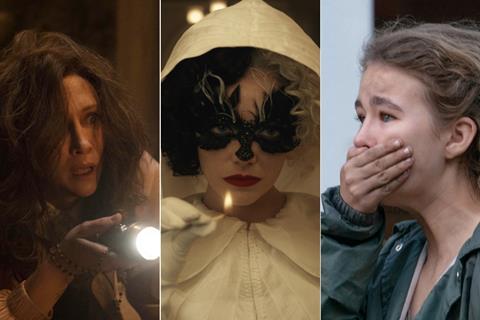 Worldwide Box Office June 11-13 2021
| | | | | | | |
| --- | --- | --- | --- | --- | --- | --- |
| Rank | Film (Distributor) | 3-day (World) | Cume (World) | 3-day (Int'l) | Cume (Int'l) | Territories |
| 1 | The Conjuring: The Devil Made Me Do It (WB) | $33.4m | $111.8m | $23.4m | $68m | 45 |
| 2 | A Quiet Place Part II (Paramount) | $27.7m | $184.8m | $16m | $75.8m | 38 |
| 3 | Cruella (Disney) | $24.3m | $129.3m | $17.6m | $73.3m | 40 |
| 4 | Peter Rabbit 2: The Runaway (Sony) | $21.1m | $68.3m | $10.7m | $57.9m | 22 |
| 5 | In The Heights (WB) | $11.6m | $11.6m | $200,000 | $200,000 | 9 |
Credit: Comscore, all figures estimates
The Conjuring: The Devil Made Me Do It scores $33m global session
UPDATED: For the second week running, New Line/Warner Bros' The Conjuring: The Devil Made Me Do It was the biggest film at the international and worldwide weekend box office (June 11-13).
The third film in the Conjuring series grossed a confirmed $23.3m in international markets (down 48%), $10.0m in North America (down 58%) and $33.4m globally. Cumulative totals are $68.1m for international, $44m in North America and $112.1m worldwide.
The supernatural thriller was boosted by new territory openings including France, where The Devil Made Me Do It opened with a chart-topping $5.0m from 518 cinemas – a 66% share of the top five films, on par with the opening number for The Conjuring 2, and above all other films in the Conjuring universe (excluding previews).
The film also opened in Russia, landing in second place behind Cruella with $1.5m.
In holdover markets (where the film dropped 44% overall – considered a decent hold for a horror sequel), Mexico led the way with $3.1m for the second frame, resisting the challenge of A Quiet Place Part II to hold on to the top spot. Mexican total after two weekends is $11.9m.
Confirmed cumulative totals are led by Mexico, followed by UK ($9.6m), South Korea ($5.5m), France ($5.0m), Australia ($4.6m), Indonesia ($4.3m), Spain ($3.7m), Brazil ($3.5m), Saudi Arabia ($2.0m) and Colombia ($1.8m).
The Devil Made Me Do It is chasing $322m worldwide for The Conjuring 2 in 2016 and an almost-identical $320m worldwide for The Conjuring in 2013. The film is the eighth overall in a sprawling horror franchise that also includes a trio of Annabelle titles.
Cruella beats A Quiet Place Part II in international territories with $18m session
Although Paramount's A Quiet Place Part II ranks second in the global rankings for the weekend (with an estimated $27.7m), the horror sequel was knocked down into third place in the international chart thanks to a strong performance by Disney's Cruella.
Cruella grossed an estimated $17.6m in international territories for its third session, down just 5% from the previous weekend, and bringing the international total to $73.3m.
In North America, the latest film featuring the famed 101 Dalmatians villain added an estimated $6.7m, taking the total to $56.0m. Global cumulative total is $129m.
Cruella is available simultaneously via Disney+ on Premier Access for subscribers, in territories where the service operates.
Although Cruella opened in Belgium, Czech Republic and Hungary, it was the strong performance in holdover markets (where the film fell 25% excluding China) that was key to its success. And in China, where it had opened on Sunday June 6, the film grossed $4.5m (vs $1.7m for one day only the previous weekend).
Strong holds include Saudi Arabia (0%), Australia (-1%), Israel (-12%), South Korea (-17%), Japan (-18%) and Russia (-18%). Cruella remained the number one film in both Russia and South Korea, and was second place in 14 markets.
In cumulative totals, China leads the way among international territories (with $10.7m), ahead of UK ($8.4m), South Korea ($8.3m), Mexico ($7.9m), Russia ($5.8m), Saudi Arabia ($3.9m), Australia ($3.9m), Japan (2.9m), Spain ($2.8m) and UAE ($2.4).
The film opens this coming weekend in Slovenia, Austria and Malaysia, with France to follow on June 23.
A Quiet Place Part II buoyed by Mexico, UAE, Hong Kong openings
A Quiet Place Part II grossed an estimated $16.0m (down 17%) in its third session in international markets, as well as $11.7m in North America, delivering $27.7m for the weekend globally. Cumulative totals are $75.8m for international, $109m in North America and $185m worldwide.
The John Krasinski-directed horror sequel was boosted by new openings in 21 territories, grossing an estimated $2.3m in Mexico (earning second place) plus chart-topping debuts of $1.2m in UEA and $885,000 in Hong Kong.
In holdover markets, the film fell 54% overall, led by a chart-topping $2.1m in UK, followed by $2.0m in China, $1.3m in Australia and $1.1m in Russia. Cumulative totals for these markets are respectively $9.3m, $34.4m, $7.7m and $8.6m.
A Quiet Place Part II is currently playing in 37 international markets, representing 66% of the international rollout. On a like-for-like basis, the film is running 19% ahead of the pace of A Quiet Place.
The original A Quiet Place grossed $188m in North America, $153m in international, and $341m worldwide.
The film should receive another boost this coming weekend, with some strong territory openings including France, Spain, South Korea and Japan. To follow are Italy on June 24, Germany on July 1 and Brazil on July 15.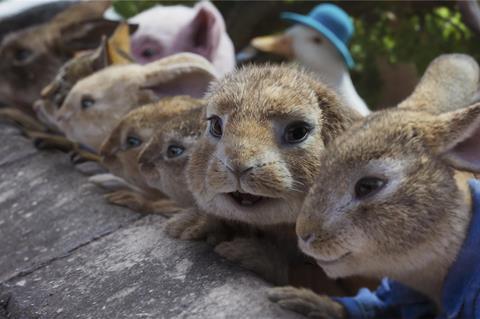 China launch sees Peter Rabbit 2 leap
Columbia Pictures' Peter Rabbit 2: The Runaway added an estimated $10.7m in 21 international markets in its latest session, up from $4.0m from 14 territories for the previous weekend, taking the international total to $57.9m. The family sequel also opened in North America, grossing an estimated $10.4m, taking the worldwide cumulative total to $68.3m.
The film's international performance was driven by an estimated $7.8m launch in China (landing in second place). Including Monday, the extended four-day Dragon Boat Festival is projected at $11.1m.
Top holdover market remains the UK, where Peter Rabbit 2 added an estimated $1.3m in its fourth frame, and has now reached $19.6m. While that total may sound impressive, the original Peter Rabbit grossed £41.1m in the UK – $58.0m at current exchange rates. In 2018, Peter Rabbit grossed $115m in North America, $236m in international, and $351m worldwide.
Next major markets to open Peter Rabbit 2 are Japan (June 25), France (June 30), Germany and Italy (both July 1) with Spain, Brazil and South Korea to follow.
Elsewhere at the China box office, new release Never Stop (Shanghai Liebao Media) led the rankings with $10.2m, according to Artisan Gateway figures. The sports drama is set in the world of 100m running, and is produced by and stars Zheng Kai aka Ryan Zheng (Zack Snyder's Justice League).
With Peter Rabbit 2 landing in second place, the top five is rounded out by three more new releases: Dirty Monkeys Studio's Are You Lonesome Tonight ($6.9m), Toho's Hello World ($6.3m) and Xiyan Media's Sunny Sister ($5.6m).
Fast & Furious 9 adds $6m for $269m in select international territories
Fast & Furious 9 aka F9 delivered an estimated $6.0m in its fourth lap of select international markets, dropping 56% and taking the total after four weekends of play to $269m.
Justin Lin's sequel is currently playing in just eight territories, led by China, where Fast & Furious 9 grossed an estimated $3.6m for the weekend period and has scored $212m in total – the biggest MPA title of the pandemic era.
The film has played the same eight markets (all in Asia and Middle East) for the first four weeks of release. Numbers should start revving up again after F9 lands in Australia this coming weekend, and then Brazil and UK on June 24, North America and Mexico on June 25, with Spain, France and Germany to follow in July.
Jason Statham action picture Wrath Of Man gets Korea boost
Guy Ritchie's Wrath Of Man added another $2.8m in international at the weekend, up from $2.7m for the previous session. Numbers were driven by the film's arrival in South Korea, which delivered an estimated $1.5m for the opening session. Wrath Of Man also opened in Hungary and Estonia.
International total so far is an estimated $65.9m for Miramax, which adds to $26.0m in North America for United Artists Releasing to deliver a $91.9m global total. The film opens in France this Wednesday (June 16), with UK and Germany to follow in July.
Ritchie's previous film The Gentlemen grossed $36.5m lifetime total in North America, $78.7m for international, and $115m worldwide.