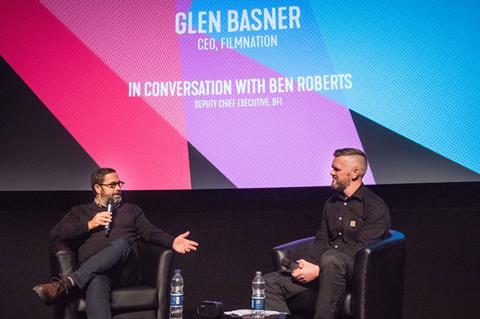 FilmNation CEO Glen Basner gave an upbeat assessment of the future for the independent film business at a BFI London Film Festival industry talk on Thursday.
He acknowledged the market had changed radically from the days when he was a rookie sales agent under David Linde at Good Machine in the mid-1990s but dismissed industry talk it was "over" for independent film.
"There is so much more opportunity today, even if it does feel harder. There are so many different ways people are consuming movies," Basner told BFI deputy chief executive Ben Roberts in an onstage interview. "In the independent film business, everyone is talking about 'Is it over? Will people release movies anymore?' I don't get it. I see it as a boom right now.
"Our film business is going to grow, just not in the way I expected it to two or three years ago. We're still going to be delivering movies that belong in the theatre and perform successfully in the theatre but we're also going to be making movies for all these different platforms that are coming out so I see it as a growth opportunity right now."
As examples of FilmNation's embrace of new platforms, Basner noted the company's new London-based joint TV venture with Nordic Entertainment Group (NENT Group) will soon be operational and also revealed the company has had talks with Jeffrey Katzenberg's short-form mobile video platform Quibi.
"I'm really intrigued," he said of Quibi. "We haven't found a story that we think would be great and make sense for us to do in that format yet but we are actively trying to find a way to do it. Whether it will work or not I don't think anyone knows but we're just keeping all options on the table and if we can find a story that really works in six or seven-minute episodes we'd be excited to do it."
New York-based Basner was at the BFI London Film Festival this week for the opening night UK premiere on Wednesday (Oct 2) of Armando Iannucci's The Personal History Of David Copperfield, which FilmNation boarded at the development stage and then went on to finance, bringing Film4 on board as a key partner,
He said the production was a good example of the type of creatively-driven project FilmNation aspired to, in which "the business side of everything comes secondary to our creative choices".
"He's got a unique perspective, he's smart and he makes movies that we love and television that we love. It started with the opportunity to make a movie with someone like Armando," recounted Basner.
"When he pitched doing this, it kind of made your head spin, knowing his previous work… The boldness of it, the fact that it's authored but is very different from what he had done previously had us feeling that he was really trying to do something ambitious and different for himself as an artist, as well as something for audiences around the world and that was really exciting. It was walking the tightrope without a net."
Quizzed on whether theatrical pre-sales remained an integral part of financing films for FilmNation, Basner said the company liked to do pre-sales but not necessarily to directly finance the film to which they were attached.
"As part of financing a movie in an economically efficient way that drives a return on investment, we're pre-selling our films around the world and then using those contracts to borrow money from the bank to take equity out back of the film to invest in the next film and the film after that."
Roberts asked whether the traditional films sales model of pre-selling international territories followed by a big US deal still worked for FilmNation.
"There are no models," replied Basner. "Every film we approach in a very bespoke fashion. What we try to do is create as many pathways to success as possible to drive our leverage and filmmaking.
"That could be pathways to distribution, or to monetisation, but we like to pre-sell our movies, partly because the earlier a distributor is on board a film, the earlier they get invested in the film and the earlier they can think about dating the film and I think that benefits the film in terms of its overall release."
He added that roughly a third of the time, FilmNation gets a US distributor on board first although this was not the case with The Personal History Of David Copperfield, which Fox Searchlight acquired after it was completed.
"We just keep moving so we don't have to essentially defer our creative choices of what films we think are viable to another distributor… we would rather rely on our own creative instincts and take the risk," he added.
Basner admitted he still gets a thrill out of securing big-ticket sales on completed productions at festivals but that the downside to these highly-publicised deals was that they put a lot of pressure on the films and their makers.
He cited the example of FilmNation's $13m sale to Amazon at Sundance this year of Nisha Ganatra's comedy Late Night, co-starring writer, comedian and actress Mindy Kaling and Emma Thompson as a late-night television host.
"If we have a hot film and it's going to sell for a lot of money the thrill of chasing down and maximising that deal is the most fun I'll have all year-long but the other part of it is that it becomes such a public transaction that it does put a lot of weight on a movie, that doesn't always help with a movie's success going forward."
In the case of Late Night, he said: "We love that film… we sold it for a record-setting price to Amazon but never again was the movie written about or talked about without mention of how much Amazon had paid. All of a sudden it had to become a blockbuster and have success and I think that can be an unfair pressure on the film and the filmmakers."