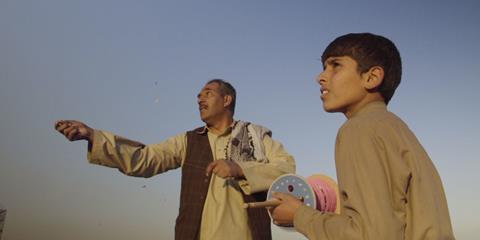 The Film Sales Company president Andrew Herwitz announced on Wednesday that he has acquired worldwide rights to three Toronto International Film Festival (TIFF) selections ahead of their world premieres.
Tarique Qyaumi's Black Kite (pictured) screens in Contemporary World Cinema and tells of an Afghan kite-maker struggling to raise his young daughter under Taliban rule.
"Tarique Qyaumi creates a timely, emotional experience in the tradition of Cinema Paradiso, Kolya and Life Is Beautiful," Herwitz said.
Don't Talk To Irene directed by Pat Mills, who attended TIFF with Guidance in 2014, is as described a crowd-pleasing drama starring Geena Davis and newcomer Michelle McLeod.
The film will premiere in Contemporary World Cinema and follows the disappointments and eventual triumphs of an overweight teenager who risks everything to follow her dream of being a high school cheerleader.
Aya Cash stars in Mary Goes Round, the feature debut of Molly McGlynn that screens in Discovery. The plot centres on a substance abuse counsellor who loses her job after she is arrested for drunk driving and is forced to move in with her estranged father and a half-sister she has never met.