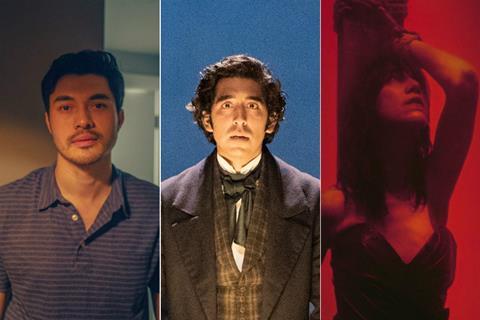 France, opening Wednesday September 23
UFO Distribution and Potemkine Films joined forces this week for a rare general release of a medium-length film to launch Gaspar Noé's 51-minute work Lux Æterna on 47 prints. Co-starring Beatrice Dalle and Charlotte Gainsbourg as a director and actress locked in a hellish shoot, the work debuted Out of Competition in Cannes in 2019.
Noé's cult status at home ensured plenty of press and according to France's CBO Box Office the picture came in fifth out of 15 new releases on its first day in cinemas, drawing 4,057 spectators, for a rough gross of $32,000.
Wider mainstream releases this week included warring grandparents comedy-drama Boutchou on 380 prints for UGC Distribution and Marc Fitoussi's Vienna-set crime tale Appearances, starring Karine Viard as a woman who discovers her conductor husband is having an affair with their son's teacher. SND released the latter on some 300 prints.
Other buzzy French releases included Just Like A Woman, about a struggling writer who gets a job as an assistant at an erotic fiction publishing house, by Michel Gondry collaborator Amro Hamzawi. ARP Sélection released it on 192 prints.
Metropolitan FilmExport remains the only French distributor regularly launching new US fare in the absence of the studios amid the Covid-19 pandemic. This week, it released Roger Michell's family drama Blackbird on 336 prints. Susan Sarandon stars as a terminally-ill mother determined to reunite her family one last time, with support from Mia Wasikowska, Sam Neill and Kate Winslet.
Foreign-language arthouse releases included Christine Petzold's romantic drama Undine, which went out on 189 prints for Les Films du Losange. The film world premiered in Berlin this year, winning the Fipresci prize as well as the best actress Silver Bear for Paula Beer. There were also smaller releases for Argentine director Lucio Castro's Barcelona-set romance End Of The Century by Optimale and Israeli filmmaker Yaron Shani's drama Stripped by Art House.
In other genres, Nour films released Thomas Balmès documentary Sing Me A Song about the arrival of internet in a remote Buddhist monastery in Bhutan while animation house Gebeka experimented with 40-minute animation Youpi! C'est Mercredi (which translates as Hurray, It's Wednesday) on 95 prints.
Germany, opening Thursday September 24
While there are no new releases by US majors in German cinemas this week, mainstream cinema is represented by diverse titles such as Armando Ianucci's The Personal History Of David Copperfield (eOne), Roger Michell's Blackbird starring Susan Sarandon and Kate Winslet (a remake of the Danish film Silent Heart; Leonine releasing), and the brothers Chris and Nick Riedell's romantic comedy A Nice Girl Like You, based on the 2007 memoir Pornology (Capelight).
The sequel to the internationally successful Ooops! Noah Is Gone, the 3D-animated feature Ooops! The Adventure Continues (Telepool), will be targeting family audiences.
Arthouse cinemas are spoilt for choice with the release this week of Faraz Shariat's Teddy Award-winning debut No Hard Feelings (Salzgeber); actor Kida Ramadan's directorial debut In Berlin Wächst Kein Orangenbaum (Port au Prince); Katrin Gebbe's Pelican Blood (DCM), a title that premiered at 2019 Venice Film Festival; Vadim Perelman's Persian Lessons (Alamode), which had originally planned to open on 7 May – a day before the 75th anniversary of the German army's surrender at the end of the Second World War; Maria Peters' biopic De Dirigent (Der Filmverleih); Iliana Estanol and Johanna Lietha's drama Lovecut – Liebe, Sex Und Sehnsucht (Meteor Film); and an anthology of erotic shorts collected under the title of Xconfessions Night (Busch Media Group).
In addition, three local documentaries are receiving a theatrical release: Tim Boehme's Die Heimreise (TobFilm), which screened at Munich's DokFest last May; Tobias Frindt's Freie Räume – Eine Geschichte der Jugendbewegung (Drop-Out Cinema); and co-directors Elsa Kremser and Levin Peter's Space Dogs (Real Fiction), which premiered in Locarno's Filmmakers of the Present sidebar a year ago.
Italy, opening Thursday September 24
The biggest opening of the weekend is 01 Distribution's Unhinged, the road-rage thriller led by Russell Crowe and directed by Derrick Borte that has already opened in many international markets.
Two movies from this year's Venice Film Festival are opening: Claudio Noce's Padrenostro which won the Volpi Cup for lead actor Pierfrancesco Favino and is distributed by Vision Distribution; and Giorgia Farina's Giornate degli Autori Italian drama Romantic Guide To Lost Places starring Jasmine Trinca and Clive Owen, distributed by Lucky Red.
Ciro Guerra's Waiting For The Barbarians starring Johnny Depp, which premiered at last year's Venice Film Festival, is coming to theatres through Iervolino Entertainment.
Christan Petzold's Berlinale Competition drama Undine is distributed by Europictures.
Eagle Pictures is releasing Scott Speer's romantic drama Endless.
Nexo Digital has planned a limited three-day release of the Pierre-Huberto Martin art documentary A Night At The Louvre: Leonardo Da Vinci.
The Italian debut comedy-drama Easy Living by the Miyakawa brothers will screen through I Wonder Pictures.
UK & Ireland, opening Friday September 25
It's a quiet weekend for new openers in the UK and Ireland, in the week when changes to the release schedule caused concern for independent cinemas in the territory.
Vertigo, which has been releasing new films consistently throughout the summer, has Channing Godfrey Peoples' US title Miss Juneteenth. The Sundance 2020 drama centres on a former beauty queen and single mother who prepares her rebellious teenage daughter for the titular pageant, which celebrates the emancipation of slaves in the US.
Parkland Entertainment is releasing Paul Morrison's 23 Walks, starring Dave Johns from I, Daniel Blake and Alison Steadman from Life Is Sweet. It is a romance between a couple in their sixties, who get to know each other over the course of the titular walks.
LGBTQ+ distributor Peccadillo Pictures is conducting a release for Hong Khaou's UK-Hong Kong love story Monsoon. Crazy Rich Asians star Henry Golding plays a British Vietnamese man who returns to Saigon for the first time in 30 years, having fled during the Vietnam War. The film debuted at Karlovy Vary in June 2019.
Dave Mclean's Scottish crime comedy-drama Schemers comes out through Munro Film Services, following a former footballer who falls in with the gangster crowd when trying to promote an ambitious gig.
Four documentaries are out this weekend: Justin Pemberton's capitalism critique Capital In The 21st Century through Studiocanal; Sébastien Lifshitz's Berlin 2020 title Little Girl through Curzon; Rob Curry and Tim Plester's music film Southern Journey (Revisited) through Fifth Column Films; while Dogwoof has Ron Howard's Rebuilding Paradise, about the titular Californian town's resurrection efforts following 2018 wildfires.
Nickelodeon UK is holding an event release for concert film Jojo Siwa's D.R.E.A.M. Tour On The Big Screen; while rep distributor Park Circus is re-releasing films one-through-five and Rocky Balboa from the Rocky series.