Entertainment's The Hateful Eight posts strong $4.05m (£2.78m) debut.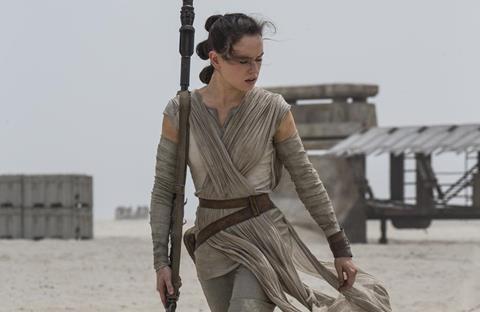 DISNEY
Having become the biggest film ever in the UK on Friday [Jan 8], Star Wars: The Force Awakens continued its domination of the UK box office over the weekend.
Disney's continuation of the space saga dropped just 43% on its way to a fourth weekend of $8.7m (£5.95m) for a monumental $158m (£108.4m) to date. Skyfall's record of $150.4m (£103.2m) lasted just over three years.
The Force Awakens became the second consecutive film to record four weeks as the UK's number one, following The Hunger Games: Mockingjay - Part 2. It faces stiff competition for the top spot this coming weekend with the arrival of The Revenant.
Now, the only question is just how far The Force Awakens can go. The last seven days has seen it add more than £10m, so £120m looks a distinct possibility barring a steep drop.
Also for Disney, The Good Dinosaur added $641,000 (£440,000) for $19.4m (£13.3m) after seven weeks in play. It is still more than £2m behind the lowest grossing Pixar outing to date, Cars 2's $22.8m (£15.62m).
Dilwale has now amassed $3.3m (£2.29m) after four weeks in play and is now the fifth highest-grossing Bollywood title of all time in the UK.
ENTERTAINMENT
Despite not showing in three UK chains, Entertainment's The Hateful Eight got off to a strong start at the UK box office.
Quentin Tarantino's eighth feature recorded a confirmed $4.05m (£2.78m) from its 401 sites to chart second with a $10,097 (£6,935) site average, second only to The Force Awakens. That's just behind Django Unchained and ahead of Kill Bill: Vol. 2, as well as the first weekend of nationwide release Kill Bill: Vol. 1.
It's a notable result given the omission from three key chains, its 18 certificate and three-hour running time, which will have resulted in it getting fewer showtimes each day.
Inglourious Basterds remains Tarantino's best UK bow with $5.2m (£3.6m) from 444 sites. However, that included $2.5m (£1.69m) in previews, so The Hateful Eight is just behind Django Unchained's $4.08m (£2.8m) Fri-Sun tally.
Django Unchained is currently Tarantino's best-ever UK performer with $22.9m (£15.7m).
PARAMOUNT
Daddy's Home continued its excellent run at the UK box office, dropping just 23% for a $3.3m (£2.26m) third weekend.
Paramount's comedy is now up to a strong $17.3m (£11.85m) and has proven to be savvy counter-programming against Star Wars and awards contenders. It should hit a minimum of £15m, despite mixed reviews.
UNIVERSAL
Aided by its BAFTA recognition, Universal's The Danish Girl overtook Joy at the UK box office with a $1.9m (£1.29m) second weekend.
Tom Hooper's biopic is now up to a ten-day tally of $5.5m (£3.79m) and while it won't reach the heights of The King's Speech or Les Misérables, the holdover is encouraging for Universal that it can enjoy a long run.
Also for Universal, Sisters is up to $3.8m (£2.63m) following a $200,000 (£136,863) fourth weekend.
FOX
Falling 30% (excluding previews), Joy rounded off this week's top five with a non-final $1.5m (£1.04m) second weekend.
Fox's biopic is now up to $4.9m (£3.36m) and will have eyes on Silver Linings Playbook's $7.7m (£5.3m) result. American Hustle's $19.4m (£13.3m) record as David O. Russell's best-ever UK result is safe.
Also for Fox, Snoopy And Charlie Brown: The Peanuts Movie dropped 44% in its third weekend, taking $1m (£692,322) for $12.2m (£8.37m) to date.
Bridge of Spies enjoyed a BAFTA boost of 4% as it grossed a non-final $259,000 (£177,988) for $10.4m (£7.15m) after seven weeks in play.
LIONSGATE
In its eighth weekend, Lionsgate's The Hunger Games: Mockingjay - Part 2 added $347,000 (£238,421) for a healthy $41.8m (£28.68m) to date.
Also for Lionsgate, Brooklyn enjoyed a BAFTA nominations boost to lift its running total to $7.6m (£5.19m).
WARNER BROS
In the Heart of the Sea posted a $294,000 (£202,000) third weekend for $3.5m (£2.4m) to date through Warner Bros.
SONY
Into its 11th week, Sony's Spectre took an extra $262,000 (£180,000) for $137.8m (£94.6m) to date.
ALTITUDE
Including a live Q&A from Bertha DocHouse at 91 sites, Altitude's Bolshoi Babylon recorded a UK debut of $52,000 (£35,341) from its nine sites over the weekend.
STUDIOCANAL
From its 18 sites through StudioCanal, A War posted a UK bow of $26,000 (£17,916). behind A Hijacking's $38,000 (£26,379) from 13 sites.
UPCOMING RELEASES
This week sees saturation releases for Fox's The Revenant and Warner Bros' Creed.
StudioCanal's Room receives a wide release, while Soda Pictures' Breakdown and Signature Entertainment's Dragon Blade are among the films receiving a limited release.