Disney's long-awaited return of the space saga posts second biggest opening of all time and the biggest Fri-Sun weekend of all time.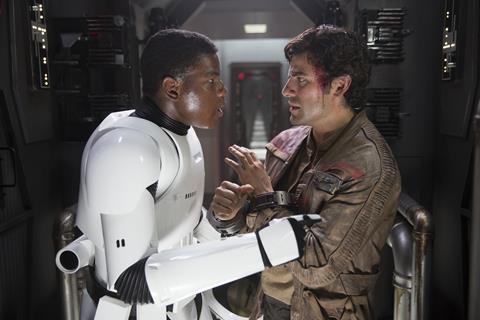 DISNEY
Having posted the biggest ever day at the UK box office on Thursday, Star Wars: The Force Awakens recorded the second biggest opening of all time and the biggest-ever Fri-Sun tally.
Disney's continuation of the space saga scored a tremendous $50.5m (£33.9m) debut from its 660 sites (a record wide release), including $14.46m (£9.7m) from Thursday [Dec 17]. That marks the biggest ever four-day opening ahead of Jurassic World's $28.8m (£19.35m).
And having taken Harry Potter And The Deathly Hallows: Part 2's record of biggest day ever, The Force Awakens has now overtaken that film's biggest-ever Fri-Sun tally of $35.38m (£23.75m) with a stunning haul of $36.06m (£24.2m) over Fri-Sun. It's all the more impressive given how big the film's Thursday was.
Second to Spectre, but three of the biggest days ever
The Force Awakens did, however, fall short of the all-time record opening achieved by Spectre of $61.5m (£41.3m), but that did come from seven days. Officially, The Force Awakens will rank as the second biggest opening ever, but will likely still make more across its first seven days than Spectre.
The Force Awakens posted the biggest Saturday of all time with $12.96m (£8.7m) and the biggest Sunday of all time with $12.67m (£8.5m). They also rank as the third and fourth biggest days of all time according to figures from Rentrak, meaning it has three of the top five days ever at the UK box office.
The film also achieved the biggest IMAX weekend of all time with $5.03m (£3.38m) from its 42 sites, with every single day bigger than IMAX's biggest day of all time which was Jurassic World's $849,000 (£570,000) on its first Saturday.
Wide release
This year has seen four of the widest releases ever at the UK box office. Starting with Jurassic World's 605, Inside Out then broke the record with 608 before Spectre released on 651 sites.
On the Digital Cinema Media estate which includes Cineworld, Vue, Odeon and Picturehouse, The Force Awakens has delivered 2.7 million admissions to date according to DCM's head of film Tom Linay.
Beating previous Star Wars
Thanks to its staggering opening, it will shortly overtake the final UK results of Attack of the Clones ($55.9m/£37.55m) and Revenge of the Sith ($58.7m/£39.43m).
The Phantom Menace's $84m (£56.41m), which includes its 3D re-release, will also soon be overtaken as the highest-grossing Star Wars outing in the UK.
According to the inflation adjusted totals in the latest BFI Statistical Yearbook, The Phantom Menace took $115.6m (£77.6m) and A New Hope took $112.8m (£75.7m). The Force Awakens won't have any trouble surpassing both.
Really, the main target for The Force Awakens is Skyfall's all-time record of $153.3m (£102.88m) as the UK's highest grossing film. And given its huge opening, Bond will soon be feeling the power of the Force.
Other Disney releases
Also for Disney, The Good Dinosaur fell a slim 30% on its way to a $1.34m (£900,000) fourth weekend for $12.1m (£8.1m) to date. It will hope to start posting decent midweek numbers in its attempt to not end its run as the lowest-grossing Pixar outing in the UK.
Disney also had success this weekend through its UTV distributor as Dilwale posted a superb debut of $1.08m (£725,000) from just 140 sites. In terms of Bollywood outings in the UK, that ranks as the seventh biggest opening of all time.
UNIVERSAL
Having opened last Saturday [Dec 12], Universal's Sisters enjoyed an overall debut of $1.8m (£1.21m) from its 442 sites to chart second.
The opening includes $1.09m (£734,401) from Sat-Thurs and marks director Jason Moore's best-ever UK bow ahead of Pitch Perfect's $1.4m (£952,107) from 365 sites, although that was achieved solely from Fri-Sun.
Based solely on Fri-Sun, Sisters' tally of $715,000 (£480,234) would have seen it chart fifth.
Also for Universal, Krampus has scared up $1.76m (£1.18m) after three weeks in play.
LIONSGATE
Dethroned after four weeks as the UK's number one, The Hunger Games: Mockingjay - Part 2 held reasonably well (given the market) with a $783,000 (£525,727) fifth weekend.
Lionsgate's climactic chapter in the young adult franchise is now up to $39.7m (£26.67m). It will end its run as the lowest grossing sequel of the series behind Mockingjay - Part 1 ($46.3m/£31.1m) and Catching Fire ($50.9m/£34.2m).
SONY
Hit by the arrival of Star Wars, Sony's Spectre suffered its first big drop in its eighth weekend as it added $440,000 (£295,000) for $138.3m (£92.8m) to date.
It will need to rebound over Christmas to overtake Avatar's $140.1m (£94m). It currently stands as the third-biggest film of all time in the UK.
Also for Sony, The Lady in the Van has amassed a terrific $17.4m (£11.7m) after six weeks in play, while Hotel Transylvania 2 and The Night Before stand at $29.4m (£19.7m) and $1.1m (£746,000), respectively.
Grandma has grossed $121,000 (£81,000) after ten days.
EONE
In its third weekend, eOne's Christmas with the Coopers added $384,000 (£258,162) for $2.9m (£1.95m) to date.
It has at least won the battle of this year's Christmas-themed films over Krampus and The Night Before, perhaps unsurprising given its family-friendly certificate.
FOX
As with much of the market, Fox's Bridge of Spies dropped heavily with a $316,000 (£212,169) fourth weekend for $9.15m (£6.14m) to date.
Also for Fox, Victor Frankenstein has taken a lacklustre $1.35m (£907,872).
STUDIOCANAL
Carol has hit the £2m mark at the UK box office after four weeks in play.
StudioCanal's awards contender is up to $3m (£2.03m) following a $114,000 (£76,598) weekend.
WARNER BROS
Almost at the end of its run, Warner Bros' Black Mass has taken $4.7m (£3.17m) in the UK.
UPCOMING RELEASES
With most cinemas shut on Christmas Day, Warner Bros' In the Heart of the Sea and Paramount's Daddy's Home receive a saturation release from Saturday [Dec 26].
Fox's Snoopy and Charlie Brown: A Peanuts Movie goes on saturation release nationwide from today [Dec 21] after two weekends of previews.