Three new titles have taken their places on the Screen Berlin jury grid, with Wang Quan'an's Öndög still in first place with an updated score of 2.8.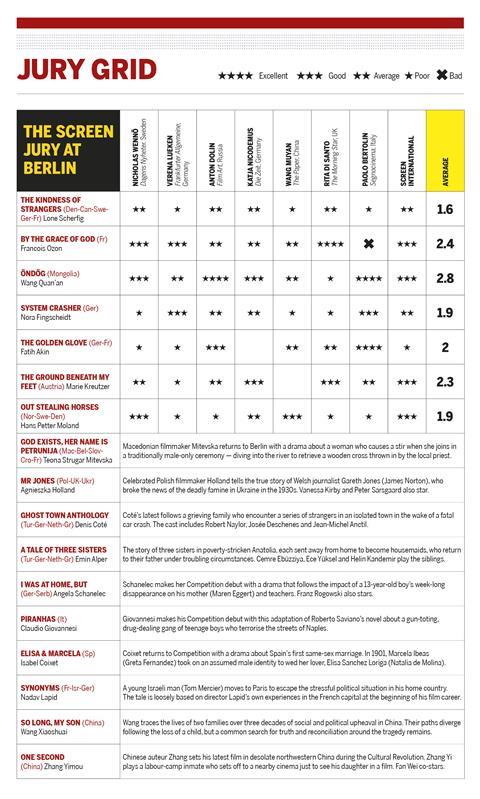 Berlinale regular Fatih Akin's The Golden Glove fared just OK with the jurors, managing an average of 2.0 with one score still to come. It had a mode score of one (poor) from 3 critics, although this was broken up with a three (good) from Film Art's Anton Dolin and a four (excellent) from Segnocinema's Paolo Bertolin.
The film is an adaptation of Heinz Strunk's 2016 novel, telling the story of real-life serial killer Fritz Honka, who murdered four women in Hamburg's red-light district in the 1970s.
Marie Kreutzer's The Ground Beneath My Feet did slightly better, with a 2.3 from 3 twos (average) and 3 threes, also missing a score. Only Frankfurter Allgemeine's Verena Lueken scored it a one.
It tells the story of a career woman whose ruthless business success is put into perspective by her mentally ill sister's suicide attempt.
Hans Petter Moland's fourth film to play in Competition, Out Stealing Horses, managed less well with a 1.9 average. Its scores were all mid-to-low, with 4 ones, 1 two, and 3 threes, from Dagens Nyheter's Nicholas Wennö, The Paper's Muyan Wang and Screen's own critic.
Stellan Skarsgard stars as a grieving widower who confronts his past after a chance encounter with an old friend from his youth.
Next up are Teona Strugar Mitevska's God Exists, Her Name Is Petrunija, the return of Agnieska Holland with Mr Jones and Denis Coté's Ghost Town Anthology.