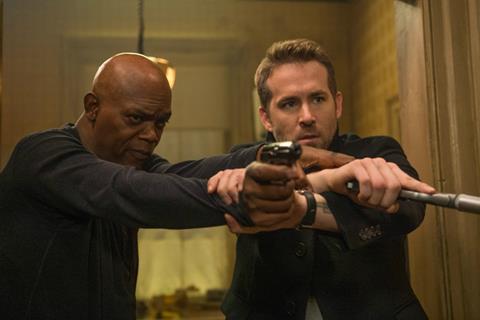 The Hitman's Bodyguard starring Ryan Reynolds and Samuel Jackson opened top on an estimated $21.6m to lead another sluggish season-end session in North America that delivered the lowest weekend of the year-to-date.
Meanwhile Steven Soderbergh's Logan Lucky, the caper film starring Channing Tatum, Daniel Craig, Adam Driver and Riley Keough, opened in third place via Bleecker Street on $8.1mn.
The film is unusual in that Soderbergh raised funds for the P&A and orchestrated the release, hiring Bleecker Street as a de facto fee-based distributor.
In its fifth session Warner Bros' acclaimed war film Dunkirk fell two places to rank fourth on $165.6m, while Sony's The Dark Tower tumbled five slots to number nine in its third weekend and sits on $41.6m.
TWC expanded its Jeremy Renner and Elizabeth Olsen thriller Wind River from Taylor Sheridan, increasing the theatre count from 45 to 694 in its third weekend. The film climbed ten places to number 10 on $3m for $4.1m.
Kidnap fell three to number 11 through new distributor Aviron and added $2.9m for $24.3m in the third weekend. Detroit fell a further six slots to 19 through another new player, Annapurna Pictures, adding $850,000 for $15.5m after four sessions.
Fox Searchlight launched its awards season prospect and Sundance pick-up Patti Cake$. The film arrived at number 36 on $66,000 from 14 venues for a $4,714 avcerage.
Overall the top 12 generated $89.6m, down 20% on last weekend and down 31.5% on the comparable session in 2016 when Warner Bros' Suicide Squad ruled box office for the third consecutive weekend.
This week's wide releases are: Bruce Lee action film Birth Of The Dragon through BH Tilt; the animation Leap through TWC; and the drama All Saints through Sony.
Estimated top 10 North America August 18-20, 2017
Film (Dist) / Est wkd gross / Est total to date
1 (-) The Hitman's Bodyguard (Lionsgate-Summit) Nu Image $21.6m –
2 (1) Annabelle: Creation (Warner Bros) Warner Bros Pictures International $15.5m $64m
3 (-) Logan Lucky (Bleecker Street) FilmNation $8.1m –
4 (2) Dunkirk (Warner Bros) Warner Bros Pictures International $6.7m $165.5m
5 (3) The Nut Job 2: Nutty By Nature (Open Road) Open Road International / FilmNation $5.1m $17.7m
6 (6) The Emoji Movie (Sony) Sony Pictures Releasing International $4.35m $71.8m
7 (7) Spider-Man: Homecoming (Sony) Sony Pictures Releasing International $4.25m $314.1m
8 (5) Girls Trip (Universal) Universal Pictures International $3.8m $103.9m
9 (4) The Dark Tower (Sony) Sony Pictures Releasing International $3.7m $41.6m
10 (20) Wind River (TWC) TWC International $3m $4.1m