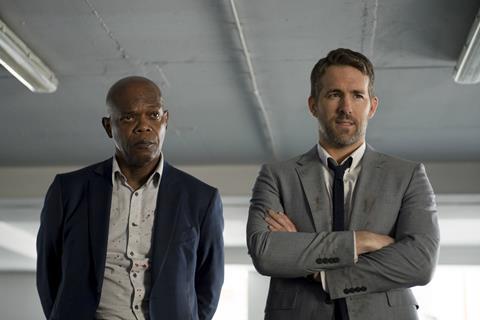 | | | | |
| --- | --- | --- | --- |
| Ranking | Film/Distributor | Weekend gross | Running total |
| 1 | The Hitman's Bodyguard(Lionsgate) | $2.55m (£1.98m) | $2.55m (£1.98m) |
| 2 | Dunkirk(WB) | $2.48m (£1.92m) | $63.2m (£49.08m) |
| 3 | Annabelle: Creation(WB) | $1.53m (£1.19m) | $6.1m (£4.74m) |
| 4 | The Emoji Movie(Sony) | $1.3m (£1m) | $11.1m (£8.6m) |
| 5 | The Dark Tower(Sony) | $1.17m (£906,000) | $1.17m (£906,000) |
(Note - Dollar conversions are based on today's rates)
LIONSGATE
The Hitman's Bodyguard ended Dunkirk's reign as the UK's number one by shooting to the top spot this weekend.
Lionsgate's action comedy recorded a decent opening of $2.55m (£1.98m) from its 467 sites, including $470,000 (£364,919) in previews. However, its Fri-Sun tally of $2.08m (£1.62m) would have seen it chart second behind Dunkirk.
That marks the best UK bow for director Patrick Hughes, ahead of The Expendables 3's $2.18m (£1.69m), and The Hitman's Bodyguard will hope to hold well this coming weekend and potentially remain top.
Zygi Kamasa, CEO of Lionsgate's European office commented: "We're thrilled with the opening weekend result for The Hitman's Bodyguard proving that the expert pairing of Reynolds and L. Jackson alongside a fresh approach to the action-comedy genre bought UK cinemagoers out in droves this weekend."
Also for Lionsgate, Valerian And The City Of A Thousand Planets added $199,000 (£154,801) for $4.8m (£3.73m) to date.
WARNER BROS
While it didn't officially become the first film since Avatar to record five weeks as the UK's number one, Dunkirk did lead the Fri-Sun market for the fifth straight week.
Warner Bros' war epic fell only 27% on its way to $2.48m (£1.92m) for an impressive $63.2m (£49.08m). It has now surpassed The Dark Knight's $62.8m (£48.82m) and will likely outgross The Dark Knight Rises' $72.5m (£56.3m) over the coming weeks, placing it firmly in the UK's top 20 highest-grossing films of all time.
Also for Warner Bros, Annabelle: Creation fell 39% with a $1.53m (£1.19m) second weekend for $6.1m (£4.74m) after 10 days in play. As the sole major horror outing in the market currently, it should match Annabelle's $9.7m (£7.51m) result.
Everything, Everything posted a UK debut of $581,000 (£451,000) from its 356 sites, while The Nut Job 2: Nutty By Nature fell 25% with a $337,000 (£262,000) second weekend for $1.42m (£1.11m) to date.
SONY
The Emoji Movie continues to be the leading family offering in the UK as it dropped only 14% with a $1.3m (£1m) third weekend.
Sony's animation is now up to $11.1m (£8.6m) and could cross £10m by the end of this coming weekend, matching the run of The Angry Birds Movie last year.
Also for Sony, The Dark Tower couldn't battle past its negative reviews as it recorded a disappointing UK bow of $1.17m (£906,000) from its 530 sites, marking a site average of $2,202 (£1,709).
Spider-Man: Homecoming is now the second biggest Spider-Man outing at the UK box office, dropping 29% to swing to an extra $473,000 (£367,000) for $37.5m (£29.1m) to date.
Baby Driver and Maudie have grossed $16.1m (£12.5m) and $227,000 (£176,000), respectively.
UNIVERSAL
Despicable Me 3 fell a slim 16% with a $810,000 (£629,612) eighth weekend for a terrific $55.6m (£43.2m) to date.
Universal's latest Illumination Entertainment hit could still end up matching Despicable Me 2's $61.1m (£47.5m) and Minions' $61.5m (£47.8m) tallies in the UK.
Also for Universal, Girls Trip continued its strong run with a 21% drop on its way to a $758,000 (£589,060) fourth weekend for $8.8m (£6.83m) so far, while Atomic Blonde has reached $3.9m (£3.06m) after two weeks.
FOX
Crossing £20m in its sixth weekend, Fox's War For The Planet Of The Apes took a non-final $359,000 (£278,372) for $25.8m (£20.03m) to date.
Also for Fox, Captain Underpants dropped 18% with a $353,000 (£274,228) fourth weekend for $8.1m (£6.31m) so far.
DISNEY
In its sixth week, Disney's Cars 3 drove to a further $295,000 (£228,850) for $13.2m (£10.25m) to date and will end its run as the lowest-grossing Pixar outing in the UK.
PARAMOUNT
Including previews of $210,000 (£163,000), Paramount's An Inconvenient Sequel opened with a non-final $270,000 (£210,000) from its 98 sites.
That's ahead of An Inconvenient Truth's $82,000 (£63,742) debut, but that was taken at only 18 sites, with the movie going on to take $1.04m (£806,000) in the UK.
VERTIGO RELEASING
Including $18,000 (£13,652) in previews, Vertigo Releasing's Final Portrait recorded a $104,000 (£81,017) UK opening from its 59 sites.
A24/PICTUREHOUSE ENTERTAINMENT
Falling 39% (excluding previews) A24 and Picturehouse Entertainment's A Ghost Story added $93,000 (£71,813) from its 69 sites for $407,000 (£316,189) to date.
ALTITUDE
The Odyssey journeyed to a UK debut of $52,000 (£40,538) from its 49 sites, including previews, through Altitude.
ARROW FILMS
From its five sites through Arrow Films, The Untamed posted a UK bow of $14,000 (£10,718) with the sci-fi horror taking $2,100 (£1,615) over the weekend.
UPCOMING RELEASES
This week sees saturation releases for Universal's American Made, Studiocanal's Logan Lucky, Sony's Rough Night and eOne's Detroit.
National Amusements' Thomas & Friends: Journey Beyond Sodor receives a wide release, while BFI Distribution's Hotel Salvation and Kaleidoscope's Bushwick are among the films receiving a limited release.