Controversial comedy The Interview is to be released in UK and Ireland cinemas from February 6, Sony Pictures confirms.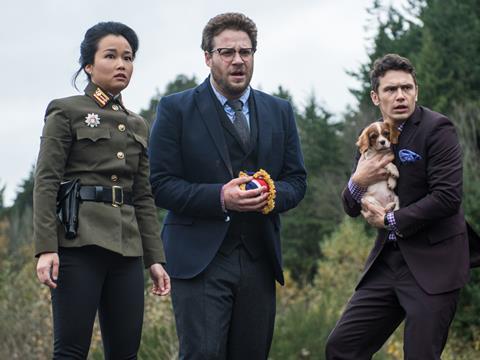 Sony had initially pulled the film from all territories in the wake of the damaging studio cyber-attack, which has engulfed the studio.
However, Sony has subsequently released the film in selected cinemas and online in the US, where it has made more than $31m (£20.5m).
It is also due to be released in Australia on February 12.
Sony Corporation President and CEO Kazuo Hirai told a press conference in Las Vegas yesterday that his employees had been subjected to a "vicious and malicious cyber attack".
He added that he was proud that the company was standing against "the extortionist efforts of criminals".
Co-written and co-directed by its star Seth Rogen, The Interview was described last year as a "blatant act of terrorism" by North Korea's state-run KCNA news agency.
Its scheduled release is thought to have motivated the cyber hack that saw films, private emails and staff salaries leaked online.
Sony faced widespread criticism for initially cancelling the film's theatrical release, a decision that President Obama called a "mistake".