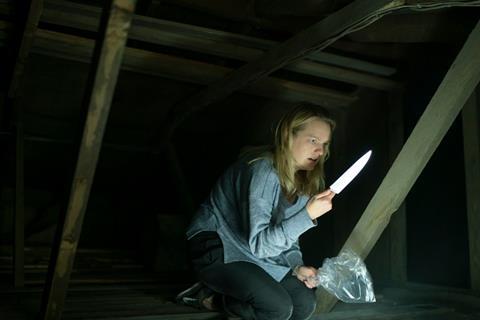 Universal's new take on The Invisible Man makes its entry into the international marketplace this weekend, opening in a handful of major territories as well as 40 smaller markets.
Universal Pictures International (UPI) opened the horror-thriller in France and Korea on Wednesday (February 26) and in Australia and Germany on Thursday (February 27). Openings in the UK and Ireland, Mexico and Spain follow on Friday (February 28).
The female-centric reinvention of the classic H G Wells story, produced by Blumhouse, with Elisabeth Moss starring for Australian writer-director Leigh Whannell, also opens this weekend in North America, as the only new wide release challenging domestic chart-toppers Sonic The Hedgehog and The Call Of The Wild.
UPI's period literary adaptation Emma also opened on Thursday in Korea, having taken $9.6m internationally so far. Meanwhile, the studio reported international totals to date of $135.1m for Dolittle and $59.8m (from Universal markets only) for 1917.
On what is likely to be a slow weekend at the international box office – with coronavirus-related health scares perhaps beginning to have an effect on attendance in some countries – other new releases are few and far between.
Just Mercy, the true-life prison drama from Warner Bros Pictures International, opens in Germany, Spain, Russia, Japan and 15 smaller territories.
The Call Of The Wild, 20th Century Studios' family adventure distributed by Walt Disney Studios Motion Pictures International, arrives in Japan and nine smaller markets, with $22m from international showings so far.
Paramount Pictures International reported that Sonic The Hedgehog has now reached $110.6m outside North America, Playing With Fire $22.9m and Like A Boss $5.9m.