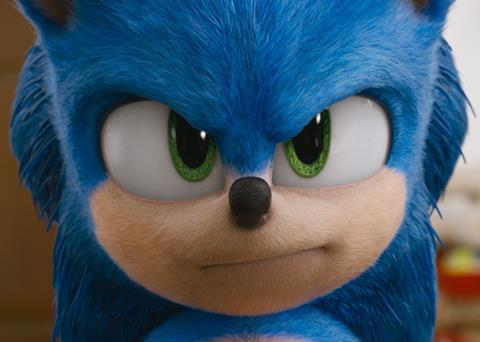 Paramount returned to winning ways as Sonic The Hedgehog delivered a mighty debut for a video game adaptation and ruled global and international box office on an estimated $100m and $43m, respectively.
In its second weekend Warner Bros' Birds Of Prey leaped towards $150m worldwide, multiple Oscar winner 1917 is about to hit $325m at the global box office, and Columbia Pictures' Little Women is approaching $200m worldwide.
PARAMOUNT PICTURES INTERNATIONAL
Sonic The Hedgehog, Paramount's video game adaptation from Sega Sammy Group, and an Original Film, Blur Studios production, earned $43m from 40 markets and delivered strong results in Latin America and Europe heading into school holidays in many places.
In a raft of number one debuts, Mexico delivered $6.7m, the UK $6.2m, France $4.3m, Brazil $3m, Australia $2.8m, Spain $2m, and Ukraine and Colombia on $1m each. Germany produced $3.3m in second place, and Italy $1.9m in second place.
Elsewhere, Sonic opened top in UAE on $784,000 and grossed $2.1m overall in the Middle East, Chile on $800,000, Argentina on $790,000, Malaysia on $736,000, and Ecuador on $600,000. Launches in South Korea and the Netherlands produced $610,000 at number five and $606,000 at number six, respectively.
The family film is voiced by James Marsden, Ben Schwartz, Tika Sumpter and Jim Carrey, and arrives next in Russia this week.
WARNER BROS PICTURES INTERNATIONAL
Birds Of Prey added $23m from 78 markets to climb to $83.6m, and stands at $142.9m worldwide after two sessions.
The Suicide Squad spin-off delivered strong second-weekend holds as the UK added $2.3m for $7.6m after dropping 35%, France $1.8m for $4.9m after a 29% slide, Australia $1.8m for $4.9m after a 30% drop, and Germany $1.2m for $3.1m after a 19% fall.
The lead market is Mexico where the R-rated spectacle grossed $2.1m for $7.9m. Also of note is Russia, where Birds Of Prey stands at $6.1m following a $1.3m weekend, and Brazil on $4.9m after $1.3m.
SONY PICTURES RELEASING INTERNATIONAL
Bad Boys For Life grossed $11.1m from 63 markets to reach $187m, and $368m globally. The UK leads the way on $18.7m, then Germany on $16m, Mexico on $12.3m, Australia on $12m, Russia on $11.7m, and France on $11.6m.
Local Russian title Lyod 2 (AKA Ice 2) opened top in Russia on $8.4m over three days. Lyod 2 continues the love story between a champion figure skater and a hockey player as they begin their new family together.
Little Women is fast approaching the $200m global mark and currently stands at $191m. Greta Gerwig's period drama adaptation added $7.2m internationally to reach $85.5m and opened in South Korea on $3.2m over five days, which is roughly twice the opening of Pride & Prejudice. The UK remains the lead market on $27.7m, followed by Australia on $10.5m, Italy on $6.5m, France $5.8m, and Spain $5.1m.
Blumhouse's horror-comedy 1970's TV adaptation Fantasy Island launched internationally on $7.6m from 35 markets led by France on $1.3m, Indonesia on $950,000, and Australia on $700,000. It opens in Germany this week. The UK debut is March 6. Jumanji: The Next Level stands at $473m internationally and $779m worldwide. J-horror remake The Grudge has reached $25.5m internationally and opened in Mexico on $1m
UNIVERSAL PICTURES INTERNATIONAL
Dolittle grossed $8.8m for $110.6m and $181.1m worldwide. The UK was top hold for the family adventure starring Robert Downey Jr. on $2.7m for $10.5m in second weekend, followed by France on $1.6m for $4.9m, and Germany on $953,000 for $6.5m. Mexico has generated $8.7m after three sessions, Australia $7.4m after five, Spain $5.7m after four, and Italy $4.8m after three.
1917, winner of three Oscars last weekend, added $13.6m through Universal and Amblin Partners territories to reach $178.1m, of which $6.4m came from Universal for a $51.2m running total. Worldwide has reached $322.5m.
Sam Mendes' acclaimed First World War thriller opened in Japan at number two on $2.2m, while France led the holdovers on $1.2m for $14.4m after five weekends. Germany has delivered $7.8m after five, Brazil $4.7m after four, Mexico $5.4m after five.
Jane Austen adaptation Emma starring Anya Taylor-Joy and opened in seven markets and earned $3.2m led by the UK on $2.2m at number six and Australia on $746,000 at number four.
AMBLIN PARTNERS
1917 added $2.5m in the UK for $51.5m after six weekends, and in other results through eOne, the first World War thriller raised the tally in Australia by $827,000 to $14.2m after six, and climbed by $704,000 in Netherlands to $8.9m after six.
Italy has delivered $7.1m through Leone after four weekends, $9.6m in Spain through eOne after six, $2m in Sweden through Nordisk after three, and $7.7m in Middle East via Italia Film after six.
MIRAMAX INTERNATIONAL
Crime caper The Gentlemen earned $8.1m for $43.3m and opened in five territories this weekend led by a $4.1m number two debut in Russia/CIS for director Guy Ritchie's third highest launch. It opened in Mexico on $591,000. The film added $1m in France for $2.7m after two sessions, and stands at $15m in the UK after seven, $10.6m in Australia and New Zealand after seven, $2.9m in Middle East after four, and $2m in Ukraine after three.
WALT DISNEY STUDIOS MOTION PICTURES INTERNATIONAL
Searchlight Pictures' Best adapted screenplay Oscar winner Jojo Rabbit earned $3m for a $49.5m international running total and has reached $81.3m at the worldwide box office. The UK is the top market on $9.8m, followed by Australia on $5.8m, Italy $4.2m, Mexico $3.8m, and Japan $3.2m.
Blue Sky Studios' Spies In Disguise earned $1.4m for $101m and has reached $166.6m globally. China remains the lead on $15m, then the UK on $9.3m, Russia on $7.8m, France on $7.7m, and Mexico on $6.3m.