APRIL 25 UPDATE: Disney's Zootopia also reaches its own milestone as it passes $900m at global box office.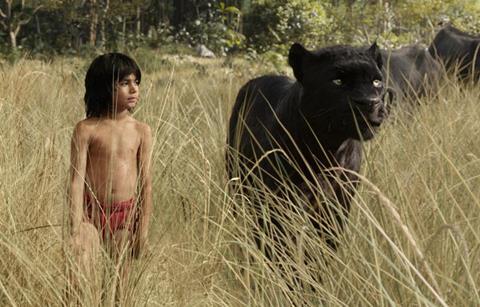 WALT DISNEY STUDIOS MOTION PICTURES INTERNATIONAL
The Jungle Book continued its domination of the global box office as it crossed $500m over the 22-24 April weekend.
Retaining the top spot in the US with $60.8m for $191.5m, the live action remake added an estimated $96m overseas from its 53 territories for $337m internationally and $528.5m worldwide.
The film enjoyed excellent holds across the globe, as it dropped only 22% in Latin America, 25% in Europe and 40% in Asia-Pacific. As previously reported, it is the highest grossing Hollywood release of all time in India with $28.8m.
It will shortly cross the $100m mark in China where it currently stands at $97.4m, while The Jungle Book fell only 23% in the UK to take $10.9m for a local tally of $30.3m.
The remake held at number one for the third straight week in Australia after a terrific 8% drop for $14.9m to date.
The Jungle Book opens in South Korea on June 2 and Japan on Aug 11.
Zootopia also celebrated its own milestone this weekend as it passed the $900m mark at the global box office.
The critically acclaimed animation is now the second biggest Walt Disney Animation Studios outing of all time in its original release. Internationally, it added an estimated $10.8m from its 41 territories for $590.7m to date.
It opened in its final major international market this weekend with a $4m debut in Japan, marking the third biggest opening for a Walt Disney Animation Studios outing behind Frozen and Big Hero 6.
UNIVERSAL PICTURES INTERNATIONAL
UPDATE: Bowing in 37 territories day-and-date with North America, The Huntsman: Winter's War grossed $30.9m from its 64 territories for $79.1m to date.
China led the way with $10.4m to chart third behind week two of The Jungle Book, while Brazil opened with $3.1m from 522 dates and France took $2.6m from 506 dates.
Winter's War opened top in Bulgaria, Peru, Portugal and Turkey ahead of its final three openings: Greece (April 28), Panama (May 5) and Japan (May 27).
The Boss opened in eight new territories for an overall $3.4m from its 25 territories and an early $8.3m overseas.
It held strong in Australia with a $1.2m second weekend for an 11-day tally of $3.5m, while Germany was the best of the new openings with an $845k debut from its 496 dates to chart fourth.
My Big Fat Greek Wedding 2 stands at $28m following a $754k weekend from its 21 territories, while Spanish crime thriller Toro posted a $666k bow in its local territory from its 315 dates.
WARNER BROS PICTURES INTERNATIONAL
UPDATE: Batman v Superman: Dawn Of Justice took $8.4m from its 65 markets for $532.4m to date overseas.
In Brazil, the epic superhero battle is now the fourth highest grossing film of all time with $34.5m following a $2m weekend. China remains the biggest overseas territory with $95m, followed by the UK on $51.6m.
How To Be Single enjoyed a $1.2m third weekend in Germany for $6.5m, adding an overall $1.8m for $60.9m internationally.
FOX INTERNATIONAL
UPDATE: Kung Fu Panda 3 chopped to a further $5.1m from its 54 markets for $362.7m overseas, and more than $500m worldwide.
The threequel fell only 29% in France on its way to a $1.8m fourth weekend for $14.6m to date, while Australia added $598k for $9.6m after five weeks in play.
Boosted by a $2.4m debut in Australia, Eddie The Eagle flew to $2.9m from its 31 markets for $12.2m from its Fox markets. The biopic opens in New Zealand next week and France on May 4.
The Revenant landed in Japan with $2.2m from its 366 screens, an opening 9% bigger than that of The Wolf Of Wall Street. Overall, the film stands at $339.6m internationally.
MIROVISION
Highly-anticipated romantic comedy sequel My New Sassy Girl opened in China with an estimated $2.8m, according to ComScore.
LIONSGATE
The Divergent Series: Allegiant took $1.9m from its 49 markets for $90.6m to date,
After a soft $727k debut in Germany, Gods Of Egypt added an overall $1.6m for $109.6m. Its next major opening comes in the UK on June 17.
PARAMOUNT PICTURES INTERNATIONAL
Ahead of its opening in Italy and India next weekend, 10 Cloverfield Lane unearthed an extra $1.6m from its 49 markets to stand at $34.5m overseas.
STUDIOCANAL
Bastille Day shot to an estimated $1.04m debut in the UK, including previews.