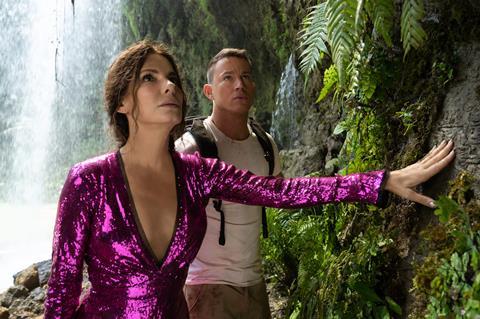 Worldwide box office March 25-27
| Rank | Film (Distributor) | 3-day (world) | Cume (world) | 3-day (int'l) | Cume (int'l) | Territories |
| --- | --- | --- | --- | --- | --- | --- |
| 1. | The Batman (Warner Bros) | $45.5m | $672.8m | $25m | $340.9m | 77 |
| 2. | The Lost City (Paramount) | $34.7m | $34.7m | $3.7m | $3.7m | 17 |
| 3. | RRR (various) | $13.4m | $13.4m | $3.9m | $3.9m | 21 |
| 4. | Uncharted (Sony) | $12.7m | $357.4m | $7.7m | $223.9m | 56 |
| 5. | Moonfall (various) | $10.3m | $60.7m | $10.3m | $41.7m | 15 |
| 6. | Jujutsu Kaisen O (Sony) | $9.4m | $164.9m | $4.8m | $137.1m | 21 |
| 7. | Ambulance (Universal) | $6.7m | $12.7m | $6.7m | $12.7m | 58 |
| 8. | The Bad Guys (Universal) | $6.5m | $16.7m | $6.4m | $16.7m | 37 |
| 9. | Sing 2 (Universal) | $5m | $387.4m | $3.8m | $227.1m | 69 |
| 10. | Dog (various) | $3.2m | $69.6m | $1.1m | $11.7m | 17 |
Credit: Comscore, all figures estimates, click top right to expand
'The Lost City' tops North America box office
Paramount's The Lost City has delivered the highest new entry in the weekend worldwide box office chart, thanks to a chart-topping estimated $31.0m in North America, plus $3.7m in 16 early international markets, combining for a $34.7m total. That number puts the Sandra Bullock/Channing Tatum romantic comedy adventure in second place in the global chart, behind The Batman.
The Lost City opened above expectations in North America, and follows hot on the heels of Tatum's Dog, which has grossed $57.9m in the territory, and $69.6m worldwide.
Paramount reports an estimated $2.0m for the Middle East region on the title, and chart-topping debuts in Indonesia ($490,000), Israel ($265,000) and Romania ($220,000). The early markets represent 7% of the international footprint, says the distributor. Extrapolating from these numbers, that would indicate a full international opening around $53m, had every territory opened at once.
On a like-for-like basis in the same group of early markets, The Lost City has opened 49% above Free Guy and 50% above Jungle Cruise, says Paramount.
Most major markets receive The Lost City in mid-April (UK/Ireland, Spain, Australia) or a week later (France, Germany, Brazil, Mexico, South Korea).
'Moonfall' hits global top 5
A chart-topping $9.7m opening in China for Roland Emmerich's Moonfall sees the sci-fi disaster movie return to the global box office chart in fifth place, with an estimated $10.4m weekend for international territories combined.
Cumulative totals are $19.1m for Lionsgate's release in North America and $41.7m for international, combining for $60.8m worldwide.
The China number compares with a $12.1m opening for The Batman in the territory the previous weekend, and a seven-day $10.4m debut for Sony's Uncharted. Globally, Moonfall is very far behind both The Batman ($672.9m so far) and Uncharted ($357.5m), so has over-performed in China, where its opening number is not far behind those other titles.
India's 'RRR' makes powerful start
Indian historical action drama RRR has made a powerful start in North America (an estimated $9.5m) and in international markets tracked by data gatherer Comscore ($3.9m). The numbers combine for an opening tally of $13.4m, and third place in the global chart.
However, the film's domestic market of India – which lacks a centralised reporting system – is missing from this data. The India box office for the film – which is also known as RRR (Rise! Roar! Revolt!) – has been reported elsewhere around $46m, which would make RRR the top title worldwide for the weekend period.
RRR is written and directed by SS Rajamouli, whose previous credits include Baahubali: The Beginning (2015) and Baahubali: The Conclusion (2017).
The 1920s-set fictional story sees NT Rama Rao Jr and Ram Charan star as real-life tribal leaders and independence activists who resist the rule of the British Raj and the Nizam rulers of Hyderabad. Made in the Telegu language, the film has been dubbed into other languages including Tamil and Hindi for release in different Indian markets.
'The Batman' adds $45m for $673m total
Warner Bros' The Batman continues to erode in both North America and in international markets, but nevertheless delivered a solid global estimate of $45.5m in its fourth weekend of play, taking the total to $672.9m.
In North America, the drop for The Batman was 44%. For international, the decline was 49%, or just 42% if China is excluded.
Among international markets, UK/Ireland leads in terms of cumulative totals with $47.4m to date, ahead of Mexico ($28.0m) and Australia ($24.1m). France ($22.2m) has overtaken Brazil ($20.2m) over the past week.
The Batman has now reached 67% of the $1.01bn lifetime box office achieved by The Dark Knight, and 62% of the $1.08bn grossed by The Dark Knight Rises.
'The Bad Guys' and 'Ambulance' expand footprint
Universal has two titles lurking in seventh and eighth place in the global box office chart – Michael Bay heist thriller Ambulance and DreamWorks animation The Bad Guys – and both enjoyed expansion of their footprint at the weekend.
Ambulance expanded from 34 to 57 international markets, grossing an estimated $6.7m, and taking the cumulative total to $12.8m.
However, no single territory opened above $1m. France led the way with an estimated $974,000, ahead of UK/Ireland ($738,000), Germany ($519,000), Taiwan ($366,000), Brazil and Japan (both $305,000). In holdover markets, Saudi Arabia ($657,000, down 32%) led Mexico ($527,000, down 29%).
Next to receive Ambulance are South Korea (April 6) and Australia (April 7).
The Bad Guys opened in 11 fresh markets, taking the total released so far to 37. Weekend box office was an estimated $6.5m, taking the total to $16.8m.
The fresh markets were all relatively modest-sized box office territories, and were led by Vietnam with an estimated $121,000.
Among holdover markets, Spain led with an estimated $1.6m, ahead of Mexico ($1.1m).
This week, The Bad Guys lands in Italy and Australia (March 31), and UK/Ireland (April 1). France, China, South Korea and Japan are all yet to come.
'Jujutsu Kaisen 0' boosted by Mexico opening
Japanese anime Jujutsu Kaisen 0 took a tumble in its second session in North America, declining 69% with an estimated $4.6m. For international, the manga adaptation grossed an estimated $4.9m – boosted by a $1.4m opening in Mexico.
Cumulative totals are $27.7m in North America for local distributor Crunchyroll, $137.2m for international (including $108.7m in Japan), and $164.9m worldwide.