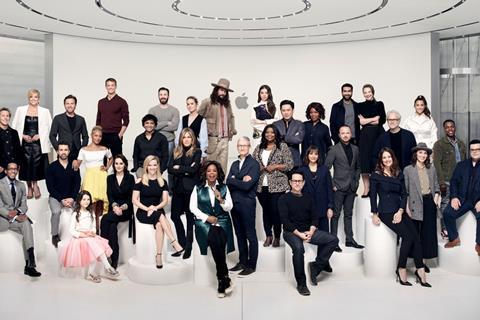 This week's unveiling of Apple TV+ was heavy on theatrics and light on hard facts about Apple's long-awaited entry into the streaming TV space currently dominated by Netflix, Hulu and Amazon but soon to be contested by Disney, WarnerMedia and NBCUniversal as well.
Apple's ad-free subscription video (SVOD) service, set to launch in around 100 countries this autumn, got top billing as CEO Tim Cook previewed a string of new services from the stage of the Steve Jobs Theater in the company's Silicon Valley headquarters complex.
Cook focused on how the tech giant has "partnered with the most thoughtful, accomplished and award-winning group of creative visionaries who have ever come together in one place to create a new service unlike anything that's been done before."
Then, after a drama-enhancing pause in complete darkness, Steven Spielberg was suddenly at centre stage to talk about his love of vintage sci-fi magazine Amazing Stories and the new series version his company is making for Apple.
Live but apparently scripted spots with Reese Witherspoon, Jennifer Anniston, Steve Carell, J J Abrams, Aquaman's Jason Momoa and Kumail Nanjiani – all from original Apple series set to debut on the TV platform – followed, but the drama – and the applause – crescendoed when Oprah Winfrey appeared to drop a few details of her projects for the service and to share a photo opp with Cook.
'They push you to think differently'
Producers in the audience for the presentation probably didn't need convincing about Apple's commitment to the original content business.
Mingling with creatives, executives and techies before the presentation began, Ronald D Moore, the much admired writer-producer of Apple's just-wrapped sci-fi series For All Mankind, said that working with the tech giant "there's just a cultural sense that they're always striving to be better than anyone else. They push you to think differently."
Steve Golin, CEO of Anonymous Content, whose three series for Apple include Chris Evans crime drama Defending Jacob, played down reports of Apple being wary of controversial material.
"Obviously they choose the shows they want to choose," Golin said, "but there's not a lot of influence. The creators of the shows have a lot of latitude to do what they want creatively."
And according to one executive, compared to Netflix and Amazon's move into high-end TV content, "the mental leap of Apple making it work is so much smaller. Because they've been delivering entertainment globally for a decade [through iTunes and other products], with the highest level of marketing and an ultra-premium feel. So it's quite natural for a movie star or a big director to see that this makes sense."
Since the applause at the Steve Jobs Theater died down, however, industry observers have been looking at some of the questions about Apple's streaming venture that were not answered by the star-studded presentation.
The most obvious omission was any mention of what an Apple TV+ subscription will cost, a potentially crucial factor as more and more streaming services compete for consumers' monthly entertainment budgets.
Analysts suggest that avoiding the price issue may have been a move to keep the presentation high-minded and focused purely on creative excellence. Or Apple could be looking to gauge reaction to the initial details of its service.
Silence on price point invites market feedback, mitigates risk
Not setting a price, "allows them to let the market instruct them as to what will be bearable," speculates Ian Greenblatt, managing director of technology/media/telecom intelligence at marketing information company J D Power. "Because [the question] will continue to be talked about – they'll get market feedback without ever having to expose themselves to risk."
Also uncertain is whether Apple's initial presentation of the service at this week's event will hit home with younger consumers. "What was surprising was there didn't seem to be much of an outreach to digital natives and Millennials," says Peter Csathy, head of advisory and business development firm CREATV Media. "It was a very traditional presentation, with nothing significantly innovative, especially to draw in Millennials."
Another big question is what other kinds of content will be offered by Apple TV+.
Apple is already said to have spent at least $1bn on the original series touted in its stage presentation, and that spend is expected to multiply in coming years. But to warrant a significant monthly subscription, the service will need to provide more than the two dozen or so original series currently in production.
Apple could make the service more affordable by bundling it with the existing Apple Music service or outside channels such as HBO or Showtime. Or it could license library content to supplement the originals (it is said to have been a losing bidder when Netflix scored its one-year, $100m deal for sitcom favourite Friends), though that kind of content is likely to become scarcer as Hollywood studios hold on to their content for their own streaming services.
The feature-length films that Apple has recently been acquiring – among them drama Hala, documentary The Elephant Queen and animated feature Wolfwalkers – as well as those that result from its multi-year deal with producer-distributor A24, are expected to be included in the new service's line-up, though it is not yet clear whether the projects will also get theatrical releases.
And Apple (whose executives were not made available for interview at the presentation or since) could be planning to significantly ramp up its film buying and/or production activities, through multi-title deals with distributors or through a corporate acquisition (Lionsgate and A24 have both been mooted as possible targets).
Need for content 'makes independent studios that much more valuable'
Either way, says Greenblatt, Apple's need for content "makes independent studios that much more valuable now."
One part of Apple's streaming push that is not in any doubt is the company's strength in marketing. And that strength will be a huge advantage as the streaming battle commences.
The Apple TV app in which Apple TV+ will exist is already pre-loaded into the 1.4bn Apple devices currently in use by consumers around the globe. And the new version of the app that was also announced this week will be additionally available on Samsung smart TV sets and Roku and Amazon FireTV devices.
Though the app's availability will not guarantee subscriptions for the new streaming service, it will create a massive awareness, as has been the case with Apple Music's rapid rise to prominence in the subscription music marketplace.
"Through the app, on the day of launch they will have immediate marquee distribution front and centre on 1.4bn devices," points out Csathy. "That's an amazingly powerful advantage to have. On day one Apple will be an instant force in the SVoD game."