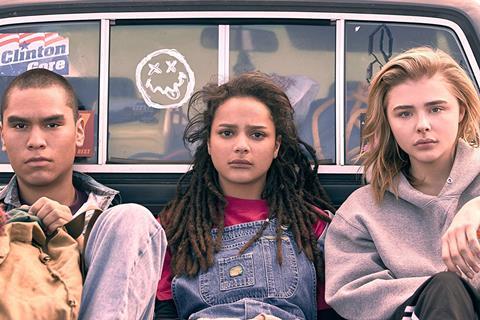 Sundance 2018 wrapped on Saturday (January 27) with juried awards for The Miseducation Of Cameron Post (pictured) in the U.S. Dramatic programme, Kailash in U.S. Documentary, Of Fathers And Sons in World Cinema Documentary, and Butterflies in World Cinema Dramatic.
In other highlights, Gustav Möller's acclaimed Danish selection The Guilty won the World Cinema Audience award, while Sandi Tan collected the World Cinema Documentary directing award for Shirkers. Festival Favorite, A new award voted on by audiences, will be announced in the coming days.
The Sentence by Rudy Valdez was the audience favourite in the U.S. Documentary category, capping a fine day that saw HBO acquire US rights from Cinetic Media.
"The scope and scale of this year's festival – films, events, conversations – were invigorating," Sundance Institute executive director Keri Putnam said. "I can't wait to see how our incredible community will leverage these ten days of connection and inspiration to make art and change in the coming year."
"This festival has been extraordinary," Sundance Film Festival director John Cooper, said. "It's been a pleasure to stand shoulder-to-shoulder with these artists, and to see their work charm, challenge and galvanize its first audiences."
2018 Sundance Film Festival Feature Film Awards

U.S. Grand Jury Prize: Documentary
Kailash (USA), dir. Derek Doneen
U.S. Grand Jury Prize: Dramatic
The Miseducation Of Cameron Post (USA), dir. Desiree Akhavan
World Cinema Grand Jury Prize: Documentary
Of Fathers And Sons (Germany-Syria-Lebanon-Qatar), dir. Talal Derki
World Cinema Grand Jury Prize: Dramatic
Butterflies (Turkey), dir. Tolga Karaçelik
Audience Award: U.S. Documentary
The Sentence, dir. Rudy Valdez
Audience Award: U.S. Dramatic
Burden, dir. Andrew Heckler
The Audience Award: World Cinema Documentary
This Is Home (USA-Jordan), dir. Alexandra Shiva
The Audience Award: World Cinema Dramatic
The Guilty (Denmark), dir. Gustav Möller
Audience Award: NEXT
Search (USA), dir. Aneesh Chaganty
Directing Award: U.S. Documentary
Alexandria Bombach, On Her Shoulders (USA)
Directing Award: U.S. Dramatic
Sara Colangelo, The Kindergarten Teacher (USA)
Directing Award: World Cinema Documentary
Sandi Tan, Shirkers (USA)
Directing Award: World Cinema Dramatic
Ísold Uggadóttir, And Breathe Normally (Iceland-Sweden-Belgium)
The Waldo Salt Screenwriting Award: U.S. Dramatic
Christina Choe, Nancy (USA)
U.S. Documentary Special Jury Award for Creative Vision
Hale County This Morning, This Evening (USA), dir. RaMell Ross
U.S. Documentary Special Jury Award for Social Impact
Crime + Punishment (USA), dir. Stephen Maing
U.S. Documentary Special Jury Award for Storytelling
Three Identical Strangers (USA), dir. Tim Wardle
A U.S. Documentary Special Jury Award for Breakthrough Filmmaking
Minding The Gap (USA), dir. Bing Liu
A U.S. Dramatic Special Jury Award for Outstanding First Feature
Monsters And Men (USA), dir. Reinaldo Marcus Green
U.S. Dramatic Special Jury Award for Excellence in Filmmaking
I Think We're Alone Now (USA), dir. Reed Morano
U.S. Dramatic Special Jury Award for Achievement in Acting
Benjamin Dickey, Blaze (USA)
World Cinema Documentary Special Jury Award
Stephen Loveridge and M.I.A., MATANGI / MAYA / M.I.A. (Sri Lanka-UK-USA)
World Cinema Documentary Special Jury Award for Editing
Maxim Pozdorovkin and Matvey Kulakov, Our New President (Russia-USA)
World Cinema Documentary Special Jury Award for Cinematography
Maxim Arbugaev and Peter Indergand, Genesis 2.0 (Switzerland)
World Cinema Dramatic Special Jury Award for Screenwriting
Julio Chavezmontes and Sebastián Hofmann, Time Share (Tiempo Compartido, Mexico- Netherlands)
World Cinema Dramatic Special Jury Award for Acting
Valeria Bertuccelli, The Queen Of Fear (Argentina-Denmark)
World Cinema Dramatic Special Jury Award for Ensemble Acting
Dead Pigs (China), dir. Cathy Yan
NEXT Innovator Prize
Tie between: Night Comes On (USA), dir. Jordana Spiro, and We The Animals (USA), dir. Jeremiah Zagar
SHORT FILM AWARDS
Grand Jury Prize
Matria (Spain), dir. Álvaro Gago
Jury Award: U.S. Fiction
Hair Wolf (USA), dir. Mariama Diallo
The Short Film Jury Award: International Fiction
Would You Look at Her (Macedonia), dir. Goran Stolevski
Short Film Jury Award: Nonfiction
The Trader (Sovdagari, Georgia), dir. Tamta Gabrichidze
Short Film Jury Award: Animation
Glucose (USA), dir. Jeron Braxton
Three Special Jury Awards without designation
Emergency (USA), dir. Carey Williams
Fauve (Canada), dir. Jérémy Comte)
For Nonna Anna (Canada), dir. Luis De Filippis
Sundance Institute Open Borders Fellowship Presented By Netflix
Of Fathers And Sons (Syria), dir. Talal Derki
Untitled (India), dir. Chaitanya Tamhane
Night On Fire (Mexico), dir. Tatiana Huezo
The Sundance Institute / NHK Award
His House (UK), dir. Remi Weekes
Sundance Institute | Alfred P. Sloan Feature Film Prize (announced prior to festival)
Search (USA), Aneesh Chaganty and Sev Ohanian's
Sundance Institute | Amazon Studios Producers Awards
Sev Ohanian