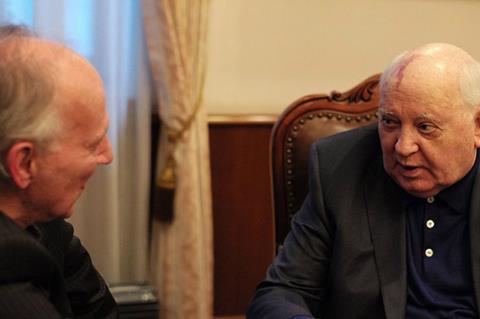 The Orchard has picked up North American rights from Submarine to the Mikhail Gorbachev documentary Meeting Gorbachev by Werner Herzog and André Singer.
Lucki Stipetic and Svetlana Palmer produced the production by Spring Films and Werner Herzog Film, and the executive producers were Richard Melman for Spring Films, and Molly Thompson and Eli Lehrer for HISTORY Films.
Meeting Gorbachev chronicles the eighth and final leader of the Soviet Union's rise through the ranks to become general secretary of the governing Communist Party of the Soviet Union from 1985 to 1991. The film was assembled from three separate interviews conducted by Herzog over a six-month period.
Gorbachev's policies of glasnost and perestroika ended the Cold War and led to the collapse of the Soviet Union in 1991. He won the Nobel Peace Prize in 1990 and is hailed in the West for bringing peace, while in Russia he is a divisive figure blamed for economic privation and the decline of the country's global power after the dissolution of the Soviet Union.
Meeting Gorbachev premiered at Telluride and played in Toronto. The Orchard plans an early 2019 theatrical release, and HISTORY retains all television rights.
"Meeting Gorbachev is an enthralling look back at a fascinating leader and diplomat, all the more impactful based on what the world looks like today," said Paul Davidson, The Orchard's executive vice-president of film and television. "Werner and Andre's own sensibilities make the film engaging and personal in a way no other filmmakers could."
"We are very pleased to partner with Paul and the team at The Orchard on the release of Meeting Gorbachev," said Thompson. "Werner and André have brought us a rare and historic interview with Mikhail Gorbachev which is particularly relevant given the current state of world affairs."
The documentary marks The Orchard's third collaboration with A+E Networks, parent company of A&E IndieFilms and HISTORY Films, following Cartel Land and Life, Animated.
The Orchard's vice-president of acquisitions Danielle DiGiacomo brokered the deal with Josh Braun and Matt Burke of Submarine Entertainment on behalf of the filmmakers.