Drama will premiere in Toronto, followed by a theatrical release in early 2018.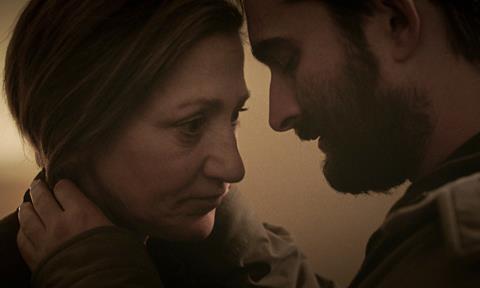 The Orchard has acquired worldwide rights to Lynn Shelton's drama Outside In, starring Jay Duplass and Edie Falco.
The Orchard has worldwide theatrical, digital rental and sales, cable/satellite VOD, airline, DVD and soundtrack rights to Outside In.
Following The Orchard's theatrical and digital release, Netflix will be releasing the film on its worldwide streaming platform.
Outside In, written by Lynn Shelton and Jay Duplass, centres on Carol (Falco), a high school teacher, and Chris (Duplass), her ex-student, as they explore a relationship after his release from a 20-year prison sentence. While Chris navigates his re-entry into the world, Carol works to rebuild her family, and reconnect with her teenage daughter.
Kaitlyn Dever and Ben Schwartz star alongside Falco and Duplass in the film produced by Mel Eslyn and Lacey Leavitt.
The film features an original score from singer-songwriter Andrew Bird and was shot on location in Washington state.
Shelton has directed six previous feature films including Humpday, Your Sister's Sister, and Laggies. Her television directing credits include Mad Men, Master Of None, and Glow, among others.
Duplass currently stars on the Amazon series Transparent, produces the HBO anthology series Room 104, and recently starred in Beatriz At Dinner and Landline.
Four-time Emmy-winner Edie Falco most recently starred in Landline alongside Duplass, Megan Leavey, and Louis C.K.'s drama series Horace And Pete.
Outside In marks the most recent release in the ongoing relationship between Duplass Brothers Productions (DBP) and The Orchard.
Since acquiring The Overnight at Sundance in 2015, DBP and The Orchard have collaborated on Take Me, Blue Jay, 6 Years, Manson Family Vacation, Rainbow Time and Creep.
Shelton commented: "I couldn't be happier that Outside In will be included in the incredible catalogue of films that The Orchard has acquired as a distributor."
Paul Davidson, executive vice-president of film and TV at The Orchard, said: "We are thrilled to be partnering with Lynn and the Duplass Brothers on Outside In. Jay and Edie's performances pack an emotional punch in yet another stellar film from Lynn."
The deal was negotiated with The Orchard by ICM Partners on behalf of the filmmakers.