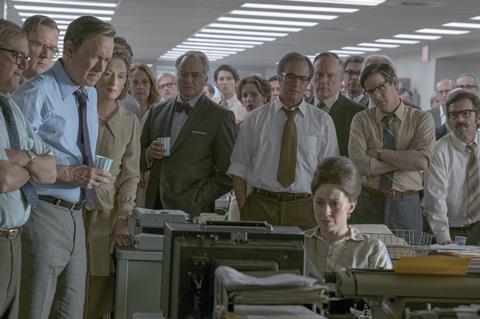 Steven Spielberg's Pentagon Papers drama and Oscar contender The Post will open the 29th Palm Springs International Film Festival In January, which will close with Adam Rifkin's The Last Movie Star.
Festival brass also unveiled the full line-up of 180 films from 77 countries set to run from January 2-15, including a focus on Argentina, Premieres, Awards Buzz, New Voices New Visions, Talking Pictures, and Books To Screen.
"I couldn't be happier with the selection of films this year," artistic director Michael Lerman said. "In a programme that includes all of the shortlisted foreign-language Oscar nominees, a stellar New Voices New Visions selection, an embarrassment of riches from Argentina that demanded to be highlighted, and an incredible list of attending talent, there's plenty to get excited about. I'm so proud of our team for putting it all together."
Premieres include the world premiere of Mark Pellington's drama Nostalgia starring John Hamm, Catherine Keener, Ellen Burstyn and Bruce Dern; and North American premieres of Beyond The Clouds from India's Majid Majidi, and Richard Loncraine's UK selection Finding Your Feet.
The Talking Pictures on-stage conversation programme includes Oscar frontrunner Gary Oldman on Darkest Hour, Sam Rockwell discussing Three Billboards Outside Ebbing, Missouri, Sweden's Palme d'Or winner Ruben Östlund on The Square, and France's Robin Campillo discussing BPM (Beats Per Minute).
The Awards Buzz section features 45 of the 92 official foreign-language Oscar submissions, among them most of the nine shortlist features including A Fantastic Woman (Chile) by Sebastián Lelio, In The Fade (Germany) from Fatih Akin, and Senegal's first submission Félicité from Alain Gomis.
The Focus On Argentina selections include Lucreci Martel's Zama, Diego Lerman's A Sort Of Family, Santiago Mitre's The Summit, Valeria Pivato's The Desert Bride.
The New Voices New Visions competition showcases 10 films from emerging international directors and the roster includes Golden Horse winner Vivian Qu's Angels Wear White (China-France), Director Vivian Qu, Milad Alami's The Gold Seekers (Paraguay), Laura Mora's Killing Jesús (Colombia-Argentina), and On Borrowed Time (UAE) from Yasir Al Yasiri.
For the full line-up, click here.